WD Blue SN570 NVMe SSD: Speed That Keeps Creative Juices Flowing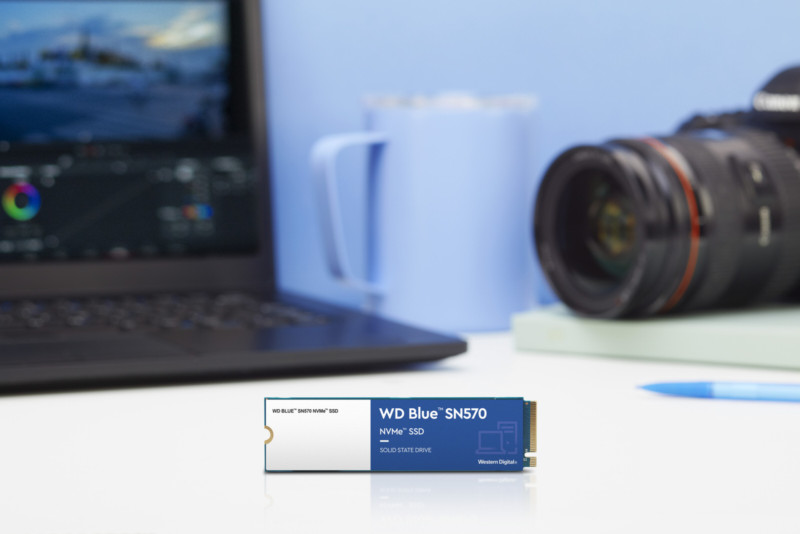 From photographers to graphic designers to software developers, people are increasingly dependent on their computers to manage their workflow, and any extra lag or load times can lead to increased stress and decreased productivity. Juggling many workload demands, today's creative professionals need technology that empowers their creativity.
Western Digital's new WD Blue™ SN570 NVMe™ SSD internal flash drive was purpose-built for creatives and offers a powerful solution for upgrading current PCs or optimizing a custom build. This new drive helps eliminate bottlenecks by enhancing their computing system.
Full disclosure: This article was brought to you by Western Digital.
When dealing with huge amounts of data — in running heavy workload programs, organizing, transferring and editing a large set of high-resolution photos and videos, for example — it is important to use storage solutions that are both fast and reliable in order to have an efficient workflow, as well as peace of mind.
After all, who wants their creativity in "the zone" interrupted by slow storage speeds or lost files?
That's where the WD Blue SN570 NVME SSD comes in, and shines — it's a powerful internal drive that boasts up to 5 times the speed of Western Digital's top SATA SSDs. It's the perfect solution for both upgrading your current PC or achieving optimal performance in a new custom build.
"Complex workloads require high performance and reliability, and the right type of storage can help streamline workflows and increase productivity," says Eric Spanneut, vice president of Client and Enterprise SSDs for Western Digital's Flash Business unit. "Our new WD Blue SN570 NVMe SSD is built with creators in mind, providing fast speeds, data protection options, and endurance to support their creative vision."
Let's take a closer look at the WD Blue SN570 drive's features and specifications.
NVMe technology allows the WD Blue SN570 to offer fast speed while consuming low amounts of power. It can reach read speeds of up to 3,500MB/s (in the 500GB and 1TB models)*.
The slim form factor of the SSD — it's a single-sided M.2 2280 PCIe® Gen3x4 NVMe SSD — allows you to save on space and use the WD Blue SN570 in both desktops and laptops.
Want to check up on the health of the WD Blue SN570? The downloadable Western Digital Dashboard allows you to monitor its health, available space, temperature, and more.
As an extra incentive for photographers and creatives, Western Digital is offering a free 1-month membership to Adobe Creative Cloud with each purchase, allowing you to access leading apps such as Adobe Photoshop, Lightroom, Premiere Pro, and much more. Please visit www.wdc.com/adobe to learn more about the offer and www.adobe.com/legal.html for applicable terms.
The WD Blue SN570 NVMe SSD is available now from the Western Digital online store and from select retailers. It's available in 250GB, 500GB, and 1TB capacities with price tags of $39.99, $49.99, and $89.99, respectively, and features a 5-year limited warranty. A 2TB WD Blue SN570 NVMe SSD is expected to roll out in 2022.
---
* 1GB = 1 billion bytes and 1TB = 1 trillion bytes. Actual operating capacity may vary. As used for transfer speeds, 1MB/s = 1 million bytes per second. Performance will vary.