WD Blue SN550: A Blazing-Fast NVMe SSD for Creators Who Need Speed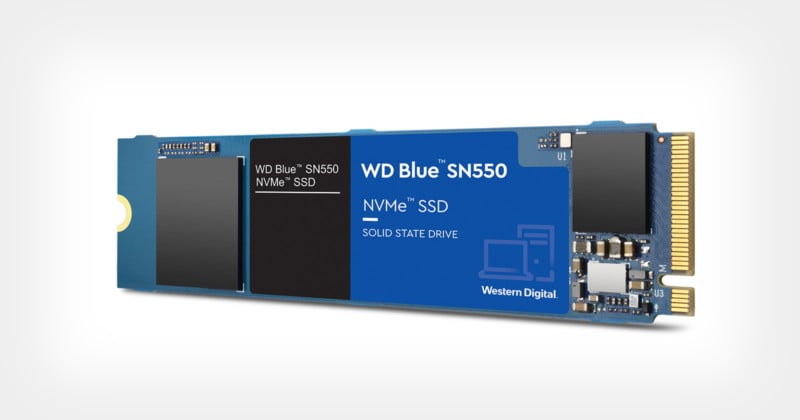 Working with large amounts of data can be tough on your computer and your time. If you want to work more productively and efficiently, upgrading your storage can help. For a powerful, reliable, and cost-effective storage upgrade, look no further than Western Digital's WD Blue™ SN550 NVMe™ SSD.

If you're a passionate digital photographer, you may know how slow and time-consuming it can be to move huge numbers of large photo files around or crawl through a trove of them in storage and editing programs. But whether you're working with a vast archive of work or post-processing ultra-high-resolution photos, you can take advantage of this powerful new internal drive's high speeds to do more, faster. 
NVMe SSD drives are typically far faster than SATA SSDs, and that is certainly true with the WD Blue SN550, an NVMe SSD that can deliver over 400% the speed of the company's best SATA SSDs, allowing you to get things done faster than ever before. Sequential read speeds can reach a blazing 2,600 MB/s (for the 2TB* drive) and sequential writes can reach 1,800 MB/s*.
For photographers, high sequential reads and writes are beneficial for quickly viewing and transferring large numbers of large files such as photos and videos.
With sequential read and write speeds up to 2,600 MB/s and 1,800 MB/s, respectively, you'll experience a significant improvement in boot-up time, spend less time waiting for programs to load, be able to multi-task more easily, and be far more efficient while culling and editing photos.
There are a number of capacities available to meet your specific storage needs, including a 250GB, 500GB, 1TB, and a new 2TB one that launched in the fall of 2020. And all of these capacities come with a PCIe® interface in the affordable M.2 2280 form factor (with dimensions of 3.15×0.87×0.09 inches), allowing you to build a powerful PC in a small form factor.
Designed for low power consumption, the WD Blue SN550 NVMe SSD is also a great upgrade option for laptop PCs, allowing photographers to spend more time creating on-the-go and less time worrying about battery drain and running out of power.
A fantastic upgrade option for speeding up your creative workflow, Western Digital's WD Blue SN550 NVMe SSD is available now at select Western Digital retailers, e-tailers, resellers, system integrators, and at the WD store with prices ranging from under $52 for the 250 GB capacity unit up to $225 for the 2TB capacity one.
---
This article was brought to you by Western Digital.
---
* 1GB = 1 billion bytes and 1TB = 1 trillion bytes. Actual user capacity may be less depending on operating environment. For transfer speeds, 1MB/s=one million bytes per second. Performance will vary.
---
Western Digital and WD Blue are registered trademarks or trademarks of Western Digital Corporation or its affiliates in the U.S. and/or other countries. The NVMe mark is a registered trademark of NVM Express, Inc. PCIe is a registered trademark of PCI-SIG in the United States and/or other countries. All other marks are the property of their respective owners.
Product specifications subject to change without notice. Pictures shown may vary from actual products.
© 2021 Western Digital Corporation or its affiliates. All rights reserved.