Photographer Captures Comet, Aurora, and Milky Way in Epic Panorama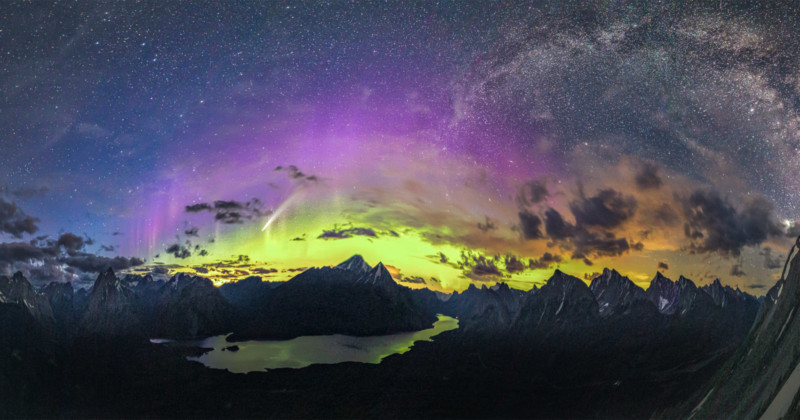 There I was, standing under the colorful dancing sky, watching Comet Neowise traverse the horizon right before my eyes. I was witnessing an astronomical event that only happens every 6,800 years. To this day, I still pinch myself: that day in Alberta's Canadian Rockies felt like a dream. And it was without a doubt the best night of my life.
My first attempt to spot Comet Neowise hadn't gone well. I hiked a ways up a mountain to a high vantage point and only had a short glimpse of it before the clouds rolled in and it disappeared.
After trading Australia's sandy beaches for the Canadian Rocky Mountains for a year and a half, my time was quickly coming to an end.
During my last 11 days, I made it my mission to chase clear skies from my Lake Louise basecamp and hike up mountains, with the hopes of capturing a unique one-of-a-kind composition of this rare astronomical event.
I didn't have my hopes up, as the forecast for the next 11 days in Jasper National Park, Yoho National Park, and Banff National Park didn't look promising, but after my first failed attempt, I was more determined than ever.
Knowing the weather in the mountains can change dramatically within minutes, I checked the forecast for locations up to four hours away and decided Kananaskis Country, an area approximately three hours drive away, looked promising. After studying possible vantage points on Google Earth, I landed on Tent Ridge, which offered beautiful vistas and compositions to the north.
While the weather forecast indicated cloud cover until midnight, it was then supposed to clear up. Although the idea of sleeping in a warm cozy bed was appealing, I knew I had to go for it.
After leaving my nine-to-five job to pursue my passion for photography, I realized that the biggest risk in life is not to take risks at all. So I set off on an adventure, The Wicked Hunt.
Excited and nervous, I packed all the gear I could fit into my backpack:
Canon 5D Mark IV
Canon 6D
Canon 16-35mm f/2.8L III
Canon 24-70mm f/2.8L II
Canon 70-200mm f/2.8L III
Rokinon 14mm SP f/2.4
Sirui and Moman tripod
This gear, along with food, drinks, and warm clothes, added up to about 17 kilograms. I left Lake Louise after lunch, aiming to get to the trailhead before sunset.
Above the treeline, a few hundred vertical meters up the mountain, the wind was howling, so I set up my tripod as low as possible and secured it with a few large rocks.
Skeptical, yet hopeful about the clouds lifting, I set my 6D to capture a timelapse as the sun began to set. It was a beautiful sight, with the clouds helping amplify the sky's golden light. Reviewing the time-lapse a few minutes later, I noticed a strange band of green on the horizon. I couldn't figure out what it was — I thought my camera had malfunctioned, but then it hit me.
Could it be? The aurora borealis?
A wave of excitement swept over me.
As darkness fell, miraculously, the clouds started to dissipate and Comet Neowise became visible to the naked eye, and the unexpected purple, blue, and greenish glow of the aurora borealis became increasingly prominent. While the wind continued to assault us, my excitement prevented me from feeling cold.
Then the next incredible thing happened. STEVE (Strong Thermal Emission Velocity Enhancement, an atmospheric optical phenomenon that appears as a purple and green light ribbon in the sky) rose high above me for a brief second.
Realizing the Milky Way was now visible in the southeast, I took my 5D Mark IV and started to shoot a two-row panorama.
What a night it was. I was on Tent Ridge from 8:30 PM until 3:30 AM the following day. What started with a beautiful sunset was accompanied by a once-in-a-lifetime sighting of Comet Neowise, the aurora borealis, STEVE, and the milky way, and was topped with the glow of the sun beginning to rise over noctilucent clouds.
Photographers often get fixated on a goal — that one shot we want to achieve. As an award-winning photographer, I have come to realize over the years that while there's value in having a goal, we are often dealing with external forces that may intervene.
To create our art, it's important to have an open-minded approach. Despite the extent of my planning, I could not have predicted witnessing the aurora borealis, the milky way, and STEVE. Just like life, the Wicked Hunt is about the journey, not the destination. There is beauty all around us and we have to remember to stop and smell the roses. And that might lead to capturing an amazing photo that you never could have dreamed of.
---
About the author: Stanley Aryanto is an award-winning Australian landscape and travel photographer, explorer and educator. The former engineer quit his nine to five job to pursue his passion for photography and now mentors photographers from all walks of life. You can find more of his work on his website.