Great Reads in Photography: December 5, 2021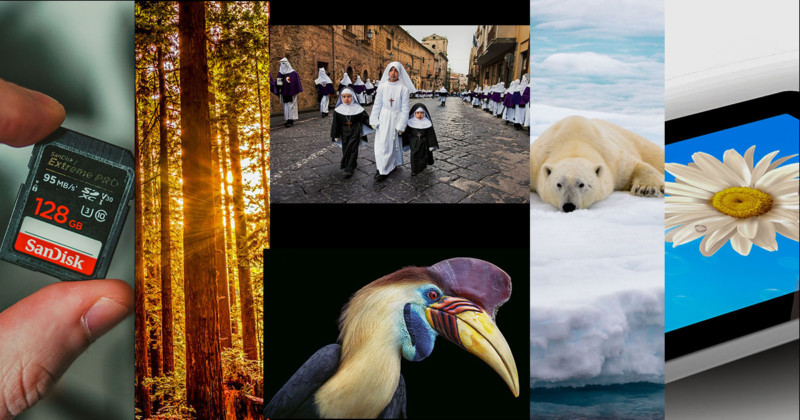 Every Sunday, we bring together a collection of easy-reading articles from analytical to how-to to photo features in no particular order that did not make our regular daily coverage. Enjoy!
---
Intimate Perspectives on North Korea by Fabian Muir – in Pictures – The Guardian

Australian photographer Fabian Muir's photographs from inside North Korea give a peek into the lifestyle of a secluded nation.
"Documented over two years, the images reveal a complexity and nuance residing in their society," writes The Guardian.
Muir is principally motivated in his projects by visual storytelling focusing on humanist issues.
Muir's exhibition is showing for the first time at the Head On photo festival in Sydney, Australia.
---
50 Years Ago, a Californian Saved 70,000 Acres of Redwoods. Now he Wants to Photograph the Park he Helped Preserve — Upworthy
In June of 1963, as a fresh-faced twenty-year-old, Dave Van de Mark traveled from Southern California to work at a sawmill in Humboldt County. That summer dramatically changed his life and set Dave on a path that helped establish one of America's most beloved national parks.
"On only my second day on the job, I inquired as to where the trees being milled came from," Dave tells Upworthy. "I was quickly told I shouldn't ask such questions!"
Intrigued by his co-workers' evasive responses, Dave began looking for his own answers.
---
Johnny Depp Movie Minamata Featuring Photographer W. Eugene Smith is Finally Getting a U.S. Release — Deadline
Embed from Getty Images
The Johnny Depp movie 
Minamata
 finally gets a North American release in theaters beginning December 15.
Deadline writes:
Minamata charts the true story of acclaimed war photographer W. Eugene Smith (played by Depp), who traveled back to Japan in the 1970s to document the devastating effect of mercury poisoning in local communities by a major corporation that dumped chemicals into their waterways.

This update comes after the film's director, Andrew Levitas, complained earlier this year that MGM was "burying" Minamata due to Depp's well-publicized off-screen issues.
---
Bryan Adams Dedicates Pirelli's 2022 Calendar to 'The Great Stars of Music' — CNN
From CNN:
Pirelli has unveiled On the Road, its 2022 [48th edition] calendar starring some of the music industry's biggest names, including Iggy Pop, Cher, Grimes and Jennifer Hudson. This edition of the renowned calendar, which was put on pause last year due to the coronavirus, was shot by Canadian singer-turned-photographer Bryan Adams…

"On the road is where I have been for the last 45 years," Adams said in the statement, "because the life of a musician is made up of roads, travel, waiting in hotels, hours backstage."

Since 1964, the Pirelli Calendar has been interpreted by a total of 37 photographers — including Annie Leibovitz, Mario Testino and Herb Ritts [1952-2002]– and has featured an impressive roster of talent, such as models Kate Moss and Naomi Campbell and actors Sophia Loren and Maggie Cheung. For the 2017 calendar, Peter Lindbergh [1944-2019] captured a throng of Hollywood actors, including Uma Thurman and Kate Winslet, in a series of stripped-back, black-and-white portraits…

Adams himself closes the calendar with an aviator-clad self-portrait and the wistful kicker: "On the way to the next show."
Read also: Rock Star Bryan Adams is Photographing the 2022 Pirelli Calendar
---
See Photos of the White House's Christmas Decorations on Google Street View — Engadget
Are you ready for the holidays?! This year, we're bringing the White House to you.💕

Come on in and explore this season's decor in 360° with @googlemaps Street View. https://t.co/ZCo62vY9aI pic.twitter.com/MTDRQKqrjK

— Jill Biden (@FLOTUS) December 3, 2021
From Engadget:
You can now take a tour of the White House's halls decked with Christmas trees and other decor fit for the season — virtually, that is. Google first added the official residence of the President of the United States to the places you can visit on Street View almost a decade ago. But now, you can take a virtual walk of its premises to see how the place has been decorated…

According to The Hill, tours of 1600 Pennsylvania Ave. are currently not available to the public due to the COVID-19 pandemic, so these virtual experiences may be the only way you can get a glimpse of its decorations for the holidays.

The White House is only one of the many historic sites you can visit on Street View — there's also Chile's Palacio de la Moneda, the Taj Mahal, the Pyramids of Giza, the Palace of Versailles, and the Colosseum, among others.
---
'I Pick Up Whatever's Around': Watch Photographer Sally Mann and Her Family Reflect on How Their Everyday Lives Became Art – ArtNet News
Read also: NPR Interviews Sally Mann: A Discussion About Her Life and Controversial Photography
---
St. Louis to Pay $115k to Photographer Caught in Police Kettle – St. Louis Post-Dispatch
---
Apple 'Pinch to Zoom' Can't Add Things That Aren't There — Forbes
Forbes writes:
There's been a lot of confusion in the news recently about what, exactly, Apple's "pinch to zoom" gesture can do.

To hear some tell it, zooming in on an image employs the use of nefarious AI that can alter images and add things that aren't even part of the original image on the fly without you even knowing it. All for some dark corporate purpose known only to Tim Cook.

Stepping back from the Black Mirror elements of this story for a second, I want to talk about the actual tech in play here and what it can actually do.

The answer is stunningly boring.
---
Slow-Mo and Fake Rain: Inside the World of Chinese Wedding Photography – Our Community Now
---
The Ultimate Guide to Memory Cards – Amateur Photographer

Memory Cards have their own lingo. Cards can be: SD, microSD, CFexpress (Type A or B), XQD and more.
Some cameras will have dual slots, with each slot taking a different type of card. But the most important and confusing part of any card is its speed rating. Some cards may have as many as four different numbers and signs on the face of card, with all of them mentioning the speed at which it reads or writes. Remember that the read speed will often be higher than the write speed, which is the more important number. The read speed is the maximum speed the card will transfer the image files to the computer. The write speed is the maximum speed at which the card will write the image files in the camera.
---
Award-Winning Israeli Photographer Urges Wildlife Protection Through his Lens – The Times of Israel
Tel Aviv-based photographer Roie Galitz, who is drawn to frozen landscapes, warns that the disappearance of polar bears is the world's "canary in the coalmine."
"Asked why people should care about the extinction of polar bears thousands of miles away, he answers that they are apex predators and keystone species — creatures that help define an entire ecosystem — and that if they are removed, the whole chain of life is affected," writes The Times of Israel. "Countries such as Iceland and the United Kingdom will feel the impact, he says, because, with more seals in the oceans, there will be less fish."
---
Tim Flach's New Book of Extraordinary Bird Portraits – Amateur Photographer
From Amateur Photographer:
Many of the images in this series were shot in the controlled environment of the studio. But Tim [Flach] would argue that even images captured in the wild have some element of "management" to them. "It's the degree of which the mythology is perpetuated," he says.

"Sometimes, when you're trying to deal with a bird that is in an aviary that is some distance away and doesn't have too much human contact, it can be more challenging than tracking down a lion in Maasai Mara, which is photographed by tourists every day."

…for most of the work, he [Flach] used a Canon EOS 5DS – its 50.6-million-pixel resolution being ideal for the kind of highly detailed imagery that avian work demands.

A few were shot on a Hasselblad, while towards the end of the project, he switched to using the Canon EOS R5, a mirrorless camera, which gave him the benefit of Canon's extraordinarily powerful Animal Eye AF capability.
---
New Title by Photographer Steve McCurry Contains Striking Photos of Children Taken Throughout His Career – Daily Mail
From Daily Mail:
American photographer Steve McCurry has produced a legendary body of work over the past five decades that includes truly mesmerizing photographs of children.

The publisher says: "Throughout his long career, McCurry has taken incredible photographs of children, each one managing to hint at an epic story.

"In Stories and Dreams, he brings a unique selection of images of children from 46 countries, from Jaipur [India] to Rome. The new contemplative and sensitive title features some previously unpublished images which span the length of McCurry's storied career."
Stories and Dreams is published by Laurence King Publishing.
Also, Monsoons and Makeshift Bikes: Childhood Resilience in Pictures – The Guardian
---
The W. Eugene Smith Fund Flash Print Sale – Rangefinder

Since 1979, the W. Eugene Smith Fund has presented more than $1 million to documentary photographers worldwide, with many going on to become some of the most legendary documentary photographers of our time. To help raise funds for future grant recipients, many of these photographers have donated photos for this year's W. Eugene Smith Fund annual print sale.
Donna Ferrato, Eugene Richards, Matt Eich, Darcy Padilla, Moises Saman, Peter van Agtmael, and Eugene Smith (archives) are only a few of the renowned photographers represented in this year's print sale.
The W. Eugene Smith Memorial Fund 2021 Print Sale
---
Historical Photo of the Week: 1929 Macy's Thanksgiving Parade
Were balloons from the Macy's Thanksgiving Parade ever released after the parade?
Did the helium-filled balloons drift for a week?
Was there a $100 reward in the late 1920s for their recovery?
Hover your cursor over the photo to see the answers in the caption.
Embed from Getty Images
Also,
Macy's Thanksgiving Day Parade: A History in Pictures
– JstorDaily

(In 1927, the parade replaced live animals from the Central Park Zoo with helium balloons designed by puppeteer Tony Sarg.)
---
Photo of the Week
Is this the red planet of Mars or Israel?
Hover your cursor over the photo for full details in the caption.
Embed from Getty Images
---
Quiz of the Week
1.) The Canon EOS R3 sports 1,053 phase-detection autofocus points that cover:
a.) 85% of the frame
b.) 100% of the frame
c.) 106% of the frame to cover shift lenses
2.) If you wish to photograph close-ups of fast-moving bees in nature and are using a regular telephoto lens (not macro), which device will give you better auto focus?
a.) Screw-in close-up lenses on the front
b.) Extension tubes
3.) Anybody who has shot 35mm film knows that a film slide is 24x36mm or 1.4″ wide, and therefore a full-frame sensor is also 36mm wide. How wide is:
(a.) APS-C
(b) Micro Four Thirds
Answers:
1.) (b.) 100% of the frame
2.) (b.) Extension tubes
If you disagree, please let us know your experience in the comments below.
 3.) (a.) APS-C: 24mm or 0.95″
(b.) Micro Four Thirds: 17mm or 0.7″
---
Quote of the Week – Donna Ferrato
The above photo is from The W. Eugene Smith Memorial Fund 2021 Print Sale
It's very tough for documentary photographers these days. We're the dinosaurs… Today, if you want to be a documentary photographer, you have to be prepared to put in your own money, your own time, and also be doing this for yourself. It's a famine time for photographers out there. (2002) — Donna Ferrato
Donna Ferrato is an internationally acclaimed photojournalist known for her groundbreaking documentation of the hidden world of domestic violence. Her seminal book Living With the Enemy (Aperture, 1991) went into four printings and sparked a national discussion on sexual violence and women's rights. Her new book, Holy, published in 2020, is a call to action. It proclaims the sacredness of women's rights and their power to be masters of their own destiny.
---
To see an archive of past issues of Great Reads in Photography, click here.
---
We welcome comments as well as suggestions. As we cannot possibly cover each and every source, if you see something interesting in your reading or local newspaper anywhere in the world, kindly forward the link to us here. ALL messages will be personally acknowledged.
---
About the author: Phil Mistry is a photographer and teacher based in Atlanta, GA. He started one of the first digital camera classes in New York City at The International Center of Photography in the 90s. He was the director and teacher for Sony/Popular Photography magazine's Digital Days Workshops. You can reach him here.
---
Image credits: All photographs as credited and used with permission from the photographers or agencies. Portions of header photo via Depositphotos. Middle horizontal (top) Stories and Dreams published by Laurence King Publishing, and middle horizontal (bottom) from Birds published by Abrams.