Canon Launches a $14,300 18.4-inch 4K HDR Reference Display
Canon has announced the DP-V1830 reference display, an 18.4-inch 4K HDR professional monitor that it promises features improved black levels, a wide color gamut, and better viewing angles than its predecessor.
Canon says the DP-V1830 features improved core components such as a high-quality display engine, a "revamped" set of high-resolution algorithms, new panels, and a new backlight system that it says delivers an increase in image quality and accuracy over previous Canon displays.
The company says the new display is ideal for use inside broadcast relay vehicles, sub-control rooms, and on-set HDR monitoring.
The DP-V1830 is an LCD display, which typically have not been able to recreate the rich contrast that can be achieved with OLED monitors, but in exchange, they tend to be able to reach much higher levels of peak brightness without the fear of what is often described as "burn-in." The new display features a peak brightness of 1,000 nits in whites (or 1,000 cd/m2 for those who prefer peak luminance numbers) which Canon says meets the parameters defined in ITU-R BT.2100 for HDR. The company says it also features an improved imaging engine that, when compared to previous models, offers enhanced control over backlight illumination to better delineate dark and light portions of high contrast.

Poor viewing angles are usually a hallmark of LCD displays, but Canon says it has addressed this issue. The company says it developed a unique LED backlighting system for this display that allows it to produce a very wide color gamut, and additionally says its proprietary optical configuration helps mitigate luminance and color variations. Canon says this provides an angle of view for the display that is wide enough to deliver accurate images when several people are viewing the monitor at the same time.
The DP-V1830 has a relatively shallow form factor and weighs about 16.5 pounds. Canon plans to update it in the summer of 2022 with a few updates, including two and four-screen individual image quality settings of input video signals, a chromaticity diagram, waveform monitor RGB parade, and SD-SDI support.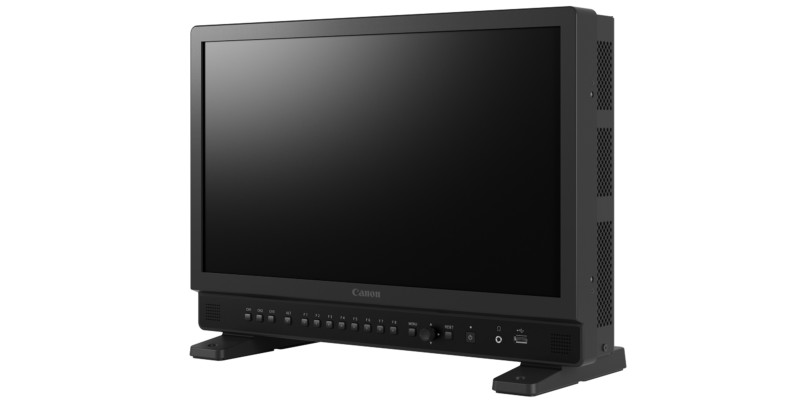 Referecne displays tend to be a lot more expensive than typical external monitors or even desktop computing displays because they must be far more color-accurate. That's certianly the case here, as Canon's DP-V1830 is significantly more expensive than even Sony's high-end PVM-X2400 4K reference display that retails for $10,000.
The Canon DP-V1830 will be available in January of 2022 for $14,300.