Intel's 12th Gen CPUs Show Impressive Performance for Photographers
Last week, Intel announced the 12th Gen Intel Core desktop processors (codename Alder Lake) with a new hybrid architecture that utilizes a mix of performance and efficient-cores. So, how good are they?
The P-cores (performance) are designed to maximize a system's performance with heavy workloads while the E-cores (efficiency) are intended to assist tasks that can be run in parallel or in the background when high-performance isn't necessary. This new hybrid setup is beneficial since the E-cores will take up significantly less demand and power on the system, meaning Intel can pack a higher number of cores into the processors which should give a noticeable boost to multi-thread processing.
The challenge is for the system to dynamically choose what processes get run on each type of core. For this, Intel has launched a new technology it calls "Thread Detector" to help with task assignments to help get the most out of the system. But for creatives, how do these new processors for handling applications like Adobe Photoshop and Lightroom?
According to the new review roundup from Puget, the new 12th Gen processors from Intel have officially "taken the crown" for performance with Adobe Photoshop, even if it was only just by a small percentage.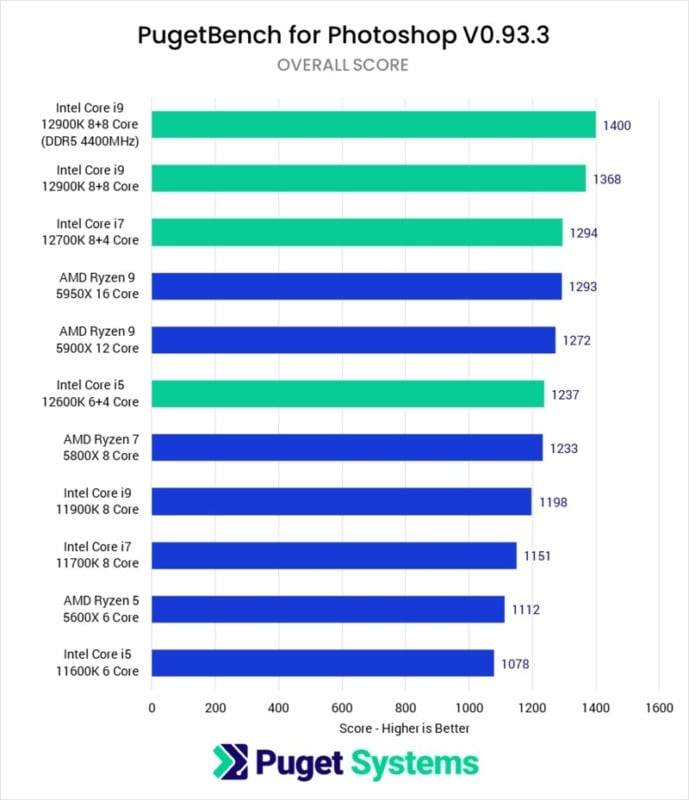 Puget says that the 12th Gen CPUs are anywhere from 12% to 17% faster than the previous 11th Gen processors and compared to the similarlyy priced AMD Ryzen CPUs, the company saw about 5% to 11% higher performance. While these numbers are statistically significant, in practice it is small enough that most users may have a hard time noticing the difference in day-to-day work. The new CPUs can support DDR5 RAM (as well as DDR4), but that addition won't change much in terms of Photoshop performance.
For Lightroom, however, the new processors show a significant shift in CPU performance. According to the report, the last few generations of chips saw AMD as the dominant choice for creatives running Lightroom-dependant systems, but Intel has finally taken an impressive lead with its latest chips.
"The performance between Intel and AMD is closer at the top-end, but the i9 12900K still manages to pull ahead of the Ryzen 5900X by a small 6% with DDR4, or by 15% when using DDR5 memory. At the i5 and i7 level, however, the Core i7 12700K and Core i5 12600K perform about 15% faster than the Ryzen 5800X and 5600X respectively, which should only further increase once DDR5 becomes widely available," Puget reports.
According to Puget, the 12th generation of Intel CPU is now officially the "clear choice" for photographers using Adobe Lightroom Classic when looking at purely performance-based metrics as found in testing for both active tasks like image culling as well as passive tasks like exporting. The company further states that this new CPU is a solid investment for photographers that use Lightroom Classic in their daily workflows. For an additional breakdown of the new processors, the team at Linus Tech Tips have released a video full of additional testing that mirrors much of what Puget found.
Overall, the new 12th Gen Intel Core Processors exceeded every expectation Puget had for the hardware, highlighting what a new hybrid design is capable of with performance gains averaging 15% to 20% in many areas, with some tests seeing over a 30% performance improvements when compared to the previous generation of CPUs. Puget also highlighted a significant improvement in performance with Adobe Lightroom Classic, making this generation of CPU the ideal choice for photographers with a heavy workload working on PCs.