DJI Launches the Mavic 3 and Mavic 3 Cine Dual-Camera Drones
DJI has announced the Mavic 3 and Mavic 3 Cine drones that feature two main cameras. The first features a 4/3-sized, 20-megapixel sensor behind a 24mm adjustable aperture prime lens, and the second is a 28x hybrid zoom camera, effectively combining the Mavic 2 Pro and Mavic 2 Zoom, but with upgraded hardware.
DJI says that it has completely redesigned the Mavic 3 and says that it is the most comprehensive improvement to its drone series in three years, claiming that it has boosted the performance in every key area. It starts, of course, with the cameras.
The Mavic 3 series features two main cameras, and the larger 4/3-sized sensor is a jump over the previous one-inch sized sensor that was found in the Mavic 2 Pro. Not only is the sensor larger, but the 24mm lens (84-degree field of view) in front of it has a more adjustable aperture between f/2.8 and f/11. DJI says that the larger image sensor gives the Mavic 3 higher video resolution and dynamic range while also better suppressing noise in low light conditions. The camera, again developed in conjunction with Hasselblad, can capture 20-megapixel still images in 12-bit RAW format and videos in 5.1K at 50 frames per second as well as 4K at 120 frames per second. It should be noted that the 120 frames per second in 4K is expected to come down the road as part of a planned firmware update.
The Mavic 3 records aerial videos at high resolutions and framerates and captures up to one billion colors thanks to the 10-bit D-Log color profile.
The Mavic 3's second camera features a 162mm telephoto lens (15-degree field of view) with 28x Hybrid Zoom (digital + optical) and a fixed aperture of f/4.4. That level of optical zoom allows the drone to capture more unique and dynamic perspectives that were only possible with interchangeable lens drones like the Inspire or the standalone Mavic 2 Zoom. Now that has been built-in to the Mavic 3, so deciding between the zoom and the better quality of the larger sensor is no longer required. DJI says that the new Vision Detection autofocus technology allows for quick focusing and works with multiple vision sensors on board to capture distance data to optimize focusing speed.
DJI says that the Mavic 3 series can deliver extremely accurate color straight out of camera thanks to the partnership with Hasselblad and its Natural Color Solution (HNCS) that it says is built on decades of photographic experience and was originally introduced to DJI cameras with Mavic 2 Pro.
The difference between the Mavic 3 and Mavic 3 Cine is a short list, but major for filmmakers: the Cine version includes a built-in one terabyte SSD and supports Apple ProRes 422 HQ video recording. The Cine version, as a result, is also just a little bit heavier than the standard version.
Battery life has been dramatically improved on the Mavic 3. While most drones previously have hovered around 30-minutes of flight time, the Mavic 3 leapfrogs those marks for up to 46-minutes in the air. DJI says this was achieved through the development of motors and propellers with higher energy efficiency, a higher-capacity battery, and reduced the weight of the drone's structure and components. The drone itself is more streamlined as well and produces 35% less drag than previous generations which allows it to fly easier and faster than before.
The Mavic 3 can operate at a distance of up to 15 kilometers (about 9.3 miles) while providing a 1080p 60 frames per second feed to the controller.
The Mavic 3 has improved flight safety features as well in the form of APAS 5.0, which combines inputs from six fisheye vision sensors and two wide-angle sensors that continuously sense obstacles in all directions in order to plan safe flight routes to avoid them, even in challenging or complicated environments.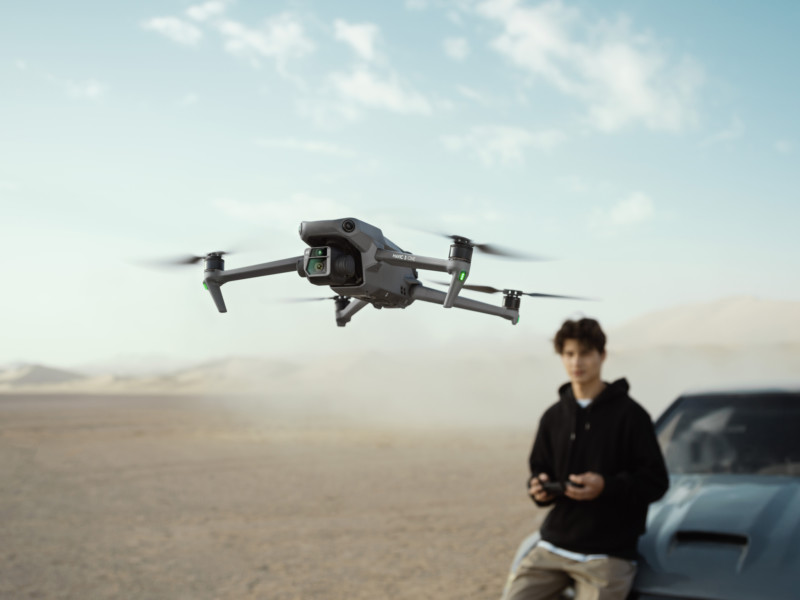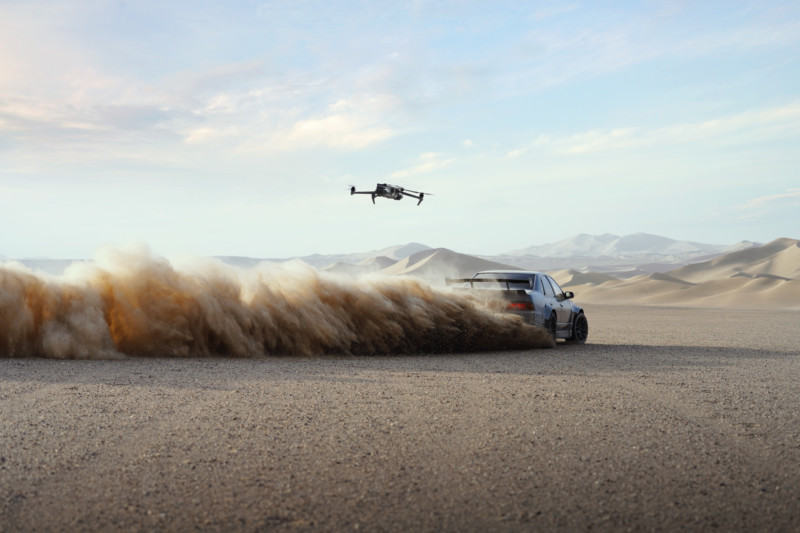 DJI claims that the omnidirectional obstacle sensing system also enables more intuitive subject tracking with the upgraded ActiveTrack 5.0. Previous iterations of ActiveTrack enabled the camera to follow a subject as it moved directly toward and away from the drone while remaining largely stationary as well as fly alongside a moving subject. In contrast, ActiveTrack 5.0 allows Mavic 3 to move with the subject as it moves forward, backward, left, right, and diagonally, and fly alongside as well as around a moving subject. In addition, if the subject moves too fast and temporarily goes out of frame, the visual sensors on the aircraft will continue to track and frame the subject intelligently and pick it back up when it reappears. DJI says that these new directions enable much more fluid and diverse drone and camera movement while using ActiveTrack.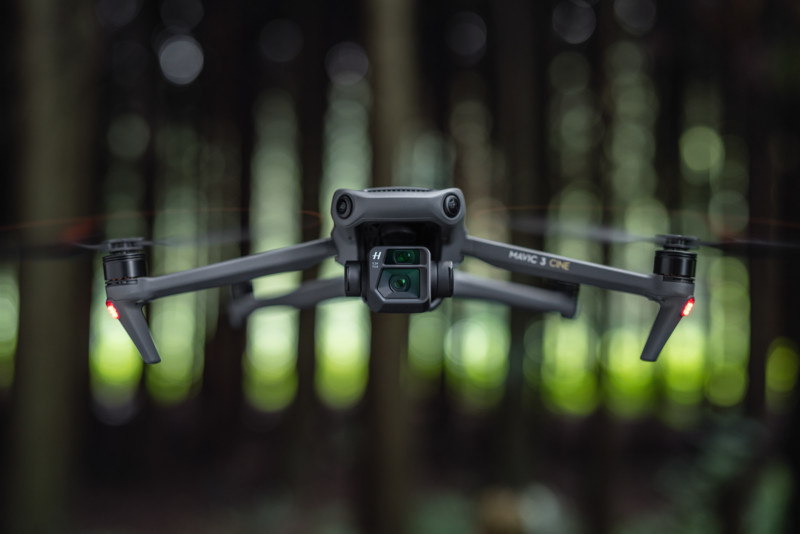 These advancements have also led to a different "return to home" functionality than in previous drones. Previously, the drone would ascend high enough to clear any obstacles in its path, fly back in a straight line, and descend straight down to the home point. DJI says the Mavic 3 updates and improves this system by allowing the aircraft to automatically determine the shortest, safest, and energy-efficient route to land back at its home point. At the same time, the drone measures the wind speed of the current environment and calculates the power required for returning home based on the wind speed and the return path in real-time. DJI says this provides users with more time to fly safely before triggering the "return to home" action which kicks in when it senses it is running critically low on battery or if it loses connection.
DJI adds that the Mavic 3 can also faster lock on to multiple satellite signals so that it can hover in place, motionless, even better than before.
As is always the case with DJI, the Mavic 3 features a new set of intelligent modes, which include the following:
MasterShots: This mode lets users create high-quality content more easily and quickly. After automatic editing and dubbing in the app, videos can be created in minutes and directly shared out of the app.
100MP Panorama Mode: The Mavic 3 directly stitches and processes internally without the DJI Fly App or any post-production, which it uses to create extremely high-resolution panoramic photos.
Trimmed Download: This feature allows users to export a selected portion of a clip instead of the entire file, which saves storage space.
QuickTransfer: QuickTransfer lets users store and process materials on their mobile devices without linking with the remote controller. Mavic 3 can now transmit materials from the drone to the mobile device more quickly through the WiFi 6 protocol (WiFi 6 support is coming in a future update).
DJI is also offering a large number of accessories with the Mavic 3, as is the norm with DJI products, including a new smart controller, portable charger, bag, wide-angle lens attachment, storage cover, ND filter set, and a high-speed data cable. As a result, the Mavic 3 is available in three different configurations:
The Mavic 3 Standard version retails for $2,199 and includes the drone, one Intelligent Flight Battery, an RC-N1 Remote Controller, an RC-N1 cable, the battery charger, storage cover, and three pairs of spare propellers.
The DJI Mavic 3 Fly More Combo retails for $2,999 and includes Mavic 3 the drone, three Intelligent Flight Batteries, an RC-N1 Remote Controller, three RC-N1 cables, a battery charging hub, storage cover, six pairs of spare propellers, the ND filters set (ND4\8\16\32), and the bag.
The DJI Mavic 3 Cine Premium Combo retails for $4,999 and, as previously noted, includes a built-in 1TB SSD and supports Apple ProRes 422 HQ video recording. The Mavic 3 Cine Premium Combo also includes a lot more accessories and components, including three Intelligent Flight Batteries, a DJI RC Pro remote controller, three RC-N1 cables, a battery charger, a battery charging hub, storage cover, six pairs of spare propellers, two ND filters sets (ND4\8\16\32 and ND64\128\256\512), DJI 10Gbps data cable, and the bag.