Adobe Brings Photoshop to the Web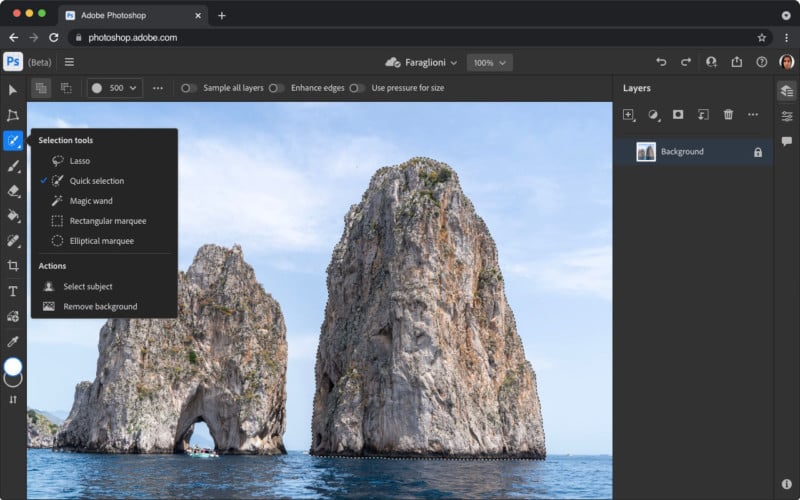 Adobe launched a slew of updates to its Photoshop lines today, but the news was not limited to desktop and mobile software. The company also announced that Photoshop is being extended to the Web.

Cloud-based collaboration is ubiquitous in the workplace these days, and now Photoshop is getting in on the action. As you work on a file in Photoshop, enabling collaboration is now as easy as sharing a URL.
"We are extending two of the world's iconic creative products, Photoshop and Illustrator, to the Web, so that you can access projects anywhere," Adobe says. "With just a URL, you can invite anyone to view and comment on your Photoshop or Illustrator file — and the reviewers don't need to download any software or have a Creative Cloud subscription."
Collaborators won't need to have any Adobe software installed because everything is done directly through the browser — Chrome and Edge are supported from the get-go. In addition to viewing a project online and commenting on it, others will even be able to make light edits to Photoshop files with some of the most often-used tools in a familiar workspace.
Collaborative comments can be read and written inside Photoshop on desktop and iPad as well. This comes following the update launched last February in which Adobe added the ability for users to create and share links to PSD files stored in the cloud so they can be co-edited and shared for review and comment via the web.
The first release of Photoshop on the Web launched today includes comments, pins, annotations, simple layers, selection tools, masking, brushes, eraser, healing, cropping, text, and more.
"We are starting with workflows for retouching and adjusting images, some of the most common Photoshop use cases," Adobe says. "[…] We are just at the beginning of exploring Photoshop editing features on the web and we look forward to your feedback."
Photoshop on the Web is now in public beta. You can start sharing Photoshop documents for collaboration on the Web by updating your app to the latest version. To access Photoshop on Web, click "Open in Photoshop on the web beta" in the header when viewing a Photoshop file in your browser.