Google Pixel 6 Pro Review: Right Back in the Race Again
With the Pixel 6 Pro, Google had no other choice than to give its flagship smartphone an overhaul, including its vaunted camera performance, and the results are certainly a good step in the right direction.
In the past, owning a Pixel phone often came with compromises, especially when it came to battery life, which was a longstanding thorn that continued to dog the overall experience. The camera was always the lynchpin and fueled its merits for those arguing for the phone's abilities. The 6 Pro (and perhaps the regular 6) signal a shift in direction on both the hardware and software sides. Google's own silicon in its Tensor chipset powers the newest features, not least of which is the software computation that has made the company's mobile photography so interesting.
You don't need to have previously tried a Pixel device to consider what this marriage of hardware and software means for your own use cases, but even if you have, it may come off as a significant change in perspective.
Design and Build
I covered a lot of the basics in the design when Google unveiled both Pixel 6 devices, but suffice it to say, this phone bears no resemblance to its predecessors. Put it next to the Pixel 5, remove the logos and you would think two different companies made them.
The new design language is also something of a departure from the current trend of placing the rear camera array in the upper corner. Instead, it traverses the width of the back panel, which in itself has some implications in the field. Depending on where you place your fingers on the phone while taking a photo, you may be less likely to accidentally photobomb it with a piece of your finger.
Gorilla Glass on both the 6.7-inch AMOLED and back panel moves the phone away from the understated look of the past. This is a bigger phone in just about every respect, and though I'm not a fan of the display's curved edges, it's undoubtedly a more aesthetically pleasing device this time around. I would be remiss if I did not mention the faster 120Hz refresh rate on the 6 Pro (it's 90Hz on the regular Pixel 6) which provides smoother navigation and extends to the camera app.
The fact that every variant also comes with 12GB of RAM is welcome, as is a much larger 5,000mAh battery to address the woeful performance of the past. Larger storage options starting at 128GB, and on to 256GB and 512GB, make capacity less of a concern.
Camera Features
After essentially sticking to the same primary camera sensor going back to the Pixel 2, Google equipped the Pixel 6 Pro with Samsung's considerably larger GN1 1/1.3-inch sensor in the form of a 50-megapixel wide shooter (26mm equivalent) with an f/1.9 aperture and optical image stabilization.
The main wide camera does also uses pixel binning, which happens automatically regardless of the scene. Night Sight can take advantage of larger 2.4-micron pixels to bring in up to 150% more light than the Pixel 5 could, but those 12.5-megapixel images don't only occur in Night Sight. Since the camera bins every image coming out of the main camera, shooting in Camera or Portrait mode at 1x and it will often automatically defer to the binned pixels.
The 12-megapixel ultra-wide camera also comes with a larger image sensor. It's a 14mm equivalent with a 114-degree field of view and f/2.2 aperture and slightly larger 1.25-micron pixels. The 48-megapixel telephoto marks a return for Google to a lens it previously espoused with the Pixel 4. Its prism design can get closer now at 4x optical zoom, though Google's interface also offers a 2x option. The 20x Super Res hybrid zoom is also supposed to be the best you can get at that focal length.
A key to all this is the Tensor chip, which Google touts as a system-on-a-chip (SoC) that drives all the performative improvements throughout the phone, including all the AI and machine learning in the camera array as well.
Software Features
This is where Google butters its bread, and the overall philosophy hasn't changed — which is to say that its computation software will do everything in the background to simplify things for users. This is what I was told when I asked why there was no manual or pro mode. While you can shoot in RAW in any mode, you can't adjust anything, like shutter speed, ISO, white balance, or manual focus.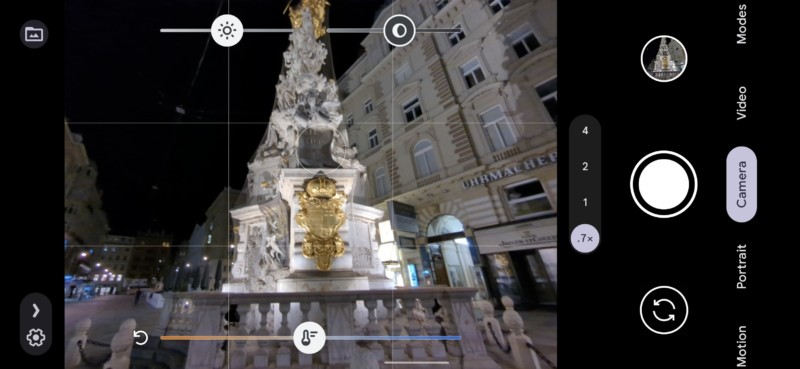 Not only that, but you also can't control the length of an exposure in Night Sight, Action Pan, or Long Exposure. The latter two are the newest modes, and labeled as "beta" throughout my testing, indicating that they're not quite finished products yet.
As per usual, these Pixel 6 phones also spearhead the general release of Android 12, an update Google claims is one of its most important, as if we haven't heard that before.
Some of the basics still apply, like double-clicking the power button to launch the camera or doing a flip gesture within the camera app to switch between the rear and front cameras. The new notifications pane will also let you disable the camera, along with a green icon in the top-right corner to indicate whenever an app is accessing it.
Image Quality
Main camera
During my testing, and prior to when Google made the Pixel 6 Pro available, it released an update for the camera that added a color temperature slider to the main interface. It's really the first time a phone camera has sliders for highlights, shadows, and color — all easy to use and adjust before taking the shot. Pixel devices have always shot with cooler tones, but that's now entirely up to you or what you think is best for the scene you're shooting. Adjust the slider and you can go as warm as you like.
Regardless of how you place the sliders, it's hard to argue with the results. Dynamic range is excellent in a variety of conditions, though not without some faults along the way. Bright light sources, like bulbs or sun-drenched clouds, may wash out, just not as pervasively as the iPhone 13 Pro models have thus far. More on that later.
Despite having no manual mode, I did choose to shoot every image in RAW + JPEG so I could at least make up for any mistakes that may have come from the onboard software. The f/1.9 aperture is actually tighter compared to f/1.7 in the Pixel 5, yet the 6 Pro does a better job in rendering scenes in spite of that. Google is also trying to draw a fine line with what, where, and when it sharpens an image, and is getting better at figuring that out. I'm still not entirely sure if the "Real Tone" processing truly works as claimed for people of color, but it does appear to have bridged the gap.
Ultra-wide and Telephoto
The best photos come from the main camera, but the other two lenses are capable in their own right. Google's software does the same things with both of them, albeit with smaller sensors and pixels to work with. The results, even in low-light conditions, turn out better than many competitors, and being able to use either lens in just about any mode makes the 6 Pro feel versatile.
Even Super Res, a hybrid zoom going up to 20x, is often better than what I've seen coming from competitors. Meanwhile, the ultra-wide can avoid barrel distortion or frayed edges for more interesting perspectives. It's just a shame there's no way to do more with them with manual controls, so adjusting dynamic range and color sliders are the only recourse.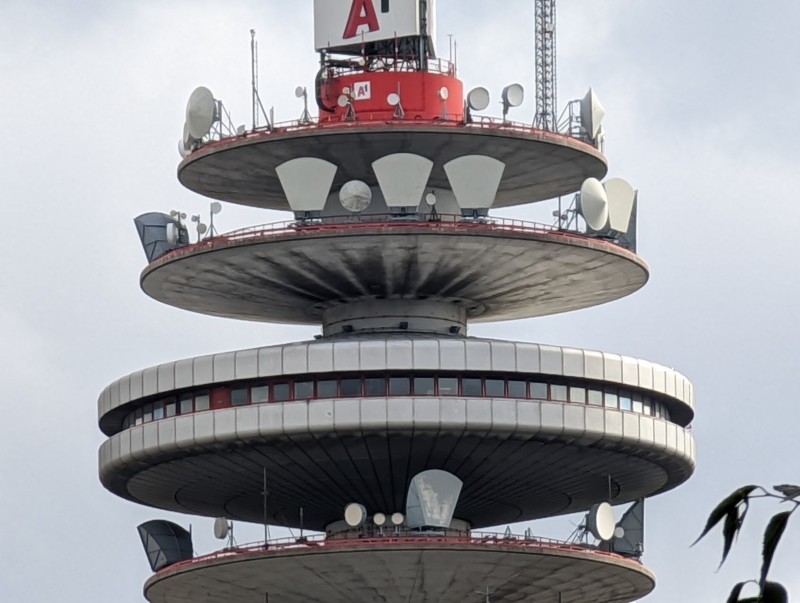 Night Sight
Google's claim that the 6 Pro can take in 150% more light only refers to the main sensor. Even if the other two lenses can take in more light, they're nowhere near 150%. Night Sight has been a stalwart of the Pixel cameras since it was first introduced, but its evolution had been limited since then.
Now, the mode shows its light-grabbing mettle in darker conditions, but I'm not sure I saw a major difference when it came to scenes that had a notable source of light, like an illuminated building or a busy street scene. Shoot with it in very dark settings, and it captures a ridiculous amount of light for a more detailed shot. Yet distinct light sources can pose challenges, particularly if you have something very bright and very dark in the same frame. The 6 Pro renders them better than most, but these are the scenarios where we start to see the limits of Google's ability to assess dynamic range.
Action Pan and Long Exposure
Google jumped on this train to join other brands that have already been playing in this sandbox. Motion mode offers these two options, which work differently. Action Pan tries to freeze a subject in place to show movement behind them, essentially emulating a slower shutter speed. Long Exposure is as described, where the camera is capturing a series of frames in quick succession at different exposures and speeds to get that wonderful blur.
Both need work. Google showed a photo of two women standing in front of a moving Ferris wheel when it first unveiled Motion mode, but it can be confusing as to which option to use. The people you capture have to be really still to make it work, and what Google doesn't mention is that its blur-reduction rendering always looks for faces first. Try doing this with a non-human static object, and your results may vary.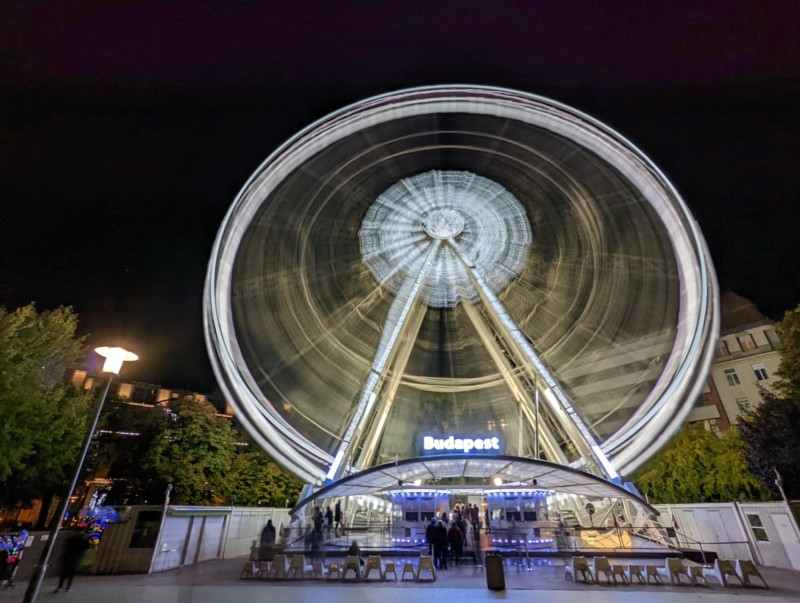 They certainly will with Long Exposure because you can't control how long the exposure lasts. Not only that, but Google's software can't fully make up for even the slightest hand jitter. Capturing a Ferris wheel this way made the sign in front of it a blurry mess. Action Pan needs you to focus on something or someone before it does its work, and the difficulty in doing that is relative to the speed the subject moves at. The best method is to try locking focus and snapping the shot at the most opportune time.
Needless to say, both modes are much easier to work with if you use a tripod or a flat surface. If you have a static scene, like a castle across a river, Long Exposure can soften the water for a wonderful effect.
Magic Eraser
This is less a Pixel 6 Pro feature, and more a Google Photos one, but the fact you have bigger pixels here may help. You can remove any unwanted part of an image, or at least try to, as the software works to match it with neighboring pixels. It's not unlike a content-aware healing brush in Photoshop or Lightroom, except it's hard to be precise with a finger compared to a mouse or stylus. I have no doubt many will be impressed when they see this in action, but it will really depend on what you're removing and how busy the background is.
Video Features
Despite Pixel phones' prowess with still photos, video has been a grind to get to some measure of respectability. This review focused on still images, but it should be noted that video performance has gotten better with the 6 Pro. Previous features, like Cinematic Pan, are still around, as are Slow Motion and Timelapse. All three lenses can shoot in 4K at 60fps with the LED flash enabled.
While output is better, the 6 Pro doesn't match the iPhone 13 Pro and its ability to make video look crisp, color-corrected, and seamless. Focusing isn't as good, and Apple's Cinematic mode is on a different level compared to what Google has here. What would've been great is if Google countered with a manual video mode, but we knew that wasn't going to happen.
A Very Necessary Upgrade
It was high time that Google did something to improve its cameras beyond just the software side of the equation. Better hardware, even if the main image sensor isn't new to the industry, means the software has more to work with to produce those excellent shots. That shows with the Pixel 6 Pro, which puts Google right back in the conversation as one of the best.
The company's obvious mantra is to help users capture outstanding photos with little effort, a commendable goal that bears fruit a lot of the time. It doesn't dive into special modes the way Samsung or the multiple Chinese brands do, though it also doesn't want to offer the kind of manual control you might get from, say, a Sony Xperia. What's not entirely clear is how much third-party apps benefit from what Google has done with the 6 Pro, though a larger sensor certainly doesn't hurt.
Are There Alternatives?
The immediate comparison, given the "Google vs. Apple" narrative, will be with the iPhone 13 Pro and Pro Max, which perform very well, but can't match the dynamic range that the Pixel 6 Pro can produce. Same with the Samsung Galaxy S21 Ultra, which has better options and higher levels of control, only doesn't quite hit the same mark on nuances, like skin tone, color temperature, and sharpness that the 6 Pro does.
The Vivo X70 Pro+ is a powerhouse by comparison, even if its computation isn't fully there just yet, especially with night shooting and skin tones, though its sheer breadth of features does offer serious variety. If you want to stick with Google, yet not go Pro, the regular Pixel 6 has the same camera and output, except for the telephoto lens and sensor.
Should You Buy It?
Yes, especially because of what it costs. The Pixel 6 Pro undercuts the competition by starting at $899 for the 128GB model. That's a very good deal for what you get here, and even if you were to go up to 256GB or 512GB, you still spend less than you would on competitors' devices.