The T2 Clampod Can Firmly Attach Your Camera to a Variety of Surfaces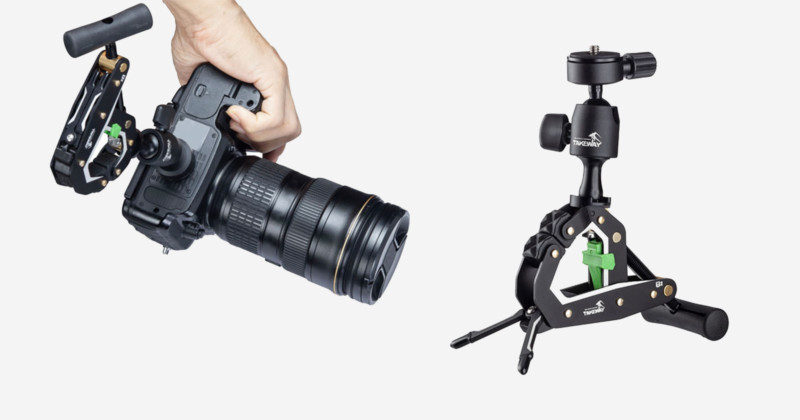 Takeway has launched the T2 Clampod, a compact and lightweight clamping stand that can be attached to a variety of surfaces and easily stored without taking up much space or adding extra weight to a camera bag.
The new "clampod" — which is a mini tripod that adapts to a variety of surface types thanks to its integrated clamp — comes with what Takeway calls an "improved" design, particularly with regard to its stability and precision, following its previous T1 and T1 Plus models. Made of aerospace-grade aluminum alloy, it is compact and lightweight at 200 grams (0.4 pounds) and has a load capacity of up to 40 kilograms (88 pounds).
It has been designed with action and extreme sports photography and video in mind and can be used both as a mini tripod or attached to any flat or cylindrical surface with its built-in clamp, allowing endless possibilities as it can be clamped to anything and at any angle. The clampod can be attached to cylindrical surfaces of up to 50 millimeters (two inches) in diameter.
The clampod has a ball head with a quick-release plate and a 1/4-inch thread to mount a camera and allows 360-degree rotation, and its ball head supports cameras that weigh less than 3 kilograms (6.6 pounds), as well as other devices, such as smartphones, tablets, speedlights, and microphones. Third-party ball heads can also be installed for greater load capacity if required.
The wide range of device compatibility makes it a suitable tool for more than just action photography — it can be used for vlogging, travel, landscape, product, night shooting, and more, as well as other general purposes, such as holding up a tablet or a phone during a video call or a live stream, or for watching a video.
The cubic jaws with three different grooves, located below the ball head, make clamping easier, while a soft plastic handle and a precise screw allow tightening the clamp. When the clampod is not in use, the green internal clamp can be folded, easily fitting the clampod in a pocket or a small camera bag.
The Takeway T2 Clampod costs $61 and ships with a smartphone holder.