Apple to Launch MacBook Pros with M1X, Mini LED Displays: Report
Apple will hold its second fall event on October 18 and multiple rumors point to a refreshed MacBook Pro equipped with the new "M1X" processor, a mini LEDs display, and more.
Rumors circulated by Engadget, MacRumors, Bloomberg's Mark Gurman, and other industry insiders like Ming-Chi Kuo, Apple will launch very likely launch a 14- and 16-inch new MacBook Pro that features slightly changed physical designs as well as a host of upgrades including a newer 10-core Apple chip rumored to be called the M1X as well as a new display. These rumors are very similar to the ones that put the timeline for the new computer much earlier this year, but supply chain issues and the global chip shortage may have impacted Apple's release schedule.
It's still up for debate if the chip will actually be called the M1X, but the expectation is that it will be more powerful than the currently available M1 chip.
Another path Apple could choose to take: M1 Pro for the 16 core GPU, and M1 Max for the 32 core GPU. Both chips with the same 10-core CPU. Leverages the popular "M1" name. https://t.co/7NUVWG7Mc7

— Mark Gurman (@markgurman) October 12, 2021
A lot of what is expected to come to the new computers has already been integrated into other products, at least in part, but when combined into one machine makes for a rather impressive laptop. The computer will likely feature slimmer bezels around a brand new mini led display that features ProMotion 120Hz refresh rate, the same refresh technology found in the new iPhone 13 Pro models.
Mini LED displays — or as Apple calls it in the latest iPad Pro, Liquid Retina XDR — uses a set of thousands of tiny mini LEDs that are arranged into a ton of individually controlled dimming zones. In the case of the new iPad Pro, that meant 10,000 LEDs arranged into 2,596 zones. To put this in perspective, the 32-inch Pro Display XDR that costs $5,000 (without a stand) has a total of just 576 zones.
That high number of zones means far better contrast for richer blacks and more stunning highlights, which of course means better rendition of HDR content. Below is a side-by-side photo that shows the extremely noticeable difference between a standard LCD display versus a mini LED display: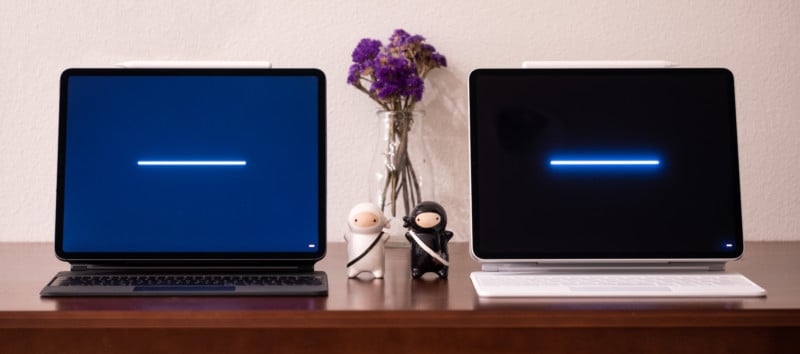 While these black levels can't quite keep up with the deep blacks that are a hallmark of OLED displays since each pixel can be individually controlled and even turned off, mini LED is the closest non OLED technology that can achieve similar results. A benefit of mini LED is brightness, as the technology can get significantly brighter than OLED displays that typically don't get that bright in an attempt to prevent burn-in. This isn't a problem with mini LED technology.
Those who have seen this display tech on the iPad have been clamoring to see it on a dedicated computer, and if the rumors are to be believed, it's coming next week.
The MacBook Pros will also reportedly ditch the much-maligned Touch Bar and will bring back full-size physical function keys in its place. Also expect the much nicer 1080p webcam found in Apple's latest iMacs as well as the return of MagSafe. Gurman also reported that the SD card would make a return to this series of MacBooks.
Apple is planning for the return of the SD card slot in the upcoming 14-inch and 16-inch MacBook Pros. This is looking like the "fix everything" edition – with MagSafe also returning and the Touch Bar going away. https://t.co/kOpqkSYds0

— Mark Gurman (@markgurman) January 22, 2021
Even though multiple sources are all stating the same set of rumored specifications, there is no telling how many of these features will actually make their way to the finished product until Apple officially reveals things next week. While rumors tend to get a few things right, very rarely are they 100% accurate.