AER TYP Lets You Throw Your Phone Like a Football to Get Aerial Shots
The company that created a way to literally throw a GoPro to get aerial footage has just announced a similar product that promises the same experience, but with a smartphone.
Five years after the success of the first throwable camera device, the team is back with a new take on the original design that works specifically with smartphones. Called the AER TYP — which stands for "throw your phone" — the team says it knows the idea sounds crazy, but promises that it "actually makes a lot of sense."
"We all have capable cameras in our pockets – So we can simply throw them to get unforeseen, engaging, and immersive perspectives," the company says.
If the idea of throwing your camera sounds like a quick way to destroy it, the team assures that it built the AER TYP to protect the device first and foremost. AER touts its years of experience building devices that make it safe to throw cameras and has thoroughly tested the AER TYP through what it calls the harshest conditions.
"We tested the farthest throws, the highest drops, and the roughest surfaces countless times — the AER TYP can take it all!" the company claims. "We've even thrown our own phones off buildings several stories high, right onto concrete. Not once, but countless times. You can trust that your phone and the AER TYP are safe under absolutely any circumstance."
The design of the TYP is extremely straightforward. The device is formed out of mostly foam, and the smartphone is held ensconced in the protective enclosure by a Velcro strap. That enclosure is then attached to a pair of stabilization fins and the whole thing can be thrown to capture aerial footage with a smartphone on the cheap.
In addition to the new TYP, AER is also releasing an updated version of the original AER for GoPros. Called the AER 2.0, the team chose to use a new material that it says is even more suitable for the wings that it deems "unbreakable." Existing AER heads can be attached to the new wings via the AER 2.0 wing adapter. The AER 2.0 is compatible with the Hero 4 through Hero 10 cameras.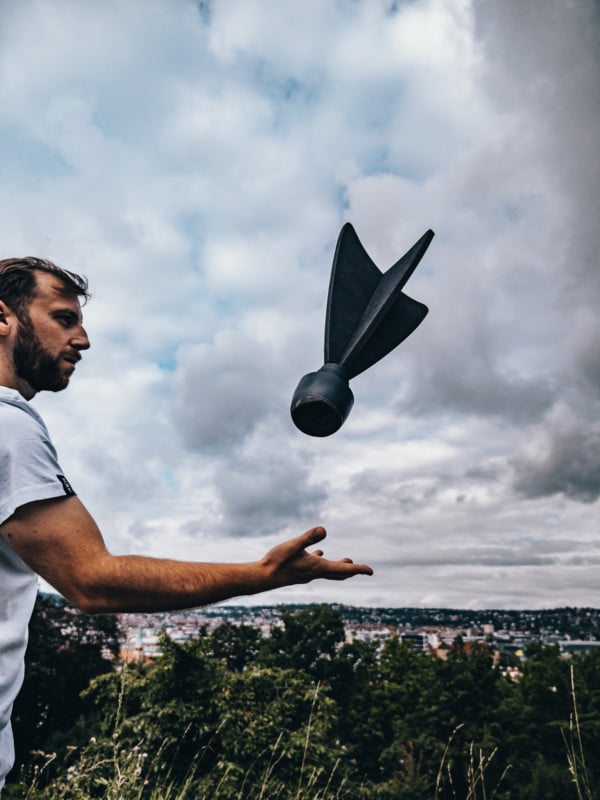 The AER TYP is available for as low as $68 and the AER 2.0 for as low as $34 depending on which backing option is chosen on the company's Kickstarter. AER expects to deliver the AER 2.0 by April of 2022 and the TYP by May of 2022.
---
Disclaimer: Make sure you do your own research into any crowdfunding project you're considering backing. While we aim to only share legitimate and trustworthy campaigns, there's always a real chance that you can lose your money when backing any crowdfunded project.