Listen to the Canon EOS R3 Shutter Fire at 30FPS
Last week, Canon launched its latest high-end photojournalist-focused mirrorless camera, the EOS R3. It is capable of firing up to 30 frames per second in electronic shutter mode — and the sound of it doing so is wild.
Uploaded by Youtuber and photographer GengHui Tan, the short video above delivers exactly what is promised: the sound of the EOS R3 firing 30 frames per second for about four straight seconds. In his video description, Tan states that the camera has a maximum 1/64,000 shutter speed and is capable of shooting up to 30 frames per second with the electronic shutter. The camera fires so quickly that the space between each click is almost indiscernible.
"During my short hands-on media session with the Canon EOS R3, I was able to have a feel of the amazing speed and precision of the Canon EOS R3. I would love to fully test out this feature when a review unit is available," Tan writes.
Of note, this sound is entirely artificial. When briefing the press about the R3, Canon spent a bit of time explaining that it made a specific effort to give photographers the ability to go completely silent with the R3, even when it is firing at maximum frame rates. There are settings in the camera that allow the sound heard in the video above to be turned off, but the company did not stop there. There are additional settings that remove all sounds from the camera at the cost of a bit of speed, allowing a photographer to shoot without making any sound at all.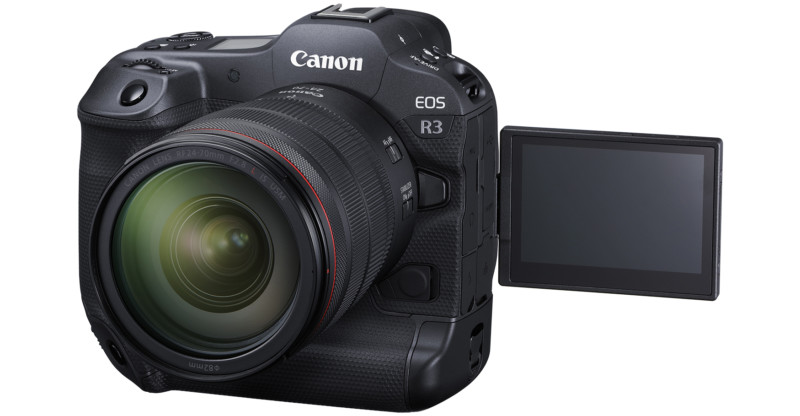 The Canon R3 has significant technological advancements over any other Canon camera released to date. Not only can it fire at 30 frames per second, but it can also do so while maintaining full-time autofocus and delivers a blackout-free experience for the shooter. The camera can also shoot at up to 12 frames per second with a traditional mechanical shutter. Canon says that the readout speed of the sensor is so good that there is minimum rolling electronic shutter distortion.
The EOS R3 can support flash sync with its electronic shutter at up to 1/180 second at up to 15 frames per second.
For more on the EOS R3, make sure to read PetaPixel's launch coverage as well as a hands-on first impression from photographer Martin Bissig, who was able to spend a week with the camera ahead of its announcement.
---
Image credits: Elements of featured image licensed via Depositphotos.