What's New in Apple iOS 15 for Photographers
For many, Labor Day weekend means the kick-off of the fourth quarter, new products from Apple, Google, Amazon, and so many others. There's also that new Apple iOS operating system free upgrade that will be available to the masses to download in a few weeks.

While the marquee iOS 15 features include the ability to watch entertainment together on FaceTime and have a digital version of your driver's ID honored, for photographers, there are many new features to look forward to.
I downloaded a beta version of iOS 15, and have been playing with it, so I'd love to point some of the cool new features that I think we photographers (anyone who takes a photo on the iPhone!) will enjoy.
Let's run them down:
Memories
If you're like most folks, you love shooting videos and photos on your smartphone, but you never get around to the bother of sitting down to edit them. Apple knows this and has gone to great lengths to create automatically produced sizzle reels of our trips, friends, and family that if you're like me, you rarely look at.
So with the new iOS, Apple has upgraded its transitions, animated cards, and collage styles for "a cinematic feel." You can soon add licensed songs from your Apple Music subscription for the soundtrack or continue using tunes from Apple's canned library.
The new Memories do look way better, and unlike in previous iOS versions, they are easier to share on social media and via email. Best of all, you can now do slight edits on the videos as well, switching out the automatically selected song suggestions and deleting photos you don't want shown that Apple has added to your production.
Memories is getting the most hype, so far, from Apple, although I think it's questionable whether people will actually do much with them. Facebook and Google generate automatic videos from our images too, and I never bother with them. They're way too cheesy and I have other things to do. Can Apple change that? Doubtful, but I like the upgrade.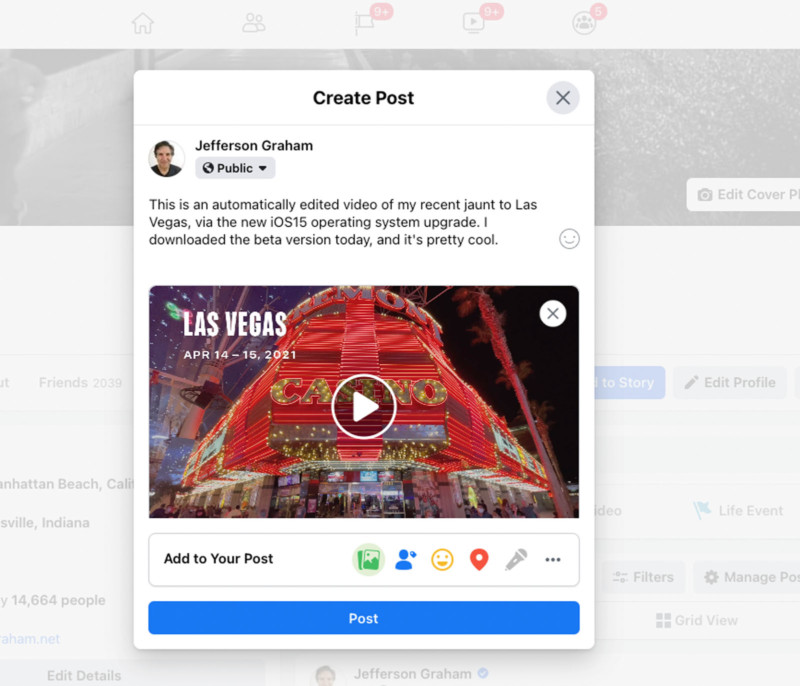 Text Photos
The most useful feature is so simple. How much do you hate the bother of trying to save photos that are texted to you?
The old way: put your finger on the photos and wait for the Save button to appear. Then hope it makes it to the camera roll in the Photos app.
New way: there's a share tab right next to the photo in the iMessages app, and a new "shared with you" album in your camera roll of texted photos.
Like why didn't Apple think of this years ago?
Live Text
Apple has added the ability to copy text from a photo and send the words to an e-mail or document, which is incredibly useful if you take pictures of recipes or the like. (Google added this to Android several years ago. Just sayin'.)
Info Please
A new feature that probably won't get much play at first, because it's not really totally ready for prime time is an information tab you can click on under the photo to reveal the download about artwork, landmarks, pet breeds, and flower types. In my tests, I was able to find the breed of a dog shown in a photo as well as a flower type. Some landmarks popped, others didn't.
EXIF
More importantly, for photographers, we finally get EXIF information listed in the Camera Roll, which tells us which of the iPhone lenses we used, what our automatic exposure was, and this is fantastic, the file name of the photo. This basic info hasn't been available in previous iOS editions and it really helps when I want to search for the photo on my computer. Knowing what it's called is a lot more useful than just looking for that photo of the Manhattan Beach Pier.
Apple historically releases the new iOS about a week before the release of the new iPhones. Bloomberg pegs September 14th as the likely date for Apple to announce the 2021 iPhone lineup and September 24th for their release.
Last year iOS 14 was released on Wednesday, September 14, so I'm going to go out on a limb here and predict the final release of iOS 15 for Wednesday, September 15th.
But if you'd like to download it now as I did, the beta version is available here.
---
P.S. Speaking of iOS 15, that controversial new feature we wrote about that would see Apple snooping on your iCloud photos in the name of child safety, has been paused, for the time being.
---
About the author: Jefferson Graham is a Los Angeles area writer/photographer and the host of the travel photography streaming TV series Photowalks. The opinions expressed in this article are solely those of the author. You can subscribe to Jeff's newsletter here.