Watch Vintage Flashbulbs Burst in 100,000 FPS Super-Slow Motion
Filmmaker Ryan McIntyre recently had the opportunity to use the Phantom TMX 7510 slow-motion camera's 100,000 frames per second and combined it with a Laowa 24mm 2x Macro Probe lens to capture spectacular footage of vintage flashbulbs bursting brightly.
McIntyre operates the video production company CineSpeed that focuses solely on capturing high-speed images. He and his company use Phantom high-speed cameras to capture remarkable images that usually happen too fast for the human eye to see. For his most recent project, McIntyre decided to capture close-up, slow-motion footage of vintage flashbulbs bursting, as he had never seen what the reaction looked like from this perspective.
The idea for the film came after he watched a low-resolution video of a lightbulb blowing up. He added it to a list of ideas he had for when he got the opportunity to use a TMX camera in the future. That future eventually came, and he got to work making his idea into reality.
"Our original plan for this shoot was to see if we could capture vintage flash bulbs exploding, but no matter what we tried we could not make that happen," McIntyre tells PetaPixel.
Flashbulbs aren't designed to blow up — quite the opposite, actually. And despite trying multiple different voltages and extreme temperature changes, McIntyre and his team were unable to make them explode. Despite the deviation from the original plan, they were able to capture something quite extraordinary nonetheless.
"During testing, to our surprise, we captured something much better," he says. "The first extreme shot, when we exposed correctly, completely shocked us when we played back the video. The macro footage seemed almost otherworldly."
McIntyre says that he and his team used two specialty arc lamp lights to light the flashbulbs more evenly and give them more detail in the shadows. Specifically, they used the MR2400 from Megaray. To fire the flashbulbs, McIntyre rigged them to a nine-volt battery, which he says worked perfectly.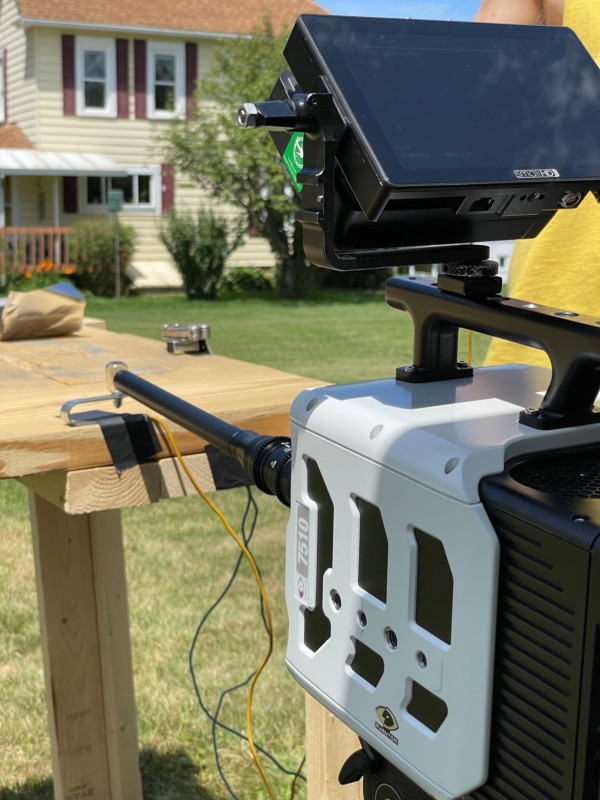 "The flashbulbs we used were extremely bright, and exposing correctly for them took some trial and error," he explains. "After a few failed attempts, I decided to close the lens the whole way down and speed up the shutter of the camera to the fastest it could go, and that is when we captured one of the best shots."
The footage seen in the video above required the camera to expose for just 95 nanoseconds per frame, and the lens had to be set to an aperture of f/40.
For more from Ryan McIntyre and CineSpeed, make sure to subscribe to their YouTube Channel, follow them on Instagram and Facebook, or visit their website.
---
Image credits: Photos by Ryan McIntyre and used with permission.