Apple Expands Mac Pro Support with Three New AMD Graphics Cards
Apple has added three new graphics card modules for the Mac Pro that it says are designed to deliver a large performance boost to the computer's graphics horsepower specifically in GPU-heavy applications.
Apple says the new modules are based on AMD's next-generation graphics processor, the Radeon Pro W6000-Series GPU, and comes in three variants: the Radeon Pro W6800X MPX Module, Radeon Pro W6800X Duo MPX Module and the Radeon Pro W6900X MPX Module.
The addition of the new graphics card options should greatly expand the power of the computer for apps that strongly rely on the GPU, like DaVinci Resolve and Final Cut Pro.
Graphics performance options have been widely expanded on Apple's customization page, which now has a total of 10 possible configuration choices when building a Mac Pro. The computer can now come outfitted with one Radeon Pro W6800X with 32 gigabytes (GB) of GDR6 memory for $2,400 or two for $5,200. One step up, the Radeon Pro W6900X with 32GB of GDDR6 memory will cost $5,600 or $11,600 for two. Finally, a single Radeon Pro W6800X Duo with 64GB of GDDR6 memory will run $4,600, or two for $9,600.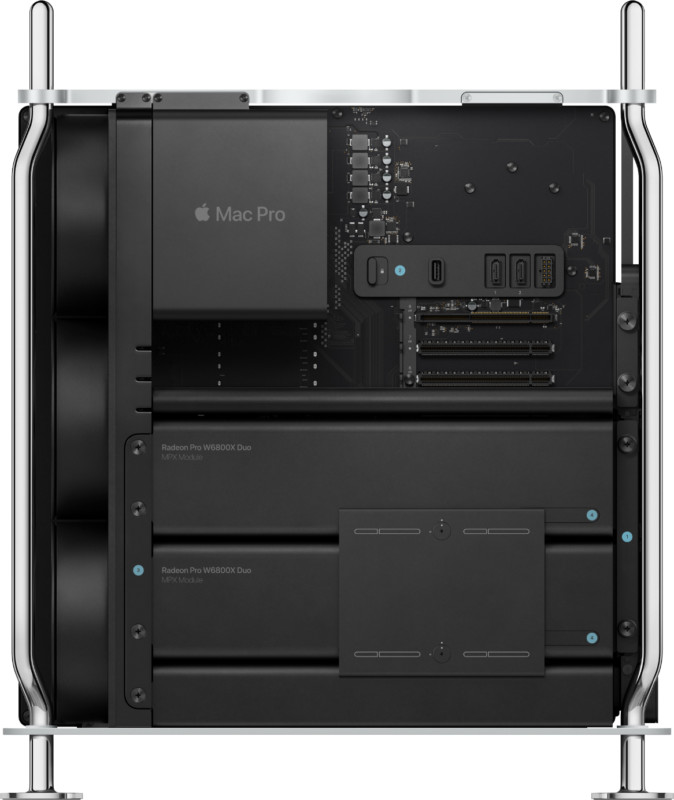 The Mac Pro supports two MPX Modules and when those are populated with two W6800X Duo cards, they can deliver up to 60 teraflops of graphics performance and 128GB of memory. Because these graphics modules are made by AMD, they likely also feature AMD's Infinity Fabric Link, which allows up to four GPUs (via the two Duo modules) to connect at 84 GB/s per link in each direction, which is five times faster than the PCIe bus.
Each module also adds four additional Thunderbolt 3 ports and an HDMI 2.0 port, which greatly expands the input options on the computer in addition to ramping up its power.
These new additions now make it so that a fully loaded Mac Pro will run $54,748 for those who want the most expensive configuration options available. Previously, the most expensive model cost $52,600.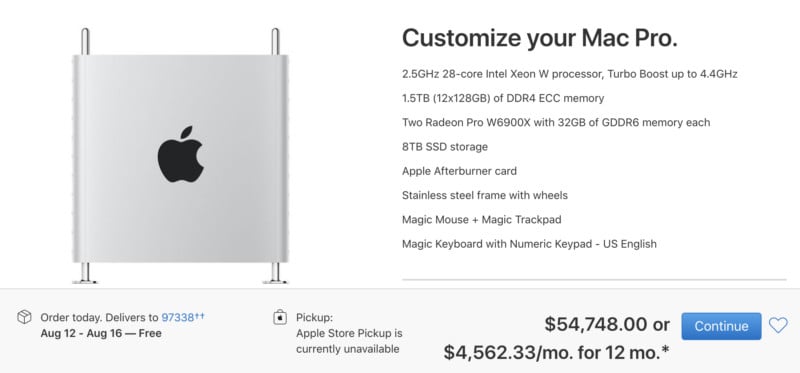 Recent rumors state that Apple is currently working on a new Mac Pro, but it was not clear if that meant a whole new full-sized workstation or if the company was planning on expanding the line into something like a Mac Pro Mini. Apple adding more options to the current Mac Pro seems to indicate that it doesn't plan to sunset this particular model quite yet though, and the new machine should be significantly more powerful fully loaded than before, which expands the amount of time it will remain useful for creative professionals.