A Fully Loaded Apple Mac Pro Will Cost You $52,600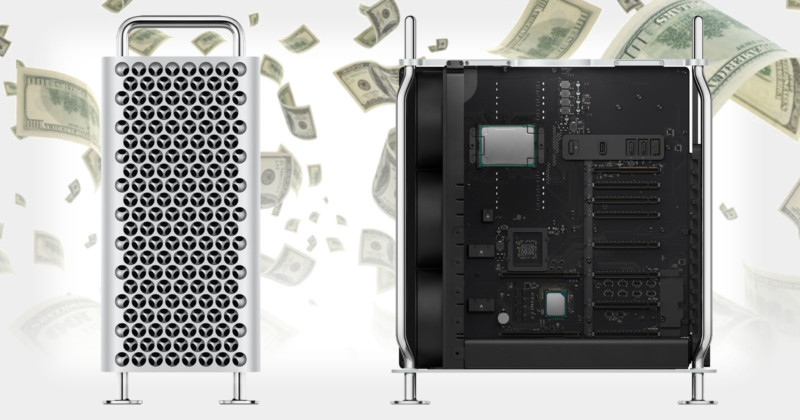 The Mac Pro and Pro Display XDR officially went on sale today, allowing us to answer the question that has been on everybody's mind ever since Apple's desktop powerhouse was announced: how much will it cost to buy a fully spec this monster out? The answer: a cool $52,600.
When Apple first announced the Mac Pro, the company only revealed the price of the base model, which was already somewhat … controversial… at $6,000 for an 8-core 3.5GHz Intel Xeon W CPU, Radeon 580X GPU with 8GB of video memory, 32GB of ECC RAM, and a measly 256GB of SSD storage. But that is the proverbial tip of the ice berg.
Fully specced, the computer can handle a 2.6GHz 28-core Intel Xenon W processor with turbo boost up to 4.4GHz (+$7,000), a mind-blowing 1.5 terabytes of RAM (+$25,000), two Radeon Pro Vega II Duos with a combined 64GB of dedicated video memory (+$10,800), and up to 4TB of SSD storage (+$1,400). Oh, and let's throw in the special Apple Afterburner accelerator card that's capable of decoding up to 6.3 billion pixels per second (+$2,000), allowing you to play back three 8K ProRes RAW video streams simultaneously, and throw on some wheels (+400) to the frame.
And all together, if you pack this thing to the gills with all of the most powerful tech Apple has on offer, the price goes from $6,000 for the base model all the way up to $52,600 … which is right about where we expected it to land when we covered the launch in June.
To learn more—or if you just happen to have 53 grand sitting lonely in your bank account, looking for a good home—head over to the Apple website and configure yours.