Sony Unveils the ZV-E10: A 4K Camera for Self-Filming Vloggers
Sony has announced the ZV-E10, an interchangeable lens APS-C camera that targets vloggers. With a larger sensor and the ability to swap lenses, Sony believes this camera steps up what the ZV-1 started.
While the ZV-1 was largely based on the RX100 pocket cameras, this new ZV-E10 takes many aspects of the Alpha 6100 and reconfigures them to primarily support video creation. Among the modifications are a swing-out screen to self-monitor from in front of the lens, the removal of the electronic viewfinder to make the camera even more lightweight and compact, a directional three-capsule microphone for good audio pickup without adding an external microphone, and a one-touch mode button that replaces the dial to switch from stills for video.
Inside, it uses the same 24.2-megapixel sensor used in the a6100. The camera does not have sensor-shift image stabilization, but it does have digital stabilization for video by way of a small crop. The lens mount accepts any of Sony's 50-plus E-mount lenses, not to mention countless third-party offerings.
The ZV-E10 can record video up to 4K 30p and also do slow motion in camera in 1080p up to 120 frames per second. Both of these do a maximum bitrate of 100 Mbps. There's also Real-time Eye AF, face detection, and touch tracking while recording video. On the stills side, there's subject recognition for humans and animals.
Some of the new tools for vlogging include a variable soft skin effect, background defocus button for one-touch change of aperture, and a product showcase setting where the object closest to the camera will pick up focus with a smooth transition.
Also, what would a YouTuber be without livestreaming? The ZV-E10 can simply plug into a computer or compatible smartphone to work as a webcam. It uses USB Video Class (UVC) and USB Audio Class (UAC) standards for quick plug-and-play compatibility.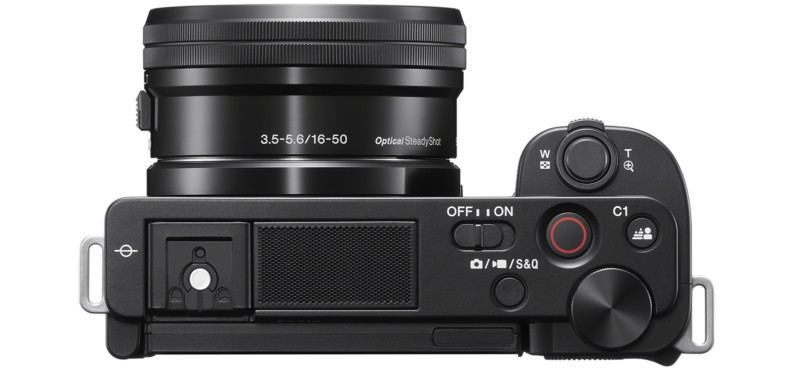 The new mirrorless camera uses the Sony NP-FW50 battery and takes a single UHS-I SD memory card through the battery door. Connectivity options include a microphone jack, headphone jack, USB-C port for file transfer and charging, and a micro HDMI port out.
The Sony ZV-E10 will be available in either black or white and be priced at $700 for the body only. There is a kit option available that comes with the Sony 16-50mm f/3.5-5.6 OSS lens that will cost $800.