Victorian Influencers 'Facetuned' Photos Long Before Instagram
This 22-minute video offers a fascinating deep dive into the history of portrait photography manipulation, which dates all the way back to the Victorian era. It's an eye-opening look at the continuous relationship between societal beauty standards and reality.

In the video, YouTube star, dress historian, and costume interpreter
Bernadette Banner
touches on the fact that nowadays portrait and selfie photo manipulation to achieve a certain aesthetic ideal is considered damaging and
can cause negative psychological effects
. However, FaceTune and other photo editing apps that people use today to enhance or completely alter their face and body shape are not a new concept, and, in fact, date back all the way to the Victorian era where retouching — with the beauty standards of that period in mind — was applied to both commercial and personal photographs.
The more extreme retouching involved photographers manipulating the images by "removing" subjects' body parts, for example, the missing head images below, producing an early type of composite photograph that can now be easily achieved in Adobe Photoshop and in other editing apps. Although this type of photography is unlikely to affect the public perception of what is their ideal beauty standard, it's the beginning of photo manipulation, nevertheless.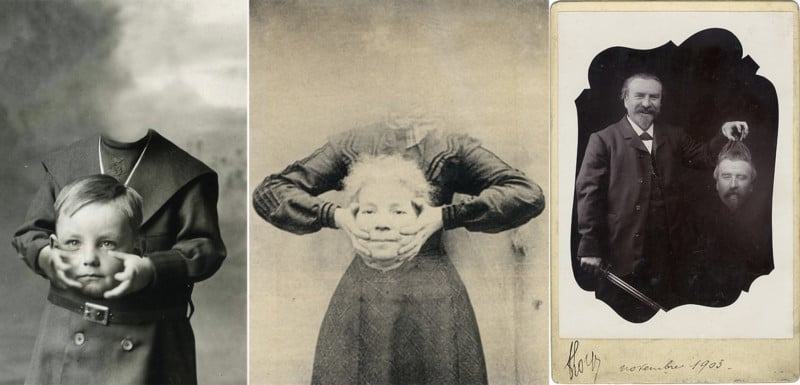 Banner notes that in her research she found that photo manipulation — one that is performed to enhance portraits for personal and commercial use, not for humorous images — was common during this period. So much so, she came across a couple of texts, such as, "A Complete Treatise on the Art of Retouching Photographic Negatives and Clear Directions How to Finish & Colour Photographs," which instruct people on how to retouch their own photos and that retouching was an integral part of the photographic portrait studio experience at the time.
A few things stuck out for Banner, such as, most of the 19th-century portraits that she researched, each subject's skin was near-perfect — and absent of freckles — which weren't considered to fit the ideal beauty standard — as were the figures. This was more prevalent in the Edwardian period which came thereafter and brought highly unnatural idealistic body type, particularly for women, which was also replicated in the photographs taken during this time.
Also, similar to today's photography manipulation, studios were able to perform better and less detectable alterations to the images while individuals, similar to modern-day social media users, took the matters into their own hands and manipulated the images which came out more noticeable.
Even though some high-fashion women, who could be considered influencers of the era, were willing to wear tight lace to fit the small waist body ideal of the time, such as the actress and model Camille Clifford, the pictures would often get further manipulated to accentuate this extreme and highly-unattainable body shape.
The conversation of how unrealistic beauty ideals and the easy access to altering one's photos to fit them affect a person, especially a young one, regularly surfaces in the media, however, Banner doesn't believe that throughout history the pictorial representation of the human figure has ever promised to be a representation of the reality, but for one reason or another, nowadays we have changed our expectations to expect it to be.
In the rest of her video, Banner explores the relationship between fashion, beauty, and marketing, drawing comparisons with today's conversations and culture.
More of Banner's educational videos and content can be found on her YouTube channel and on her Instagram page.