Photos of the Sulfur Miners at the Ijen Volcano in Indonesia
Every day hundreds of men climb the 9,000 feet to the summit of Mount Ijen located in Java, Indonesia and then trek 3,000 feet down into the crater to break slabs of sulfur. Each load of sulfur is around 100-135 pounds, which is the approximate total body weight of the miners.

Many of these men do not wear gas masks and carry their loads of sulfur up a steep volcano wearing sandals versus shoes. Through a translator, many of the workers told me that they have health and respiratory issues as well as back deformities while only earning the equivalent of $5 to $10 U.S. dollars a day.
I met an old man in his 70s that earned $5 for a day's salary of back-breaking work. I encountered a young man in his 20s who had a bandage wrapped around his head due to a fallen rock that fractured his skull. These are just a few of the stories that inhabit Mount Ijen and the resiliency of spirit that I encountered.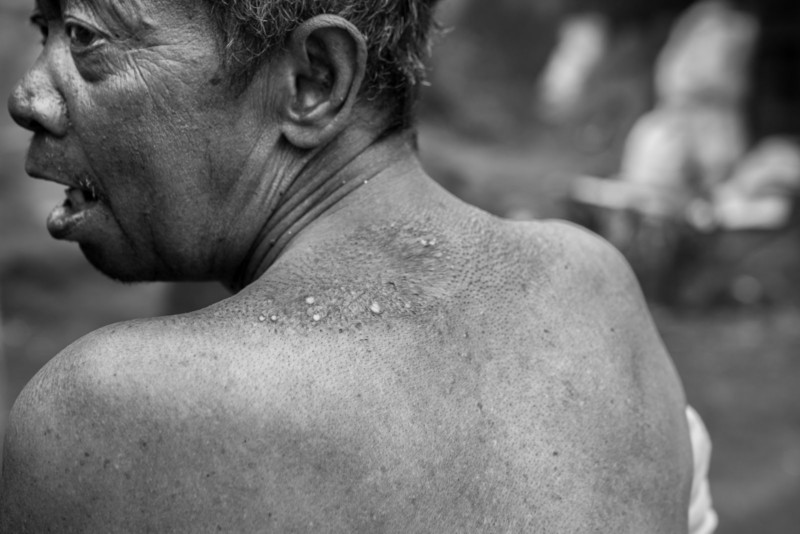 I spent close to two weeks photographing the sulfur miners after being inspired by photographers like James Nachtwey and Sebastião Salgado who have also been to the same hallowed grounds documenting the human condition.
As a mental health therapist, I realize that growth happens when we put ourselves into uncomfortable situations and run towards the things that we fear the most. This is the reason why I wanted to travel to this far away place and spend the time to truly see this part of the world that I have only experienced through the lens of other photographers that I have admired.
A typical day would begin leaving in the middle of the night to get to the mountain a little before sunrise. At that point, I would stay for the majority of the day photographing the people long after the tourists have left.
Even though I wore a gas mask, the sulfur burned through my lungs and I was coughing the majority of the time. I can not imagine someone spending year after year inhaling that toxic gas and the damage it does to one's health after years of abuse.
What new can be said that hasn't already been said before about the people of Mount Ijen? It has been covered a lot by photographers better than I. I live in a country that is extremely divided among multiple facets: America. However, if there is one truth that I have learned throughout my travels is that despite our religious, economic, and racial differences, we are more alike than we are different.
This is evident when I was told that the worse fear that these men go through is that their children would end up doing the same laborious work as them. All parents want their children to live better lives than them, especially coming from an immigrant background. We all want some semblance of dignity to hold onto.
It's a very simple idea, but I hope my images can somehow express that love transcends the differences in our lives and can actually bring us closer together than divide. I believe in the power of images. As I get a little bit older it may be too naive to think photography can catalyze "change" but perhaps it can encourage a little bit of empathy.
---
About the author: Wesley Du is a visual journalist documenting the human condition. The opinions expressed in this article are solely those of the author. You can find more of Du's work on his website, Facebook, and Instagram.