Canon R6 and 1DX III Get C-Log 3, Simultaneous Dual-Card Recording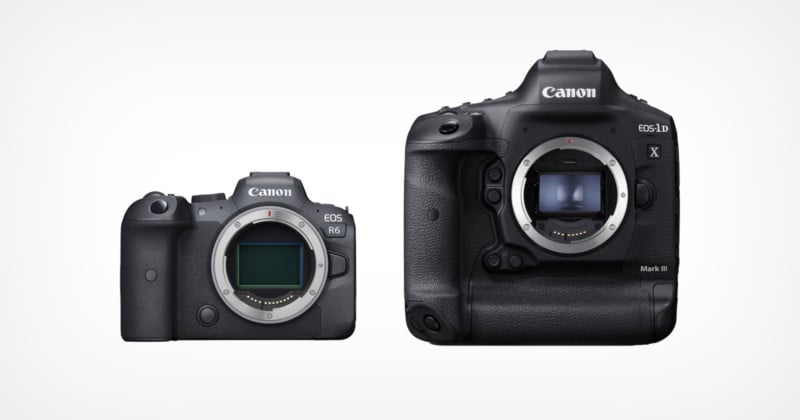 Canon has released a firmware update to both the EOS R6 and the 1DX Mark III that adds Canon Log 3 and also enables the ability to record videos to both memory cards at the same time.
Canon EOS 1DX Mark III
For the 1DX Mark III, firmware 1.5.0 adds Canon Log 3 which can now be selected from the Log settings. The company says that support for RAW videos shot with Canon Log 3 and RAW (Light) will be available in future versions of the Cinema Raw Development in the Digital Photo Professional software as well as support for the processing of RAW movies shot with Canon Log 3 with the application of Viewing LUT.
The update also adds the ability to simultaneously record videos on both memory cards, with the exception of RAW and RAW (Light) which cannot be recorded to both cards at the same time. Additionally, support for VPG 400 (Video Performance Guarantee Profile) — a standard based on the CFexpress 2.0 specification — has been added.
Finally, this update fixes an issue where, in rare instances, shooting settings for still photos are retained when switching to movie mode.
Canon EOS R6
Just like on the 1DX Mark III, firmware version 1.4.0 adds Canon Log 3 to the Canon Log settings and also enables simultaneous recording to both memory cards with no notes of limitations on the feature.
The update also addresses a few bugs. First, it fixes an issue in which, during HDMI connection, if the camera's screen turns off, a zebra pattern would display on the HDMI output. The firmware update also fixes an issue in which sufficient image stabilization effects may not be attained immediately after the start of shooting. On that same note of stabilization, Canon also has improved stability when specifically using two lenses: the RF400mm f/2.8 L IS USM and RF600mm f/4 L IS USM.
These updates are both free, and the EOS R6 and 1DX Mark III cameras can be updated after first downloading the firmware update from Canon's website. Firmware 1.5.0 for the 1DX Mark III can be found here and firmware version 1.4.0 for the EOS R6 can be found here.