This Wooden M3 is a Leica Camera Nearly Anyone Can Afford
Leica cameras are renowned for their expense which normally puts them out of the reach of most photographers. But this wooden replica of a Leica M3 looks like one that nearly any photography fan can afford.
Leica Rumors has added a limited batch — specifically called a "test run" — of the replica wooden Leica M3 cameras to its online store to gauge the popularity of the product, and writes that if there is enough interest it will become a permanent fixture. Specific information on the wooden M3 is limited, but it is apparently based on the Vintage M3 camera tin that has been listed on the website's store since 2016.
That particular tin camera features a nondescript lens that may be a Summicron-M 35mm f/1.2 ASPH lens, which is what is affixed to the real M3 camera that is placed side by side with the tin replica. Leica Rumors writes that this new product is a wooden version of that camera tin, though the lens looks quite different. DPReview notes that it resembles a Voigtlander 50mm Nokton, but it's unclear what lens it is supposed to be as Leica Rumors does not state.
Leica Rumors also doesn't note how the camera is constructed, what wood it is made from, or if it is hollow. It does, however, note that it weighs six ounces (170 grams) and measures 5.7 x 3 x 3.3 inches (14.6 x 7.6 x 8.3 centimeters) in size.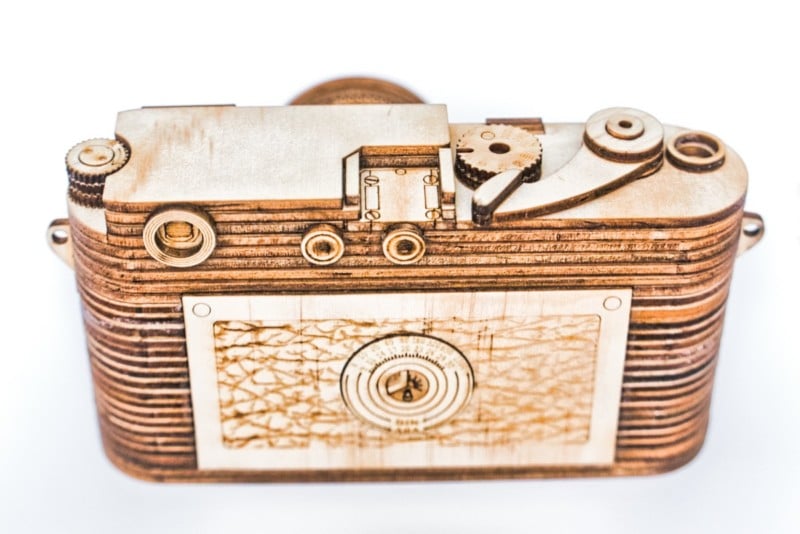 Because it is made of wood, the actual look of each camera is unique to the various patterns and film grains, so any particular model can and likely will look different than the images seen here. Some of the photos show a slight discoloration around the lettering or cuts, which could indicate that the model is possibly made using a laser cutter such as a GlowForge. How the cameras are made is not disclosed, however.
Leica Rumors does not state how many units have been made and only writes that a "few" are currently available for purchase in this initial run. The Leica M3 wooden replica costs $89, which makes it less than the price of most all of Leica's official camera straps — one of the official hand straps costs $96 and any of the several leather or rope full-size straps can cost as much as $228. For those who have always wanted a Leica, this is one that won't break the bank.