The Last Leica M3 Ever Made Can Be Yours for Just $595,000
Want a piece of Leica history and have very deep pockets? There's currently an opportunity to buy the last Leica M3 ever made. You'll just need to fork over a cool $595,000.

Leica Rumors spotted
the listing over on eBay. Power seller
Setadel Studios
, which has been dealing in collectible camera equipment since 1998, writes that the camera comes with letters from Leica certifying that the camera, serial number 1164865, was the last one made.
Despite its name, the Leica M3 was the first M mount camera, kicking off the iconic camera line back in 1954 (before the M2 and M1). By the time production of the camera ended in 1966, over 220,000 M3 cameras had been sold.
The first production M3 ever made was sold in 2012 for about $1.17 million.
Setadel Studios writes that its Leica M3 is in brand new, never used condition, exactly as it left the factory over 60 years ago.
"You can still feel the texture on the top plate silver chrome from not being handled," the store writes. "The paint is still shiny and rich luster from also being kept new!"
The sale includes the camera, the serial number service card, red and white rope, the box, foam fittings, caps, and documentation (including the special order request, the matching order number, the receipt, and two letters of authenticity from Leica).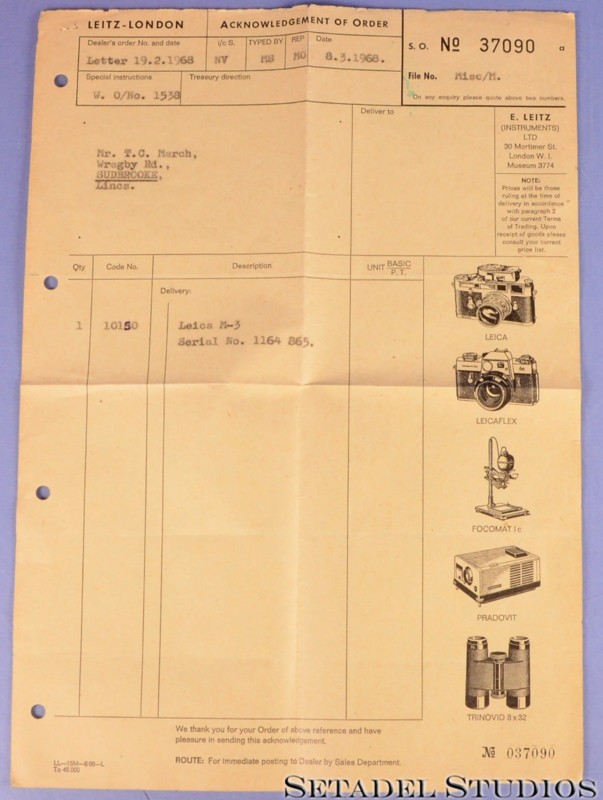 From the paperwork, we learn that the camera was reserved by Leica for a buyer named T.C March from the UK back in 1968.
"I am very glad to inform you that my friend in Wetzlar has been successful in reserving for you the final and highest serial-numbered Leica M3 body," the reservation letter reads. "The enclosed acknowledgement of order No. 37090 shows the serial number to be 1164865 and, although there is nothing particularly glamorous about this, I can assure you that it is genuinely the last of the line.
"We are now sending a special order for it to our works and we shall pass the camera on to you as soon as it comes to hand."
A follow-up letter from Leica dated to 1983 confirms that the serial number was the last one produced.
"We can confirm the statement made by Mr. Parmiter that the camera with serial No. 1164865 is the latest produced LEICA M3," Leica wrote. "We are glad to learn that you are the LEICA owner and user for such a long time. Thanks for being a part of the LEICA family."
If you're interested in owning the newest Leica M3 on Earth, you can find more details over in the eBay listing.