Tamron 150-500mm f/5-6.7 Review: A Little Weird, a Lot Awesome
Tamron recently released its longest-reaching lens for the Sony E-mount camera system with the 150-500mm f/5-6.7 Di III VXD. After two packed weeks of glorious bird photography, there's a lot to be said for this new telephoto zoom.
This may technically be the first of its kind for Tamron, but the company does have a history of similar zoom lenses for DSLR mounts. We've seen the popular 150-600mm f/5-6.3 lens released in 2013 with a well-received second-generation model launched in 2016, plus the 100-400mm F/4.5-6.3 which was introduced in 2017. Now, Tamron hopes to take what it learned from those past successes and make a next-generation telephoto zoom for the most popular full-frame camera system on the market.
Design and Build Quality
My first impression of the 150-500mm is that it's a great-looking lens. I appreciate the black semi-matte finish on the plastic exterior which blends in much better than the off-white that is not uncommon for these focal lengths. The removable tripod collar is metal and has a texture that matches extremely well with my trusty Sony a7R III camera, which I used for this review.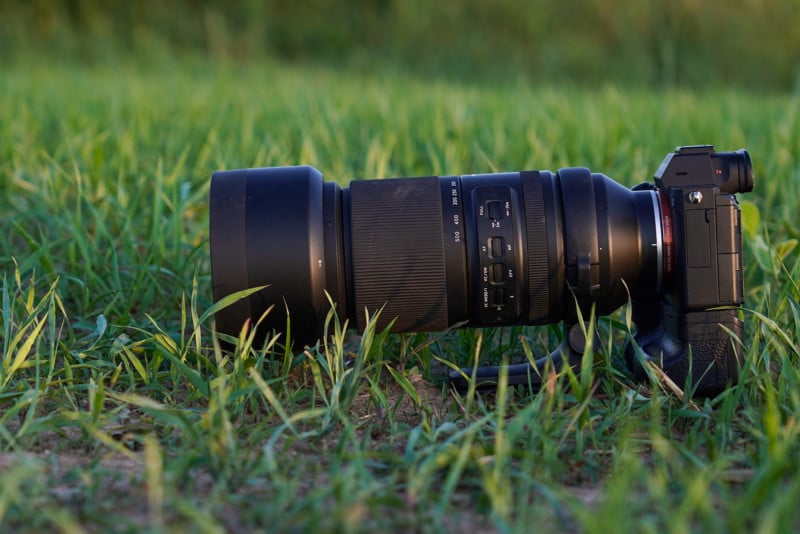 This lens does extend physically as it zooms. At the short end, it's 8.3 inches (209.6 millimeters) long and all the way out its 11.1 inches (283 millimeters). In total with the tripod collar included, the lens weighs 4.1 pounds (1.86 kilograms). Overall, it has a comfortable balance and throughout my shooting time with it, it was only used handheld (aside from aperture tests). Even more modestly-sized camera backpacks should be able to fit this in with the hood reversed and camera attached.
Taking a closer look, I noted a number of interesting features in the design and functionality that are worth discussing.
Zoom Ring
Starting at the outer end of the lens, there's a large, rubberized zoom ring that can move from 150mm to 500mm in a 75-degree twist. While there is a zoom lock switch on the side for 150mm, what is less noticeable is what Tamron calls the "Flex Zoom Lock." By just pulling out the zoom ring, it can lock at any focal length.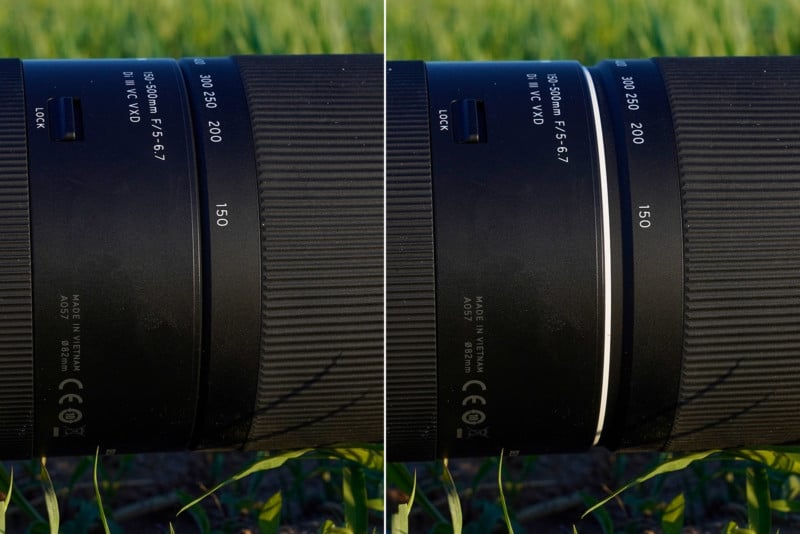 This might be my favorite feature of the 150-500mm. I can't tell you how many times I've inadvertently nudged the focal length out of where I intended it to be with my Sony lens. Before I know it, I'm missing out on over a hundred millimeters of zoom that I now have to recover with cropping. With my Sony lens I made a workaround where I overlap two pieces of neoprene to give the zoom ring some added friction, but what Tamron has done with the Flex Zoom Lock is very smart and extremely handy.
Another great aspect of this zoom lens is the impressive variable aperture breakdown. My testing shows that from 150mm to 237mm, the camera displays f/5, from 238mm to 386mm it's f/5.6, from 387mm to 479mm it's f/6.3, and only in the final 20mm of 480mm to 500mm is it f/6.7. This makes the 150-500mm some good competition to the standard 100-400mm lenses that break down similarly but only zoom so far.
Switches
Aside from the zoom lock switch I just mentioned on the righthand side, there's a panel of switches to be found on the left. These include a focus limiter switch, focus mode switch, vibration compensation (VC) on and off toggle, and a VC mode switch. The switches on this lens are the best tactile experience I've had when compared to any Sony or Canon lens. Because of the perfect tension and size, even the three-stage switches easily set to the middle without accidentally skipping to the next setting.
I'll go over vibration compensation in a more detailed section below, but right now I want to point out the focus limiter. Most focus limiters I've seen have three modes: One is for the full focus range, one is for infinity to a certain distance, and the last is for close focus to a certain distance. In contrast, the Tamron 150-500mm forgoes that last close focus option for a second infinity-to-distance mode, which means it offers the full range and either infinity to 15 meters or infinity to three meters.
As a bird photographer, focus limiters are a tricky matter that I don't ever really use for a few reasons, but paramount is the fear I might miss something spontaneous. What Tamron has done here — I believe — is a nod to sports photographers who always have absolute certainty where their subjects will be. If they're shooting from the sidelines of a game, they will likely need to be back at least three meters for safety. If they're shooting from the stands, that's a guaranteed 15 meters away. These are just a couple of easy examples, but taking away a close focus limiter speaks to the type of photographers the company either worked with closely while designing this or the type of shooter it envisioned using the lens.
Focus Ring
Moving toward the lens mount, there's a focus ring that I have a couple of negative feelings about. First is its thinness. The least Tamron could have done about that was to make the ribbing on it rubberized and more pronounced, but sadly it's even flatter than the zoom ring and plastic.
Secondly, it is not a smooth operator. It has a cheap glide like there's sand in it, and at times in the rotation, there are high notes of crunching that make me question if there literally is debris trapped. It makes its use more finicky than it should be.
Tripod Collar
Closest to the lens mount is a removable metal tripod collar that needs to be acknowledged. Tamron has already been doing it in previous telephoto lenses, and this one too features a built-in Arca Swiss tripod plate on the foot. Nothing is more insulting than when lens manufacturers skimp on this and instead ship out a completely useless foot.
On each side of the foot, there are also loopholes for attaching a carrying strap if desired.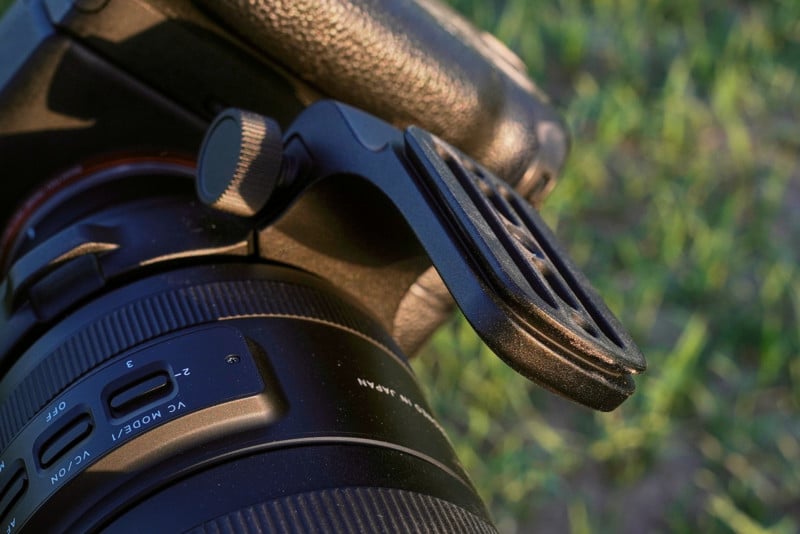 Image Stabilization
The Tamron 150-500mm does have an image stabilization mechanism — Tamron calls its technolgoy Vibration Compensation — and offers three different modes that are controlled by a switch on the side of the lens.
Don't skip this part because these are not exactly the modes you might be thinking they are.
Traditionally, Mode 1 would be full compensation vertically and horizontally, Mode 2 would be for panning and compensates only for vertical movement, and then Mode 3 only activates horizontal and vertical stabilization at the moment of capture and does not compensate until only then.
With this lens, Mode 2 is unchanged and is still the mode to use for panning shots. Modes 1 and 3 are different, and a little strange. Mode 1 acts as described above, however, its strength of compensation is not very impressive, especially when shooting at 500mm. I think of it as a soft image stabilizer that allows for a lot more play with the lens and doesn't tie you down to always making sure you're in the right mode for the shot.
Mode 3 gets really weird. The level of compensation in both directions is extremely good. It's much, much better than Mode 1. However, it's active all the time. Even without half-pressing the shutter or using back-button autofocus — without touching the camera at all — it's on. As you can imagine, this is not ideal for a long-lasting camera battery to be walking around with the lens in Mode 3, but as noted it's also the mode to be in for the best compensation. So, generally, I used it. Ideally, I would like to see Mode 3 only active when I'm ready for it.
One last note is about the constant noise of this lens. Many stabilized lenses have some sort of hum that is produced once that image stabilization kicks in. Oddly enough, the Tamron 150-500mm is noticeably whirring away all the time and only quiets down a touch when it's stabilizing. After two weeks of getting used to it, I'll admit it's a little less obnoxious now, but it was almost unbelievable when I switched over to this lens initially.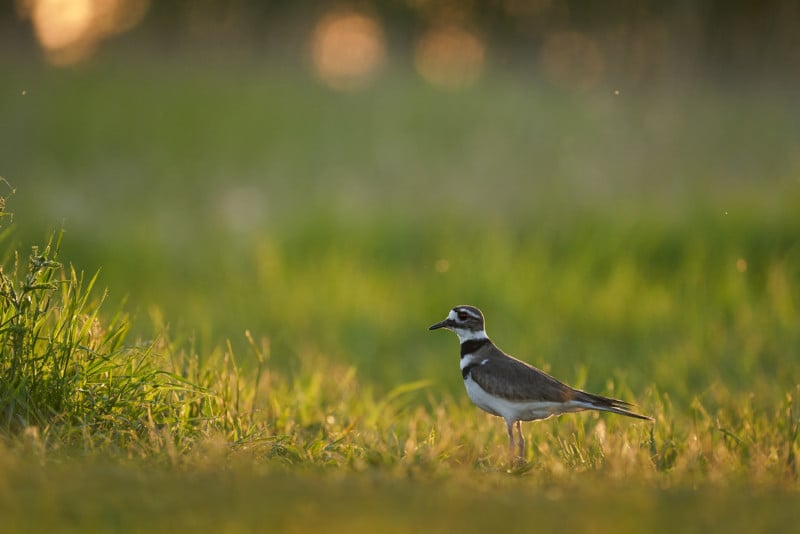 Image Quality
Inside, the lens uses 25 elements in 16 groups including one extra-low dispersion element, five low dispersion elements, and two hybrid aspherical elements. There's also Tamron's BBAR-G2 coating. In all, it's a concerted effort to control aberrations, ghosting, and flaring while promoting edge-to-edge sharpness.
Upfront, I can say that the Tamron 150-500mm image quality holds up beautifully for real-world use and my proof of that is in the photos littered across this review. I did not encounter any sort of aberration or flaw that became an issue in the field or that needed any sort of labored correction in post-processing. Below are a couple of backlit shots with high contrast and there is no dramatic color fringing. The very little I see is either unnoticeable in the full photos or can be solved with a one-click fix in post-processing.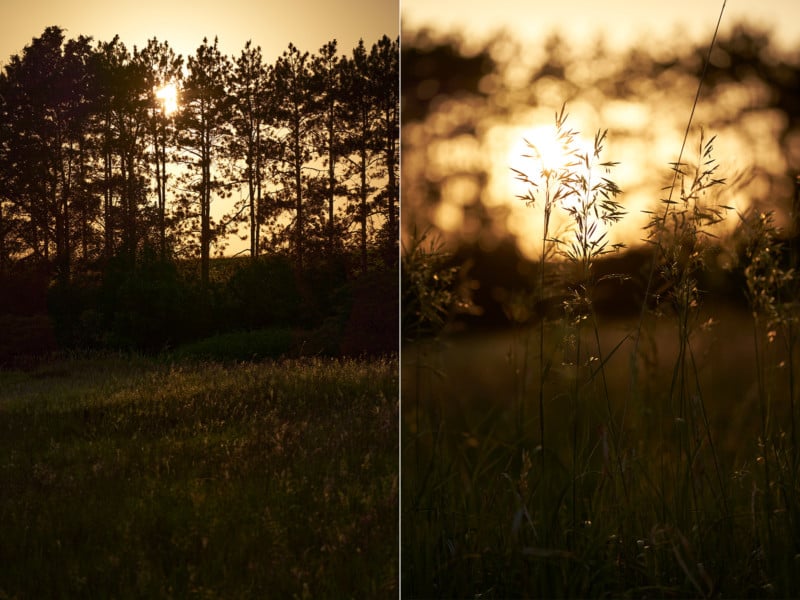 As a telephoto lens, vignetting is certainly something that exists. Personally, I embrace it, but it's always good to know where to expect an even exposure across the frame. Shooting at the 150mm end, I find f/7.1 shows vignetting only on the edges of the frame, and then by f/9 it's around the corners only, and at f/13 it's largely under control. On the 500mm end, f/9 is when it encroaches the edges only, f/10 it's just around the corners, and by f/16 it's under control.
Sharpness
Overall, I'm very satisfied with the sharpness of this lens for my bird photography. It has the resolving power to achieve fine feather detail and allows for considerable cropping without the photo falling apart.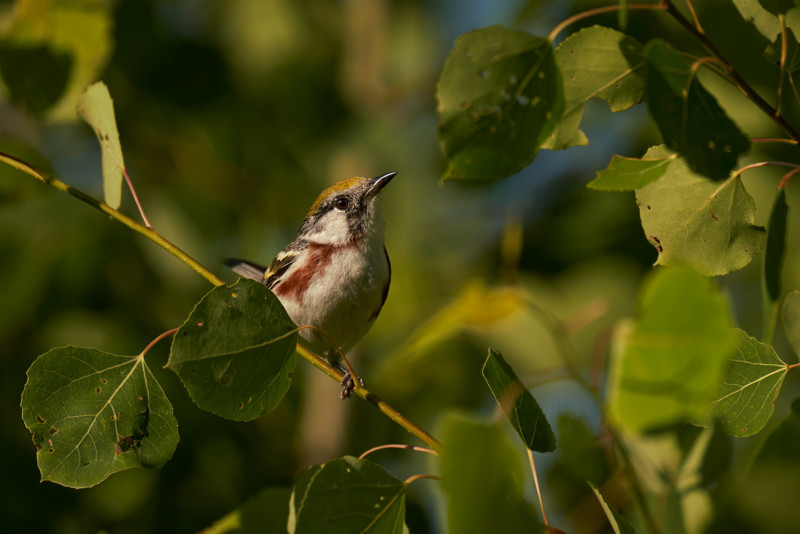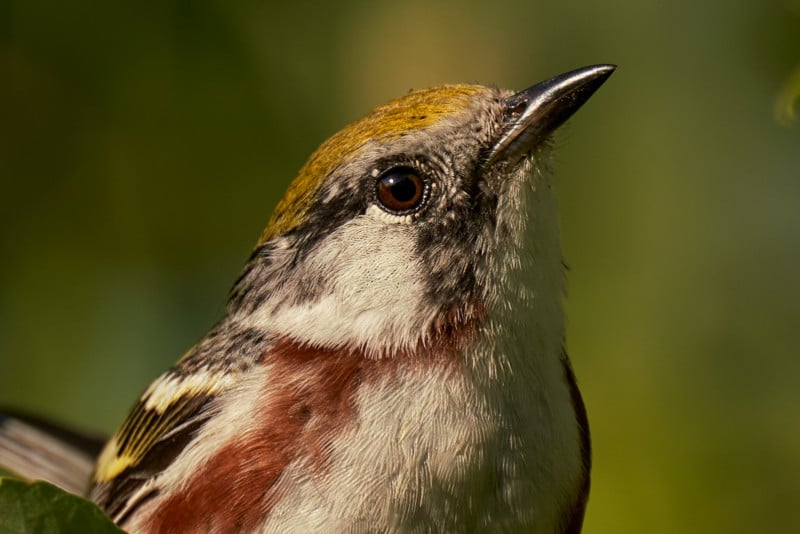 Peak center sharpness at both the 150mm and 500mm ends is at f/8, according to my comparative testing. It's worth mentioning to other wildlife photographers that there is no steep falloff of sharpness shooting wide open at 500mm, and in fact, there's not much difference at the center between 500mm f/6.7 and 500mm f/8.
At the corners, the lens does need some more room to right itself if the details there are important to you. At the 150mm end, peak corner sharpness is at f/14. At the 500mm end, peak corner sharpness is at f/11. To simplify my findings between its vignetting and sharpness, I'd just remember to shoot the lens around f/11 if I wanted the best compromise of edge-to-edge image quality for landscape photography and the like.
Autofocus
First introduced in the 70-180mm f/2.8, the 150-500mm also uses Tamron's VXD linear autofocus motor. Throughout my review period, I found autofocusing to be snappy and largely reliable for tracking birds in flight. Due to vignetting, autofocus does become less responsive as subjects move towards the extreme edges of the frame. For typical rule-of-thirds style compositions, however, this did not become a noticeable issue.
The minimum focus distance at the wide end is 23.6 inches (0.6 meters) and all the way zoomed in its 70.9 inches (1.8 meters). Considering the lens itself is 8.3 inches, that means at 150mm the subject can be a little more than a foot away and still sharply focus.
Below you can see two full-frame shots of a skipper butterfly that was about the size of my fingernail, one at 150mm close focus and one at 500mm close focus. As you can see, both produce a subject that is very comparable in apparent size although it is slightly larger when close focusing at 150mm than close focusing at 500mm.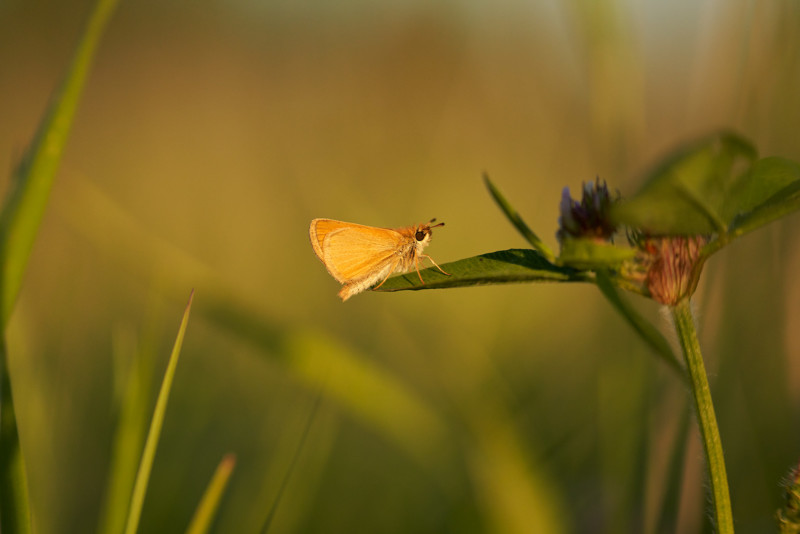 Thoughtful Ideas, Thorough Execution
The more I think about it, the more I realize that Tamron made something special with the 150-500mm f/5-6.7 Di III VXD. It bridges the gap between 400mm zooms and 600mm zooms and is still relatively portable and lightweight for a telephoto. There is no hiding any sort of poor light-gathering performance behind the variable aperture numbers, though it is actually only f/6.7 for the last 20mm of zoom and can do f/5.6 almost all the way to 400mm. The Flex Zoom Lock feature is a very welcome addition and I wish every telephoto zoom had it. Other little things about the lens were great to see as well — such as the built-in Arca Swiss tripod plate — that shows the company is willing to take those few extra steps to make its products stand out.
My main complaint is the stabilization mode inconsistency, with smaller quibbles with regard to the focus ring and constant noise the lens makes. In the grand scheme of things though, minor stuff.
Are There Alternatives?
Based on the features of the Tamron 150-500mm f/5-6.7, the priority on compactness in the design, and its aperture breakdown in the focal lengths, the lens is most closely related to the Sony 100-400mm f/4.5-5.6 GM OSS and Sigma 100-400mm f/5-6.3 DG DN OS Contemporary.
The Sony 100-400mm is in the premium G Master line of lenses and costs $1,000 more than the Tamron. Compared to Sony, Tamron loses 100mm at f/4.5 but gains an extra 100mm at the longer end at the cost of some more light loss. On the other end of the zoom, Sony is f/5.6 at 400mm whereas Tamron is neck-and-neck, able to do f/5.6 up to 387mm. The bonus here is that Tamron keeps going, something that users of these mid-telephoto lenses are sure to value a great deal. The $1,000 difference is going to primarily show itself in higher-quality optics and better autofocus performance.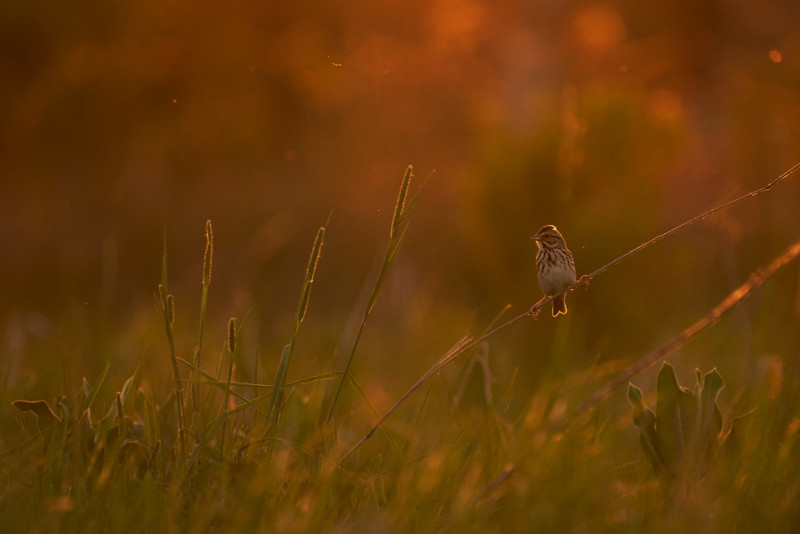 The Sigma 100-400mm is the low-cost option of the three, and costs around $500 less than Tamron is asking. The Sigma's benefit is that it's a pound lighter. The Tamron blows past the Sigma in terms of light gathering, though, where the Sigma is already down to f/6.3 at 235mm when Tamron is still wide open at f/5 at that point. Once again, Tamron's added benefit is that it keeps going after 400mm as well, which makes a big difference for photographers putting in the effort to carry larger lenses like these.
One question I initially had, which I've noticed is shared among those who ask online, is why Tamron cut off 100mm from the 150-600mm DSLR lenses it makes. They question why we are losing 100mm and paying more for the privilege.
I've found that this is a flawed comparison. I really don't think Tamron made this as a mirrorless version of the 150-600mm, and it's also not a direct competitor to my all-time favorite lens, the Sony 200-600mm. In fact, what Tamron has done is added 100mm to the traditional 100-400mm lenses and made the resulting optic its own thing, then understandably charged more for that. The company has made similar adjustments to traditional zoom lengths before such as the 24-70mm becoming the 28-75mm f/2.8 and 70-200mm becoming the 70-180mm f/2.8. Obviously, this is more than a tweak of a few millimeters, but Tamron has a history of thinking outside the box when it comes to zoom ranges. Heck, I believe it was Tamron that pulled off of the 150-600mm first too, years before Sigma and Sony did versions of it.
Should You Buy It?
Yes. Tamron manages to make a highly sharp and reliably fast autofocus lens in the 150-500mm f/5-6.7 Di III VXD. Overall, my experience was positive and there's considerable attention paid to much of the lens's design. This is one worth checking out.