Photographer Finds Peak Design's Customer Service Claims Misleading
A photographer is questioning Peak Design's messaging and recommendations for servicing its products thanks to an experience he had with the Peak Design Travel Tripod. After dropping it, he took issue with Peak's customer service. They told him he needed to replace it, but he shows it was repairable.
YouTuber Andrew Leonard, who goes by Emergent Technology, published a video where he explains how his experience with the Peak Design Travel tripod left him scratching his head at some of the decisions that the company has taken with regard to addressing damaged parts.
Leonard says that on his first trip out with the tripod, he dropped it and the head landed squarely on a rock. Later that day, he realized that it was exhibiting a terrible grinding sound and while it did not appear to affect the tripod's ability to securely hold a camera, he wanted to deal with the problem. He figured it was a piece of dirt or sand that had gotten lodged in the head, he looked to see if he could be given instructions on how to clean it.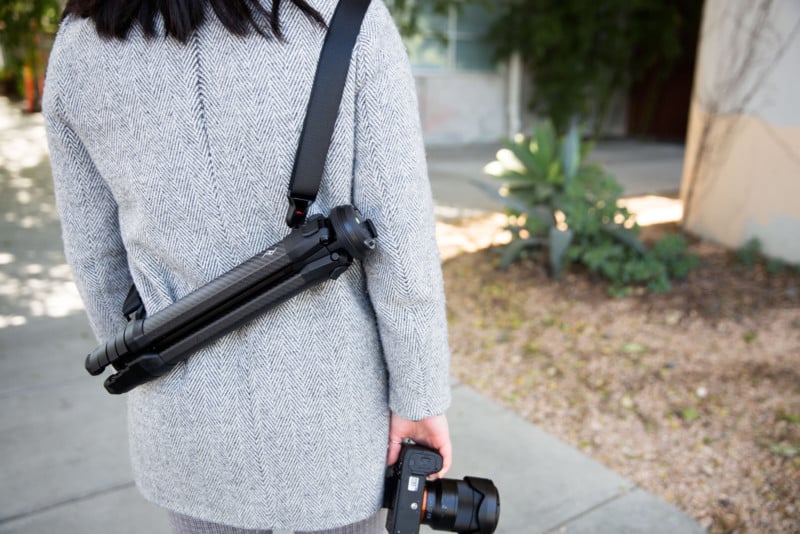 To his surprise, Peak Design did not provide any information on how to do this, but instead actively cautioned against taking it apart at all. Peak Design instead suggests using a compressed air can to dislodge any debris, but do not submerge the ball head or run it underwater.
Because the head is the most complex part of the entire tripod head, Leonard says it makes sense that Peak Design doesn't want someone messing with the parts as it would be very easy to accidentally break it.
After contacting customer service and explaining what happened, a representative told Leonard that the tripod head was a sealed unit, and was therefore impossible for any dirt or sand to enter into the head. Therefore, any sound he was hearing was the result of a damaged part and the entire head would need to be replaced. Unhappy, but obliging, Leonard ordered a replacement.
Additionally, since the head was being replaced, he decided to take it apart to see what piece may have broken since aside from the grinding, it appeared to still function correctly.
What he found was that contrary to what he had been told: there were no broken parts inside the tripod head and instead, it just needed to be cleaned properly. He also believes that the instruction to use a can of compressed air actually may have made the problem worse, as it looks to have sent the debris further into the mechanics of the device.
"In short, Peak Design claims their ball head is a sealed unit, and tried to place additional blame on me as the customer when I let them know I had dropped it," Leonard writes in a since-removed Reddit post (removed for breaking a rule of the subreddit). "I paid for a replacement ball head, and after further analyzing the 'broken' unit through a teardown — the results of which I shared with Peak Design — the company refunded me for my replacement ($50) ball head purchase."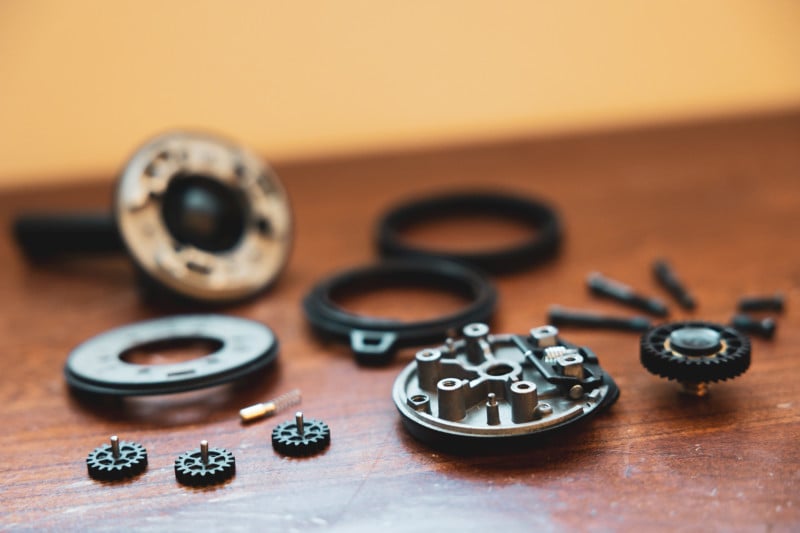 Leonard says that he has no issue with the design or the construction of the tripod and head — quite the opposite, actually — but hopes that this situation reveals some constructive criticism about the right to repair, and how companies can be more transparent with customers.
"I am thankful that Peak Design, after talking with me in more detail about their claims, has refunded me for the replacement ball head purchase," Leonard writes. "In the future, my hope is that Peak Design better communicates with their customers about reparability, instead of making misleading or outright false claims that place additional or undue blame on the consumer."
Calls to grant buyers more rights when it comes to repairing purchased products have been growing in volume over the last year, and a national right to repair bill has been filed in Congress. While the most vocal critics of right to repair are large tech companies like Apple and Microsoft, situations like this one would assure that not only would customers end up paying less, but fewer parts would end up in landfills. Being an environmentally conscious company is at the forefront of what Peak Design champions — and is at the core of its newly-launched used marketplace — so coming up with a solution feels like something that it would be behind.
"To reiterate, they do not want people executing repairs on the part of the tripod that is most critical to keeping their very expensive camera attached to it. On the other hand, the right to repair movement is becoming increasingly critical," he says.
"I would like to see Peak Design put together something as a middle ground here, like an RMA program for units that they don't want people disassembling and tearing down themselves. At the very least, Peak Design in my opinion should revise their approach towards communicating with customers about how these replacements are supposed to work."
When reached for comment, Peak Design tells PetaPixel that it plans to do just that. After reviewing the details of this particular case, the company has changed how it will look at cases going forward.
Up until this instance, every Peak Design Travel Tripod Ball Head that has been returned for inspection due to a drop has been found to have suffered a broken part within the Ball Head. In addition, these dropped Ball Heads have all exhibited the same "gritty," noise as described by the customer. Peak Design Customer Service does own an instructional video on Ball Head break down and reassembly but has chosen to keep this video private. First, the process of tearing down and reassembling the Travel Tripod Ball Head requires a high-level of skill and precision to properly complete. Second, the Travel Tripod Ball Head is composed of a high-volume of precision parts, making it difficult for the company to stock and fulfill for individual customer repair.

In light of this customer's determination that grit was indeed the culprit for the noise within the Ball Head, Peak Design Customer Service will change how it handles these cases moving forward. In instances where the customer believes that dirt and sand have penetrated the inside of the ball head, Peak Design Customer Service may choose to share the instructional video that provides guidance for disassembling and reassembling the ball head. Unnecessary waste is an environmental impact that Peak Design takes very seriously. If a change in Customer Service procedure can help further mitigate waste, Peak Design is more than happy to do so.
In addition, after being alerted to the problem, Peak Design's CEO Peter Dering noted in a reply to Leonard's video that he was glad the issue had been brought up.
"I just want to say… I really appreciate the thorough video and explanation," Dering writes. "When I heard our CS team said that the unit was sealed, I cringed a little bit. It is simply not sealed. As you clearly demonstrate, it is merely a slightly difficult and/or finicky reassembly process, which is precisely why we've discouraged its maintenance. However…I agree that we should have a middle ground, and provide an opportunity for those who want to be able to service it, to service it. We'll get something put together in a reasonable amount of time. Thanks again for the fair video."
---
Image credits: Photos of Peak Design Travel Tripod teardown by Andrew Leonard and used with permission.