AI-Powered App That Turns Photos into Cartoons is Exploding in Popularity
Voilà, a new mobile app that is available both on iOS and Android, has exploded in popularity. It can to turn selfies and portraits into quick 2D and 3D cartoons, caricatures, and paintings using artificial intelligence (AI).

The
Voilà AI Artist Cartoon Photo
app, released by
Wemagine.AI
, is a free smartphone app that allows users to upload photos of themselves or others and turn them into "fun masterpieces, such as Renaissance-era painting, Pixar inspired cartoon, hand-drawn caricature, and more," which are can be made just for fun or to used as avatars and icons across a range of platforms.
According to the two company founders, Voilà is their first app and taps into the duo's passion for combining creativity and AI's capabilities, this is the first app they have launched. The quick-edit app has gathered user attention on both app stores with almost 30,000 user reviews on Google Play and sitting on at number 23 in the "Photo and Video" section on Apple App Store at the time of publication.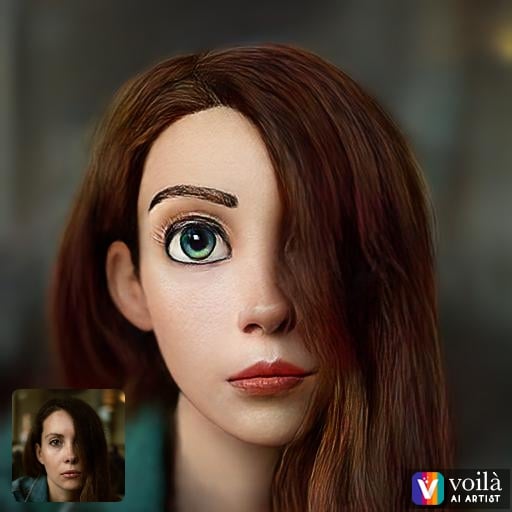 The app requires users to upload either a selfie or a portrait and the face is then detected by the app's AI algorithm and turned into a selection of four different animated renders. It's not a perfect algorithm though, as the face must be clearly recognizable in the photograph otherwise the AI won't detect it. It also doesn't permit multiple faces per render — such as a couple's photo — and does not recognize animal photos either.
After a user picks a 2D or 3D cartoon, "renaissance," or caricature option, the image is processed, and it can be downloaded as a collage of the original portrait delivered in one photo or each can be exported separately. If the original image is of low quality, the final result can be less precise and might appear more grainy or pixelated.
Although the app is technically free to download and use, the free features are notably limited and are bound to quickly frustrate users. All downloads in the free version come with a watermark at the bottom and throughout the process of uploading or downloading a photo, several ads also often appear on the app, affecting the user experience. The intrusive advertising videos and slowed processing is likely designed to push users to the paid option as the free interface is greatly impeded by these digital hurdles.
To bypass the often painful user experience in the free version, Voilà offers what it calls a "Pro" subscription, which can be tested on a three-day trial. It promises to remove watermarks and ads as well as increase the speed of image processing. That said, the app cannot be purchased outright and is only offered on a subscription basis: the weekly rate is $3, the monthly is $6, and an annual subscription costs $30.
Despite the high cost and obstructed free version, the relatively quick cartoonification of photos is undeniably popular as shown by the app's rankings, downloads, and high ratings. The app can be downloaded for both iOS and Android.