New Google Photos Enhancements Use AI to Grant Users Better Control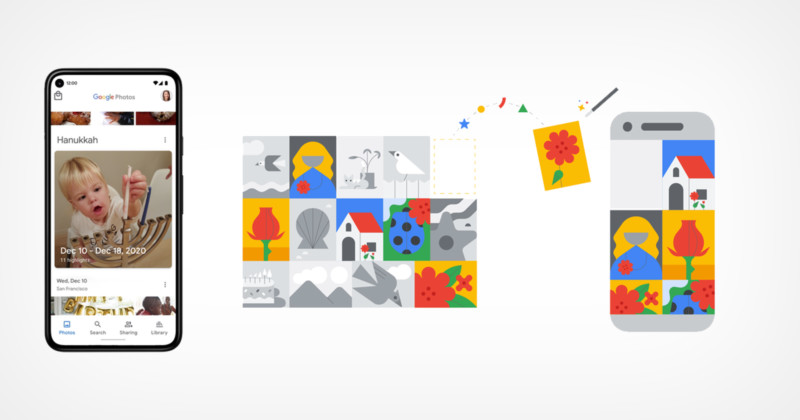 Google has announced updates to its suite of AI-powered features in an effort to make it easier to look back and find meaningful moments and memories while giving better control over what is relived.
The most important takeaway from Google's updates to Memories today is centered around granting users more and better control over images.
"AI-powered features help you look back and enjoy your memories by bringing them to life in new ways — and you can do it all on your own terms," the company says. "Looking back is important, and incredibly personal. Relive the moments you want to, how you want to, with Google Photos."
Personalized Memories
While Memories already allowed users to go back to important photos from years past, with the improved machine learning it can now go beyond resurfacing old photos based on dates or themes and start showing images based on "not-so-obvious" visual patterns in photos. Starting later in the summer of 2021, the system will look for sets of three or more photos that share things like shape or color, highlighting these little patterns in Memories.
While these photos may not be the most meaningful on their own, when they are all gathered together, they can tell a very personal story that is private and only visible to each user. Closer to 2022, Google says that users should also start to see new types of Memories based on the moments celebrated like the Lunar New Year, Hanukkah, Halloween, or other important holidays. The company says that those memories will show up as users scroll through a photo grid, along with new "Best of the Month" memories and "Trip Highlights" which start to roll out today.
Bring Still Images To Life
Using machine learning, Google Photos is taking the already launched Cinematic Photos a step further by taking similar shots in photos to simulate movement between the frames and then "fill in the gaps" with new frames to create vivid moving images.
Google touts these new Cinematic Moments as able to be created in seconds with just a pair of nearly identical images, either captured on a smartphone — which takes several photos at once already as part of its capture process — or even scanned from old photo albums.
Control What You Want To See
Google understands that not all memories are worth revisiting. Sometimes these memories can be related to a personal loss, tragedy, or some other tough time that users would not want to relive, or be as mundane as simply something boring and unimportant. Starting today, Google Photos will let users rename a trip highlight or remove it completely from a Memories Grid. Additionally, Google says that users will soon be able to remove individual images from a memory, ensuring only the "best of" will show up in future moments that its users will actually want to celebrate.
On top of this, Google Photos is also introducing the ability to create password-protected locked folders where sensitive images can be saved separately so they won't show up as users scroll through images. The new locked folder will be available first on Google Pixel — where users will have the option to save photos and videos directly to Locked Folders right from the camera — and will arrive on more Android devices later this year.