Godox Unveils P2400, Its First Pro Studio-Focused Pack and Head System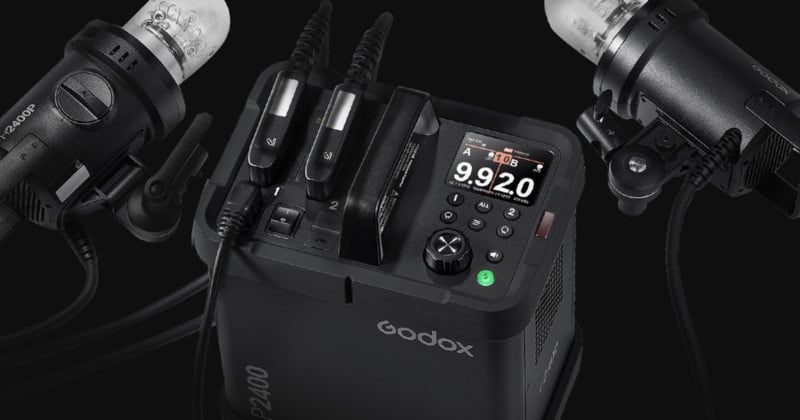 Godox has announced a new flash system that the company says is the most powerful pack it has ever produced: the pack and head P2400. It promises a 1/17,800 second flash duration, 0.7 second recycle time at full power, and clearly targets the high end where Profoto and Broncolor reside.
Godox — which is sold under the Flashpoint brand on Adorama — is positioning the P2400 as a large-scale lighting solution that is capable of handling highly complicated lighting arrangements. Calling it a "beast," the company says that the pack has a super-short flash duration of up to 1/17,800s which allows it to freeze even complicated action. It should be noted that this short flash duration doesn't come close to Profoto's Pro-11 and Pro-10 packs or even its D2 monolight. The Profoto packs have a "world's fastest" 1/80,000s flash duration and the D2, which doesn't require a pack, gets as high as 1/63,000.
Still, it's the best Godox has manufactured and it is likely be much more affordable than what Profoto produces. Godox also notes the extremely fast recycle time, which is as short as 0.7 seconds in "FREEZE" mode. Gratefully, Godox is promising color consistency which it delivers through the P2400 pack, which is one reason many professionals stick with Profoto or Broncolor. If Godox can deliver on that promise, even with shorter flash durations, the new system will certainly have its fans.
Each pack offers a connection for up to two heads that can be arranged in either symmetrical or asymmetrical power distribution. Godox explains that not only can photographers distribute the same power between the two heads, but they can also flexibly control each outlet independently — hugely important for high-end shoots.
Speaking of control, the P2400 offers what Godox describes as "intuitive and precise" control using a high-definition color screen and easy to understand interface. The power can be adjusted in 1/10 f-stop increments from 4.6 up to 2400 Ws and offers up to 512 steps of power ratio range.
The flash heads for the P2400 system are designed specifically for the pack and are zoomable by rotating a knob on the side of the head to allow for control of the light range and intensity. The head itself is a Bowens mount and also has what Godox describes as an "ultrabright LED modeling light" that provides 60W of LED that the company says is equivalent to a 300W halogen bulb.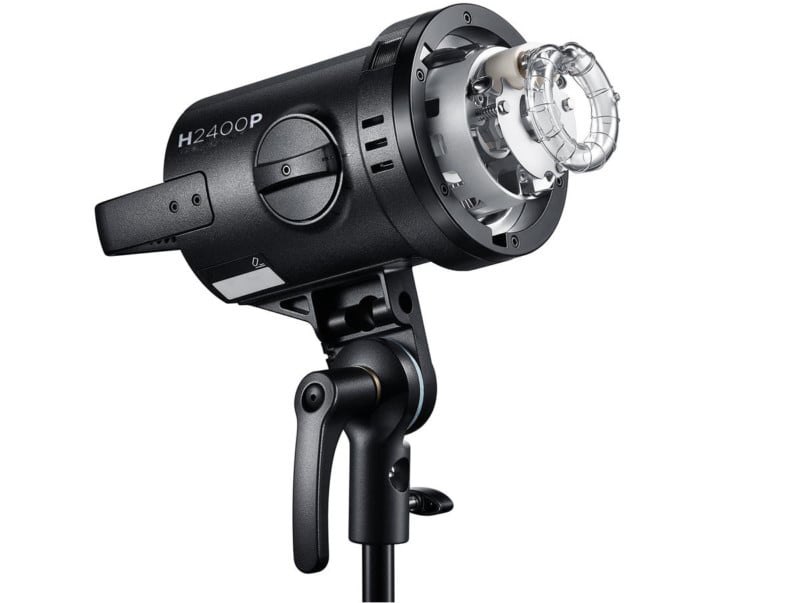 The system is compatible with both the 2.4G and 433MHz Godox wireless trigger systems. Godox says that photographers can freely switch between each to avoid interference and maintain a reliable connection. Additionally, for those who do not want to use a wireless connection, Godox also built the P2400 to support a wired physical connection.
At the time of publication, no pricing or availability was noted although some Reddit users note that the pack was listed for $4,900 and each head at $700. This pricing could not be confirmed. If true though, it would put Godox's offering at about twice the price of a Profoto D2 monolight (the price difference of the Godox might be worth the benefits a pack and head system provides), but significantly less expensive than either the Profoto Pro-11 pack or Broncolor's least expensive 1200L pack.
At the time of publication, the pack and head were each listed as "pre release" products at Adorama with no pricing listed.