Voigtlander 29mm f/0.8 Super-Nokton Review: The Fastest Lens in the World
In this article and 15-minute video, I will review the Voigtlander 29mm Super Nokton Micro Four Thirds lens.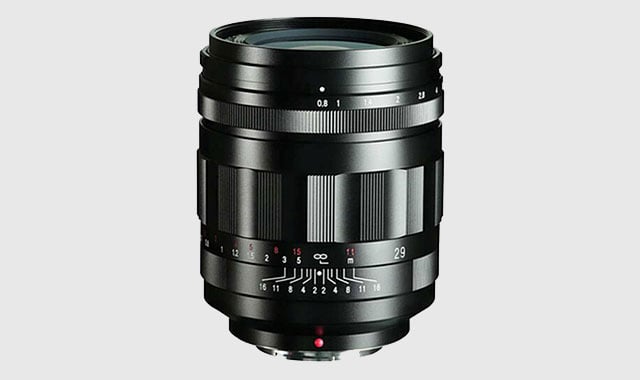 Like all the other Voigtlander lenses in the Micro Four Thirds lineup, it features a solid metal housing, manual focus, and no electronic contact points. It has 12 aperture blades and the signature de-clickable aperture ring for smooth transitions. The minimum focus distance is .37 meters (1.2ft), which falls short of its sibling's almost macro-like close-ups.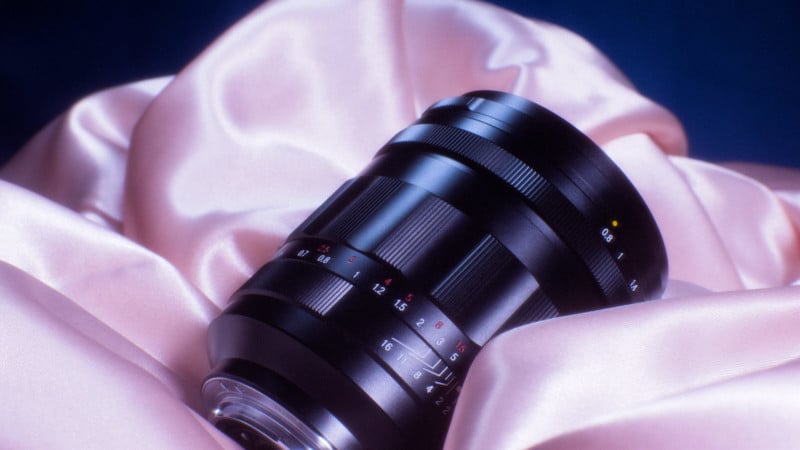 It weighs 703 grams, putting it on the heavy, but not intolerable, side of the spectrum. Oh, and by the way, it has an f-stop of 0.8, making this the fastest production lens… in the world.
Okay, so, first things first. There are some changes that I want to point out. The first and most noticeable change is that the aperture ring has knurling all the way around the ring creating a kind of sharper more modern appearance rather than the classic look of its siblings.
It also features the #29 on the barrel, which is a nice touch. The filter ring is also a first at 62mm. And then, of course, there's the 0.8 f-stop.
Now, that isn't marketing fluff. This really is the fastest production lens in the world. But that isn't the only crown this lens wears. As far as I can tell, this is one of the most expensive lenses, if not THE most expensive lens Voigtlander has ever produced for consumer purchase, coming in at $1,800.
So, what does f/0.8 actually do for you then? Is it a legitimate tool or just a party trick? Bragging rights, perhaps? Well, the first thought I had was, "Can the f/0.8 aperture actually justify its $1,800 price tag?" but after saying it out loud, it felt a bit silly. Because the real question should be: "Why is the world's fastest production lens so cheap?"
Well, to test it out, I took it to a small studio in North Austin where I set up a photo shoot. And, I wanted to do a shoot that would allow me to really put this lens thru its paces. A lens that would let me shoot at f/0.8 and f/8. So I've settled on trying one of my favorite eras of photography: 1950s Golden Era Hollywood Portraits.
Weight and Build
The lens is truly a marvel of engineering and is just as well built as ever with that metal and glass only construction, but unlike the rest of the Voigtlander lenses, the focus ring on my lens felt a bit stiff. Still easy to turn, but less fluid than I was expecting.
The weight seems to be evenly spread when not on the camera, but when it's on the camera, it does feel a bit front heavy. However, like the Voigtlander 60mm, you don't really notice it in the moment and it never proved to be a hindrance.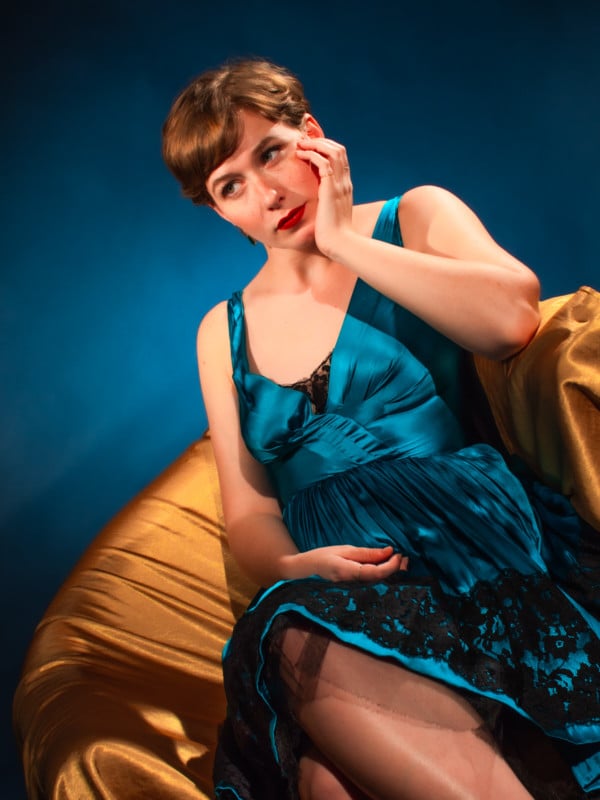 Bokeh and Flaring
So, this is going to be difficult as the style that I chose to photograph doesn't actually feature bokeh, because I used mostly solid backgrounds. Also due to the studio setting, there is almost no flaring. So instead I'll talk about the roll-off. And boy, does this lens feature some of the best rendering roll-off I've ever encountered on any lens, let alone a M4/3 lens. There is just something so incredibly pleasing how when shooting wide open, there is no harsh or quick fall off. It's natural, elegant, but precise. This leads me to…
Sharpness
I really wish that I could go in-depth as to how this lens was constructed. Or that I could tell you it increased sharpness this many percentage points, but the honest truth is that, I'm not a lens engineer. I have no idea how they managed to make this lens as sharp as it is wide open. The dual achromatic elements are truly doing the heavy lifting here showing almost zero chromatic aberration, even at f/0.8, even at 200%.
I showed these photos to a few cinematographer and photographer colleagues and they were met with open jaws. It is truly remarkable how crisp this lens is and by far and away blows the f/0.95 lenses out of the water for sharpness and control. I was really not expecting this, as everything I've ever watched shot on ultra-fast lenses has been a giant blurry mess and that is most certainly not the case here.
25mm Comparison
I'll be the first to admit that I didn't understand why Voigtlander was releasing a 29mm when they already had a 25mm, but I'll also be the first to admit that there despite the relatively close focal distance, this lens really slices its way thru the rest of the group to prove itself worthy and to tackle this kind of shoot where emulating the depth of field of the old 8×10 film slides commonly used in Hollywood portraits, I honestly don't think there is another lens capable of producing anything remotely accurate.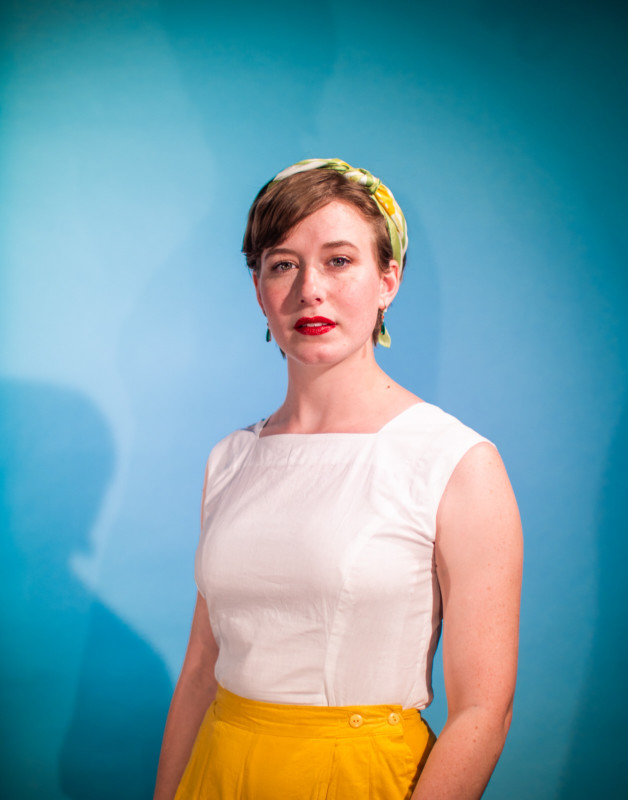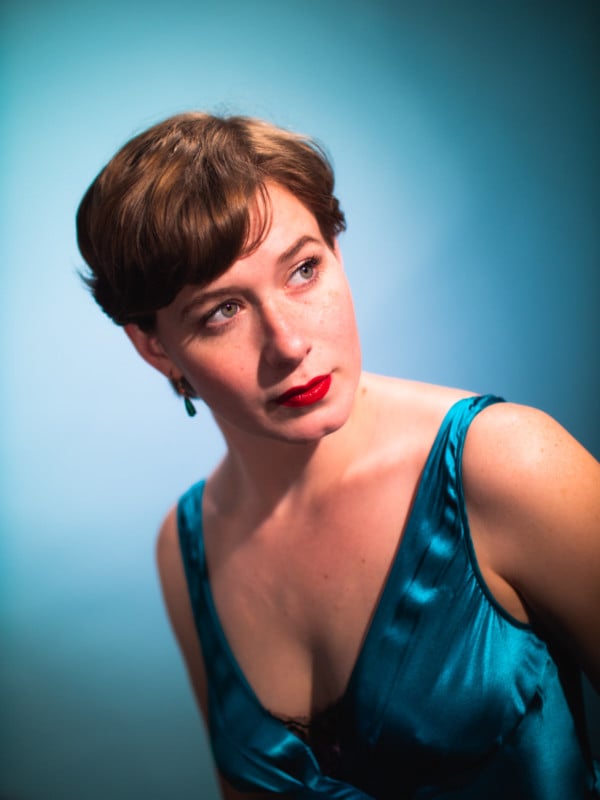 I really like this lens and honestly, I didn't think I was going to. Even knowing the quality that Voigtlander produces, it still managed to surprise me. That alone makes me want to continue to support Voigtlander's constant innovation and exploration of what's possible with the M4/3 mount.
To me, this lens is a very personal reminder that inside all of us, there is a vast creative universe and we have many ways in which to explore it. The Voigtlander 29mm may not unlock the cosmos, but it's a small move towards a brighter future.
---
P.S. If you enjoyed this article and video, subscribe to my YouTube channel for more content like it.
---
About the author: Aaron Arizpe is a photographer, director, editor, and cinematographer based in Austin, Texas. The opinions expressed in this article are solely those of the author. You can find more of Arizpe's work on his website, YouTube channel, and Instagram.