Canon Unveils RF100mm f/2.8 L Macro with Unique Bokeh Control Ring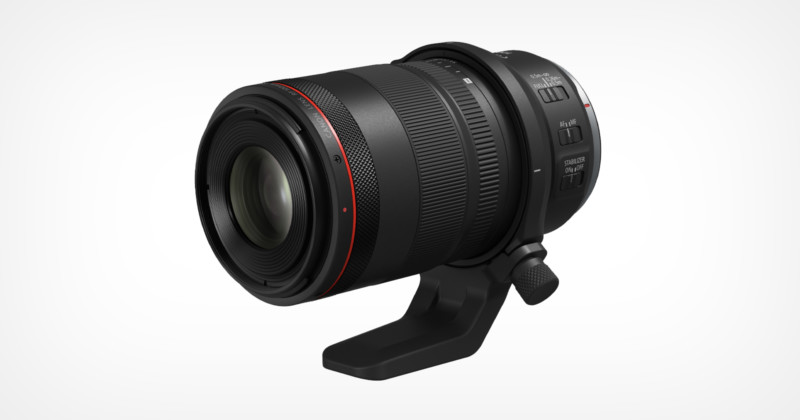 Canon has announced the RF100mm F2.8 L Macro IS USM, the "world's first medium telephoto macro lens" for mirrorless that is designed for a wide range of photographers and that offers a unique new feature: a Spherical Aberration (SA) Control Ring.
The new RF-mount lens is designed specifically for macro photography and features a maximum magnification of 1.4x. That new SA control ring allows users to change the character and appearance of the bokeh to obtain a softer focus effect. Photographers can adjust it to achieve the desired result, though Canon did not provide example images of what this might look like ahead of the announcement.
In addition to that new unique feature, the lens has built-in optical stabilization with up to five stops of "Shake Correction" and when combined with a camera's In-Body Image Stabilizer (IBIS) can achieve up to eight stops of shake correction through coordinated operation between the two features. Additionally, what Canon refers to as "Hybrid IS" hel[s compensate for angular shift and camera shake during macro shooting.
The lens's autofocus is powered by a dual nano USM motor that Canon promises will result in high-speed, smooth, and quiet operation. The RF100mm F2.8 L Macro IS USM also has a customizable control ring that can be programmed to adjust exposure compensation, shutter speed, aperture, or ISO. Like all Canon L-series optics, it also features a dust and water-resistant design. Specifically, the rubber ring on the lens mount, the focus ring, the Control Ring, the SA Control Ring, the switch panel, and the switches are all sealed.
The lens has a nine-bladed aperture and a range of f/2.8 to f/32 with a minimum focusing distance of 10.2 inches (0.26 meters). It is constructed of 17 elements in 13 groups and has a front filter thread size of 67mm.
This new macro lens effectively replaces the current EF 100mm f/2.8L Macro IS USM lens for the company's DSLRs and has a brand new optical arrangement, new autofocus motor, and better stabilization features in addition to the new SA control ring. The Canon RF100mm f/2.8 L Macro IS USM is set to go on sale in July for $1,400.