The Incredible Winners of the Sony World Photography Awards 2021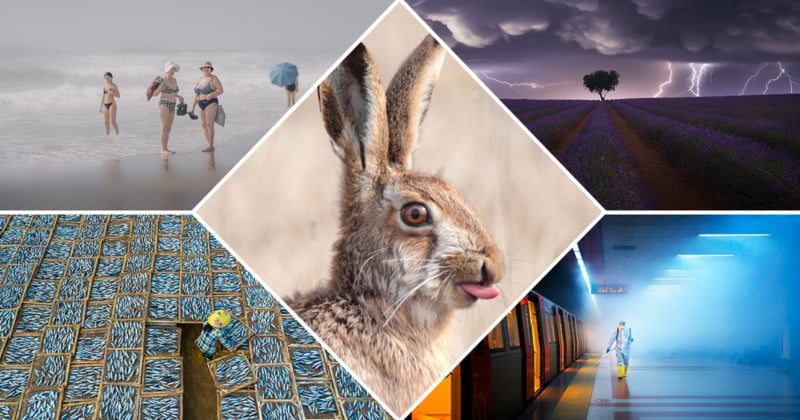 The World Photography Organization has announced its category winners of the Sony World Photography Awards 2021, which seeks to recognize the best single images from 2020.
Over 100 photographers were shortlisted in the competition along with ten category winners. Each winner is set to receive what is described as "the latest digital imaging equipment from Sony" and will go on to compete for the overall open winner that will be announced on April 15. That winner will be presented with the Open Photographer of the Year title and a $5,000 award.
The ten categories along with the winners and descriptions of the photos are below.
Architecture
The above photo, by Klaus Lenzen (Germany) is titled The Blue Window, and depicts a ramp of stairs at the Hyatt hotel in Düsseldorf ascending towards a window from which a view of clear blue skies is reflected. "Seemingly floating in space, the stairs and window are framed in dark shadows that highlight the design while also adding an element of surrealism."
Creative
This photo was taken by Tamary Kudita (Zimbabwe) and is titled African Victorian, and is a portrait of a young black woman dressed in Victorian dress and holding traditional Shona cooking utensils. "The image probes at stereotypical contextualizing of the black female body and offers an alternative visual language through which a multifaceted African identity is presented."
Landscape
The above photo is by Juan López Ruiz (Spain) titled Electric Storm on Lavender, and is a dramatic photograph capturing the moment lighting strikes a flowering field of lavender with a solitary tree at its centre, set against a dusky evening sky. It was taken in the province of Guadalajara, Spain.
Lifestyle
This photo is by Mariano Belmar Torrecilla (Spain) titled Dias de playa, and depicts a softly focused picture of two women enjoying a morning walk on the beach in Alicante, Spain.

Motion
This photo is by Marijo Maduna (Croatia) titled Girl Power, and is a black and white photograph recording the moment when a woman dives off a cliff on the island of Lokrum near Dubrovnik, Croatia, while her friends stand-by and watch.
Natural World and Wildlife
The above photo is by Cristo Pihlamäe (Estonia) titled Little Kiss, and is described as "an amusing picture of a hare looking out into the field with its tongue sticking out."
Object
This photo is by Kata Zih (Hungary) and is titled Memento, depicting a tailor's mannequin in an empty room. For Zih, the stillness of the scene evokes a feeling of solitude and stirs up memories of lockdown.
Portraiture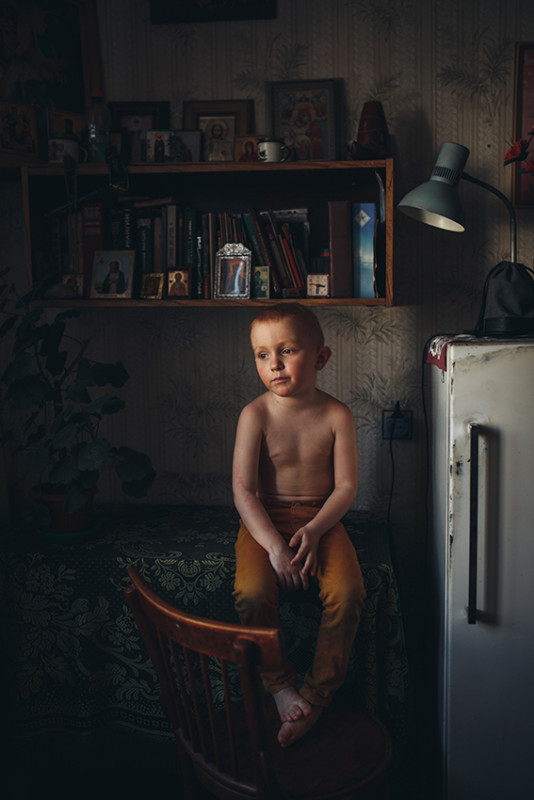 The above is by Lyudmila Sabanina (Russian Federation) and titled Son, featuring a young child sitting on a table while gazing into space, lost in contemplation. The photograph shows another side to childhood, one of calmness and reflection.
Street Photography
This photo is by F. Dilek Uyar (Turkey) and titled Disinfection, and is described as a cinematic image documenting an employee of the Health Affairs unit of Ankara Municipality in protective gear walking along the train platform while spraying it with disinfectant.
Travel
This photo is by Khanh Phan (Vietnam) titled Drying Fish. It is a photograph of a lone woman surrounded by hundreds of trays of drying fish in the Long Hai fish market in Ba Ria – Vung Tau, Vietnam. Taken from above the pattern, of the fish in trays resembles a large piece of fabric with the woman seemingly weaving it all together.
---
This year's Open competition was judged by Gastón Deleau, the Director of FOLA in Buenos Aires, Argentina. The winners above and all shortlisted photographers will be presented in the form of a virtual exhibition that is available to view here starting on April 15.
---
Image credits: All photos individually credited and used courtesy of the World Photography Organization.