Artist Erects Bizarre Photo Installation as Tribute to Kim Kardashian
London-based artist Max Siedentopf is known for making unusual art pieces and photos and his latest does not break from that trend: he claims to have dug a several meters deep hole that he has then lined with images of Kim Kardashian to pay her the biggest tribute he physically could.
Called "TRIBUTE," the bizarre installation takes the shape of a giant anthill and is centered by a long tunnel plastered hundreds of times with the reality TV star's visage. Siedentopf says the art piece "pays homage to possibly the biggest icon of the 21st century."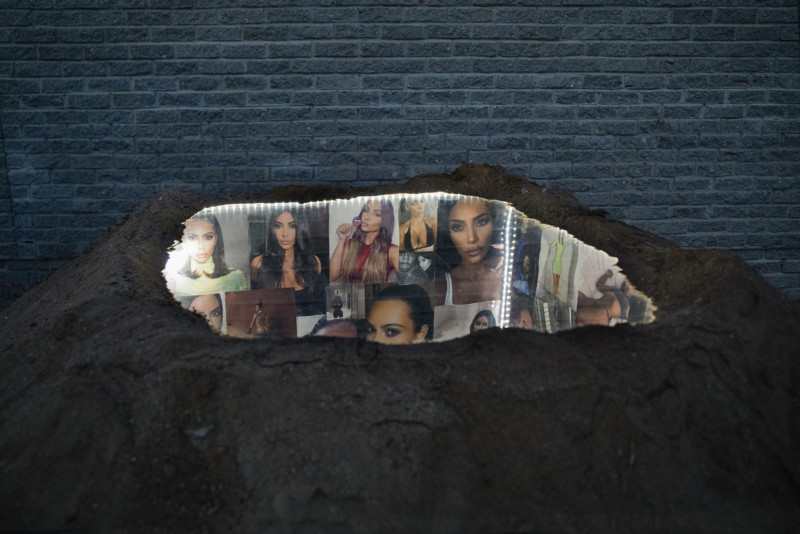 "Easily comparable to famous icons from the past such as Marilyn Monroe or the Mona Lisa, no one else has had more influence on contemporary visual culture such as Kim Kardashian," he writes.
"Described by The New York Times as 'the queen of selfies,' Kim Kardashian has shaped and reinvented over the past decade what self-portraiture is today. Her images are omni-present, her selfies have influenced an entire generation and have become an integral part of today's pop culture."
Siedentopf claims that his tribute is a multiple meters deep tunnel that took him weeks to dig.
"As the ultimate homage to this 21st-century icon, I have decided to pay the biggest tribute I physically could," he continues.
"Over several weeks I have dug a tunnel which spans over many meters into the earth. It's almost impossible to find the end of it, seemingly going all the way to the center of the earth. The inside of the tunnel is built as a hall of fame, plastered with some of Kardashian's most iconic portraits, forever celebrating her image."
While it is entirely possible that there is some level of depth to his art piece, it also looks to use a set of two-way mirrors to produce an optical illusion. The fact that the piece has height thanks to its anthill-like design lends credence to such a theory. Sometimes referred to as an "infinity mirror," the technique can be used to create the look of a bottomless pit.
While not doubting Siedentopf's word that he spent weeks making his tunnel, it's likely that the illusion of ongoing depth combines that deep hole with the "infinity mirror" technique.
Siedentopf has not revealed if this installation can be viewed in person.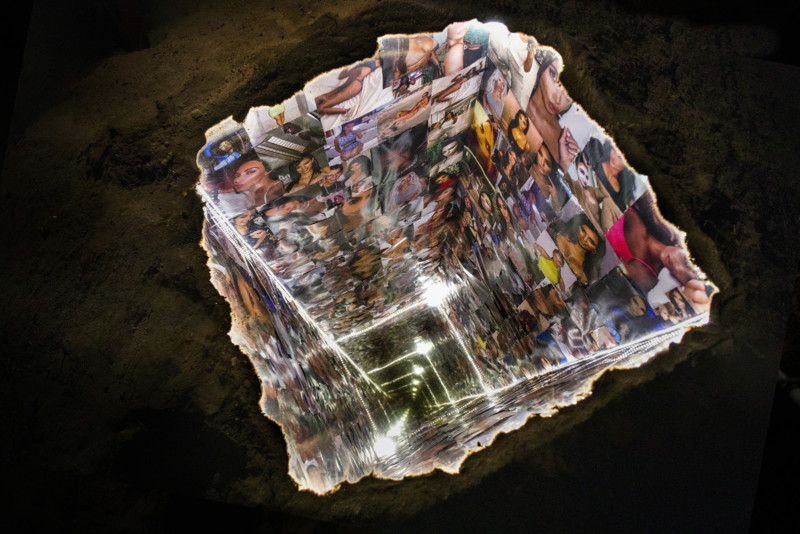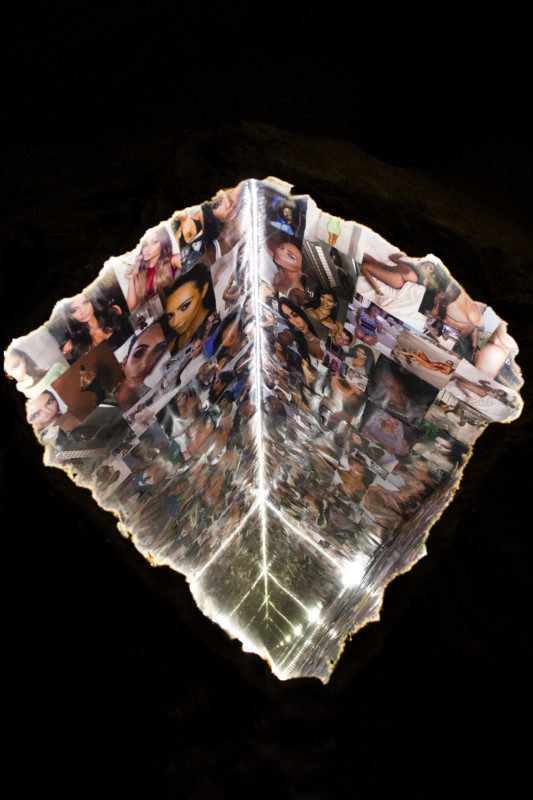 Siedentopf is the mastermind behind multiple photo-based artistic installations dating back to 2016. PetaPixel featured what can only be described as his "unusual" Passport photos in 2019. His Instagram is also filled with unusual photos that are clearly designed to illicit emotion, whether that be curiosity or revulsion.
Whatever you make of his art, there certainly is a statement being made about Kim Kardashian through the multitude of photos he's lined his installation with. What that statement is might be what he claims – a tribute – or it might be something else entirely that is left open-ended for the viewers to decide for themselves.
It's an interesting exhibit nonetheless.