Blue Angels Share Photos From the Final Flight of 'Legacy' Hornet Jets
To honor the service of the "Legacy" Hornet jets, the Navy has released a few images taken during the commemorative final flight of the platform by the Blue Angels. In addition to the striking images, the Navy also released a short clip from the inside of the cockpit.
The Blue Angels are the United States Navy Flight Demonstration Squadron which was formed in 1946. It is currently the second oldest formal aerobatic team in the world.
The US Navy concluded the final flight of the F/A-18 A/B/C/D "Legacy" Hornets, signifying the official transition of the Blue Angels to the F/A-18 E/F Super Hornet platform. The "legacy" jets had been in service for 34 years. The final flight took place around the Naval Air Station in Pensacola and lasted about 30 minutes.
The flyover locations included Orange Beach, Gulf Shores, Fort Morgan, Ferry Pass, Navarre Beach, Pensacola Beach, Perdido Key, Community Maritime Park, and Palafox Street in downtown Pensacola.
This flight was the last of the 2020 season, and the 2021 show season will be the Blue Angels' first year flying the Super Hornet platform as well as the 75th anniversary of the team.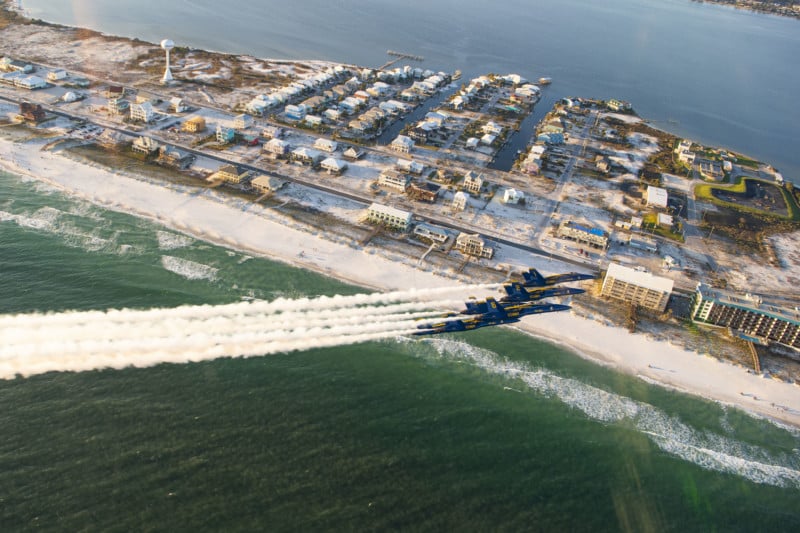 The Blue Angels are a popular attraction for photographers at Air Shows and it could be argued they are the most well-known of the United States Military's demonstration squadrons. Both the United States Air Force and the United States Navy have their own demonstration squadrons, with the Blue Angels representing the Navy and the Thunderbirds representing the Air Force.
If you have ever been curious about how images like the ones above are captured, you can watch this short video where Sergeant Larry Reid Jr. explains what he did during his time as the official photographer for the Thunderbirds:
For a closer look at the Super Hornet, advertising photographer Blair Bunting provided the following images to PetaPixel:
Jets that feature a dual-seat design have fallen out of use by the United States military outside of training and demonstration squadrons like the Blue Angels. Part of the reason the Navy and the Air Force continue to use the dual-seat design is likely that it allows for images like the ones above to be captured, which is of course great publicity for the military.
(Via DPReview)
---
Image Credits: U.S. Navy photos by Mass Communication Specialist 2nd Class Christopher Gordon, Copyright by DVIDS.
Editor's note: An earlier version of this article incorrectly labeled Blair Bunting's photos as images of the Legacy Hornet. They are of the Super Hornet. We apologize for the error.