How to Shoot an Epic Action Scene at Home Using Action Figures
Isaac Alvarez and the UNPLUG Production crew are back with another low-budget, high-quality photography tutorial. This time, they're showing you how easy it is to capture some epic "action scenes" from the comfort of self-isolation by using some action figures, sugar, and creative lighting.
The setup is pretty simple: Alvarez simply pushed a table against a wall, and set up some black cardstock to create a seamless background. He then set up his action figures—in this case two storm troopers—on top of a snowy landscape made of confectioners sugar and a few sticks.
For lighting, the crew is using the Godox R1 RGB light, but you can use any LED light (Aperture and LumeCube both make popular options), a couple of desk lamps, or even the light on your smartphone.
Finally, once they've got a few base shots, Alvarez jumps into Photoshop to show you how to stitch the shots together into one coherent final product. Here's what he came up with using three separate photos, and a landscape photo as a backplate:
And here are a few other action figure shots he's captured in the past, including one involving (please don't try this at home!) fire: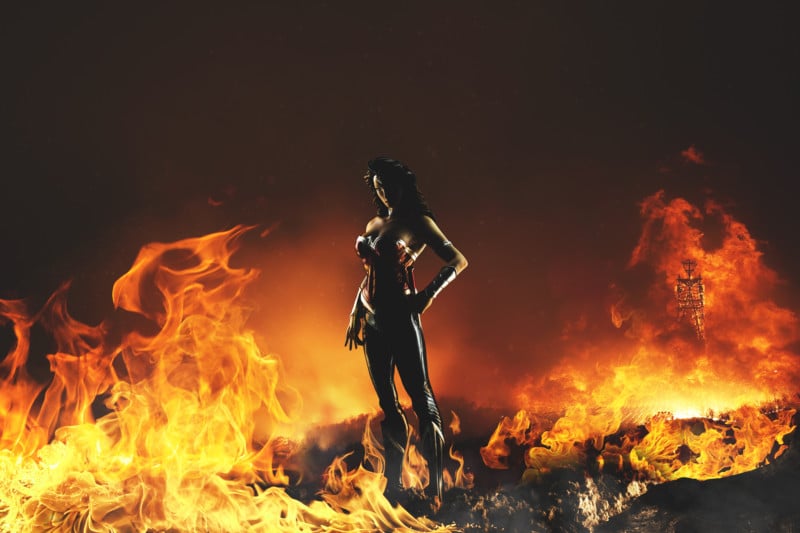 If you're looking for some photography inspiration while you're stuck at home, and food photography or FaceTime portraits aren't your thing, check out the full tutorial up top and give toy photography a shot. As Alvarez shows, it doesn't take a ton of equipment or skill to start creating some really fun action scenes.
And if you want to see some more low-budget, professional-result tutorials from UNPLUG, check out this ink-in-water watch tutorial from a few months ago.
---
Image credits: All photos by Isaac Alvarez and used with permission.