Godox Unveils the AD1200 Pro: Its Most Powerful Strobe Yet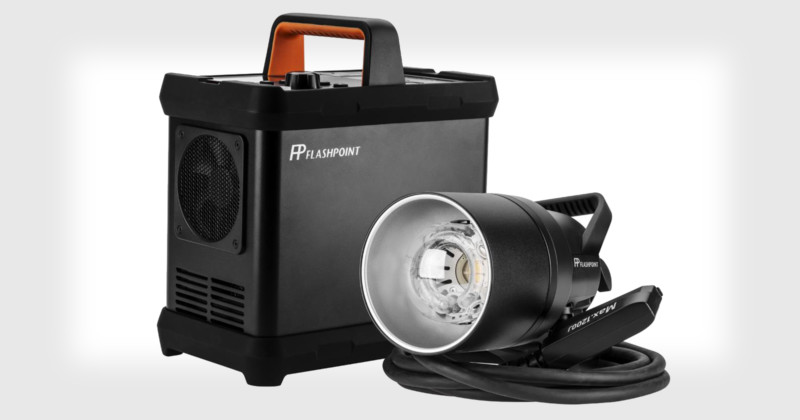 Godox has officially unveiled its most powerful strobe yet: the AD1200 Pro. After first teasing a prototype in late 2019, the company is ready to reveal the final product, making it more affordable than ever to add 1200Ws of flash power into your arsenal.
The Godox AD1200 Pro (AKA the Flashpoint XPLOR 1200 Pro R2) was first teased way back in December, when it was still in the prototype stage. Not much has changed about the overall look of the product since then, but Godox seems confident that the strobe is now ready for prime time.
The AD1200 Pro is a relatively compact, battery-powered flash unit that wants to help photographers overpower the sun without breaking the bank. The $1,600 system is made up of a 1200W flash head and a rechargeable (and interchangeable) 5.2Ah 36v Lithium energy pack that can be fully charged in two hours and delivers between 480 and 500 full-power flashes per charge. There is, of course, an AC adapter as well, in case you want to opt for mains power.
In terms of basic specs, you're looking at a Guide Number of 407ft (124m), a full-power recycle time of 2 seconds, a maximum flash duration of just 1/10860, the ability to adjust power delivery in 0.1-stop increments all the way down to 1/256, the promise of ±75K color accuracy across the entire flash range, and support for TTL and High Speed Sync.
You can get the full specs breakdown in this graphic.
The flash is fully compatible with just about every brand of camera—Canon, Nikon, Sony, Panasonic, Olympus, Fujifilm, and Pentax—and both the flash head and battery pack are fan-cooled so you can keep shooting without worrying about 1200W worth of overheating.
To learn more about the Godox/Flashpoint AD1200 Pro, or if you're ready to go ahead and pre-order your own, head over to Adorama. The flash hasn't appeared on the official Godox website as of this writing, and we don't know the ship date just yet, but pre-ordering one today will cost you $1,600.