Photographer's Heartwarming Photos Capture 27-Years of Waving Goodbye to Her Parents
Over the course of 27 years, from 1991 until 2017, photographer Deanna Dikeman has a ritual. Every time she left her parent's house in Sioux City, Iowa, she would snap a picture of her mom and dad waving goodbye from the driveway.
The resulting photo series—titled Leaving and Waving—is part family photo album, part homage to a parent's steady affection and unwavering love.
It all began with a snapshot captured from inside her car in the year 1991 as her mother and father waved goodbye from the driveway of their new home. By then, Dikeman was already four years into chronicling the lives of her entire family, and the "leaving and waving" photos happened almost by accident.
"I never set out to make this series. I just took these photographs as a way to deal with the sadness of leaving," says Dikeman. "These photographs are part of a larger body of work I call Relative Moments […] When I discovered the series of accumulated 'leaving and waving' photographs, I found a story about family, aging, and the sorrow of saying good-bye."
In a sense, Leaving and Waving could be described as one long, extended goodbye. The sorrow that Dikeman describes weaves its way subtly throughout the series, crescendoing in two equally emotional frames. The first, captured in 2009, in which her father is no longer present; the second, the final photograph in the series, shows an empty driveway.
Scroll down to see a selection of our favorite portraits from this equally heart-warming and heart-wrenching project: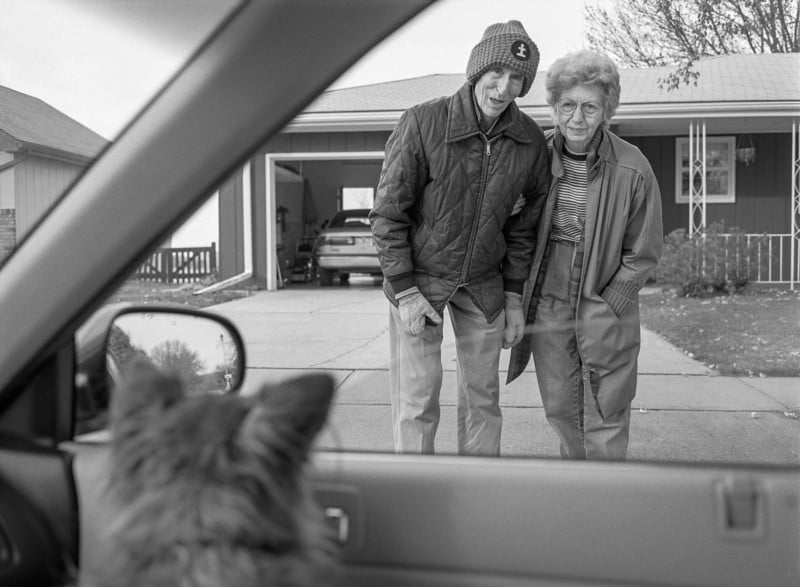 A huge thank you to Ms. Dikeman for allowing us to share this deeply personal project. To learn a bit more about her or if you'd like to see more of her work, be sure to visit her website and give her a follow on Instagram.
(via New Yorker)
---
Image credits: All photos by Deanna Dikeman and used with permission.