A Complete Guide to Using Off Camera Flash for Wedding Photography
Wedding photographer Reggie Ballesteros gets a lot of questions from aspiring wedding photographers, and one of the most common is: how do you use off-camera flash? So he's created a comprehensive guide that covers his entire process—from the gear he uses, to his thought process during setup, through execution.
"In this video, I break it all down: the gear that I use, how I set it up, my exposure/flash power settings, and my thought process and approach," explained Ballesteros when he sent PetaPixel the guide. "From there, I take the viewer behind the scenes so they can see the implementation and how I photograph an indoor wedding reception using the very popular Godox flash system."
Gear-wise, he uses two Fuji X-T3 camera bodies, two Godox V1s that stay on his cameras, two Godox AD200s for off-camera flash, and one additional Godox AD200Pro for detail shots and portraits. In addition to providing bounce flash as needed, the V1 on his camera acts as the Master to control the AD200s that he's using off-camera.
In terms of settings, after taking the time to set up the lights in the right parts of the room, he will expose for the highlights/mood lighting in the room first. That usually means about 1/250th of a second shutter (sometimes 1/160th), a wide-open aperture (adjust per your preference), and ISO 160. If the flash power of any of his flashes goes over 1/4, he'll raise his ISO to compensate so that he's not stuck waiting for the flashes to recycle between shots.
In terms of flash, he recommends always shooting in manual, even if you have TTL available. This leads to more consistent results, and allows you to keep the flash under a set power threshold (1/4 power, for example) so you don't end up in the situation described above. His off-camera flashes are usually set between 1/16 and 1/32 power, while the on-camera bounce flash from the Godox V1 is set at either 1/4 or 1/8.
All of the photos below were shot using these basic settings, while adjusting the positioning of the on-camera flash head as needed: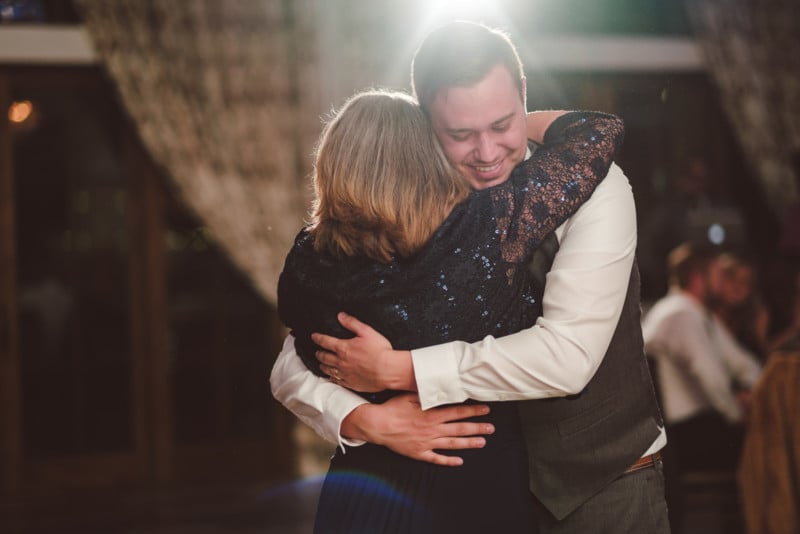 The full 20-minute video is well-worth watching, especially if you're just getting started with wedding photography. Beyond simply sharing settings and flash position for each individual shot, you get to follow Ballesteros around as he shoots the full reception pictured above, explaining his thought process as he goes.
Check out the full tutorial up top, and if you want to see more from Ballesteros, visit his website, subscribe to his YouTube channel, or give him a follow on Instagram.
---
Image credits: All photos by Reggie Ballesteros and used with permission.