Kodak Shuttering Kodakit, the 'Uber of Photography'
Kodak is discontinuing Kodakit, the on-demand photography service launched back in 2017 that aimed to be a sort of "Uber of photography," connecting photographers around the world with businesses that need photos.

While the Kodakit website and social media accounts have yet to publicly announce the decision, Kodak sent out an "important announcement" to photographers and businesses signed up for the service today.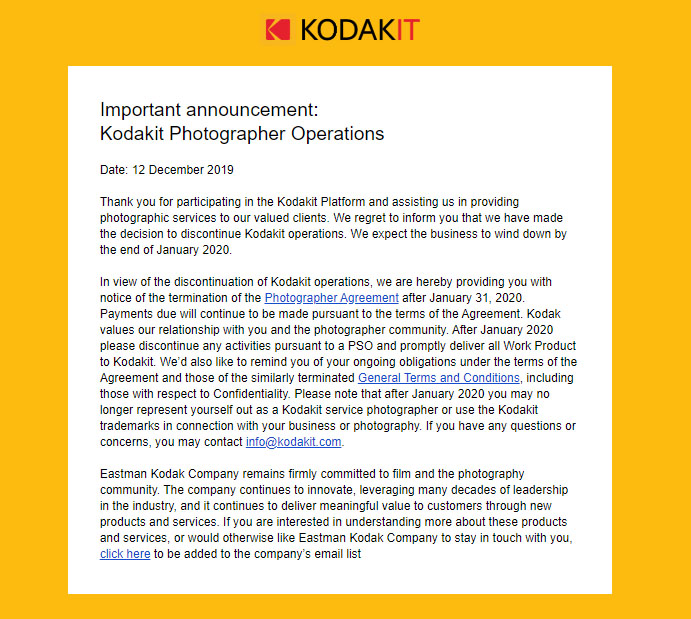 "We regret to inform you that we have made the decision to discontinue Kodakit operations," Kodak writes. "We expect the business to wind down by the end of January 2020."
Participating photographers will have their contracts with Kodakit terminated after January 31st, 2020, but Kodak promises that any outstanding payments will still be paid.
Photographers will need to deliver photos and continue to honor certain parts of the signed contract even after the service is wound down (e.g. confidentiality agreements), but photographers won't be able to market themselves as Kodakit photographers after January 2020.
Kodakit clearly failed to generate enough traction to justify its existence for Kodak, and a large part of it may have been due to the negative publicity that resulted from its Terms and Conditions, which literally asked photographers to sign over the "entire copyright" of the photos shot for clients. Photographers were also asked to destroy all files from photo shoots and weren't allowed to use the resulting photos to promote themselves without written approval.
In addition to sounding the alarm over the copyright grab, other photographers bemoaned Kodakit's efforts in driving down the value of commercial photography services.
"Eastman Kodak Company remains firmly committed to film and the photography community," Kodak says. "The company continues to innovate, leveraging many decades of leadership in the industry, and it continues to deliver meaningful value to customers through new products and services."