Megacities Photographer Michael Wolf Dies at 64
Award-winning German photographer Michael Wolf, best known for his photos showing the quirks and density of megacities, has died. He was 64.

The New York Times reports that Wolf died in his sleep on Wednesday at home in Hong Kong. His cause of death has not been disclosed.
Wolf was born in Munich, Germany, in 1954 and began working as a photojournalist in 1994, the year began living in Hong Kong. Wolf became internationally known for focusing his lens on various major cities around the world, including Chicago, Paris, Tokyo, and Hong Kong.
In his 2010 book "Tokyo Compression," Wolf shot portraits of Japanese people crammed into crowded subway trains in Tokyo with their faces pressed against the windows.
The photographer made headlines in 2011 when his "photos" shot inside Google Street View was given honorable mention at World Press Photo.
Wolf also raised eyebrows in 2014 with his photo project "Window Watching," which features photos of people inside their apartments in Hong Kong that were shot with a telephoto lens without knowledge or consent.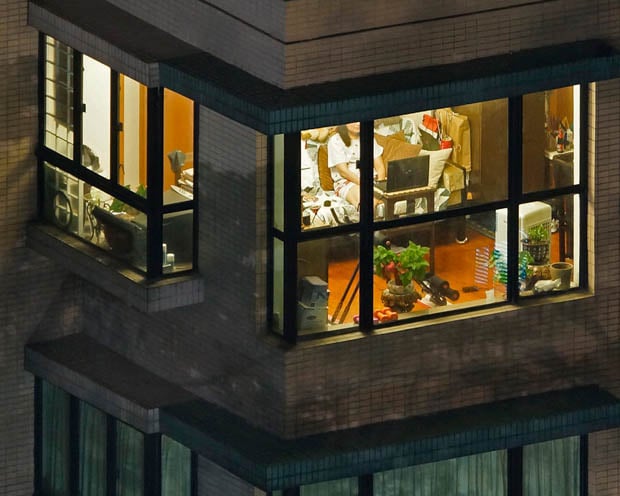 His project "Bastard Chairs" featured the creative makeshift chairs he spotted all across China.
Wolf's project "Architecture of Density" features mesmerizing, abstract photos of Hong Kong apartment buildings — images that highlight the extreme population density of a place with over 7 million people packed into an area of 426 square miles.
"Paris Abstract" was a project by Wolf that depicted rooftops in Paris in a way that makes them look like abstract paintings.
In addition to his honorable mention win, Wolf won first prize twice in the prestigious World Press Photo contest. In 2005 he won the Contemporary Issues category for stories with his photos of workers in factories, and in 2010 he won for singles in Daily Life.
You can find more of the late photographer's work on his website.