A Dance Photographer's Take on the Tayla Harris Photo Controversy
As a dance photographer, I'm paying close attention to the response regarding an action photo of the Australian Football League's Tayla Harris. This shot of her shows her leg extended after kicking the ball that would be the first goal of an AFL game.

The picture, taken by AFL chief photographer Michael Wilson, was shared on the AFL Facebook Page captioned as "Photo of the Year", but then was removed after people began making sexually inappropriate comments. The removal of the powerful action shot actually sparked a greater firestorm of controversy.
We're sorry. Removing the photo sent the wrong message.

Many of the comments made on the post were reprehensible & we'll work harder to ban trolls from our pages.

Our intention was to highlight @taylaharriss incredible athleticism & we'll continue to celebrate women's footy. pic.twitter.com/p24Ll08LRC

— 7AFL (@7AFL) March 19, 2019
"Recently we published an image of AFLW player Tayla Harris," @7AFL said in a statement. "The original purpose in publishing the image was to celebrate the power, athleticism and skills on show in Carlton's thrilling win over the Western Bulldogs.
"The image attracted a number of comments, some of which were inappropriate and offensive. As a consequence we have removed the image and the comments."
— 7AFL (@7AFL) March 19, 2019
A number of female athletes in Australia took to social media to criticize @7AFL for removing the picture. "Absolutely disgusting – @7AFL you really should be taking a stand reporting these guys for offensive comments," said former AFL player Meg Hutchins. "Enough is enough!!!"
Absolutely disgusting – @7AFL you really should be taking a stand reporting these guys for offensive comments. Enough is enough!!! https://t.co/3HaulBYFjX

— Meg Hutchins (@hutchy_25) March 19, 2019
Harris posted the image on her own Twitter account, saying "Here's a pic of me at work… think about this before your derogatory comments, animals."
Here's a pic of me at work… think about this before your derogatory comments, animals. pic.twitter.com/68aBVVbTTj

— Tayla Harris (@taylaharriss) March 19, 2019
7AFL has put the picture back on its page, acknowledging that removing it had sent the wrong message. Their message said they would work harder to ban the trolls from their page.
Harris has called for the police to take action against the trolls. "The comments I saw were sexual abuse, if you can call it that, because it was repulsive and it made me uncomfortable," Harris told RSN radio.
"My hamstring is OK but derogatory and sexist comments aren't."

Online trolling of Australian rules footballer Tayla Harris has been compared to sexual abuse.

More: https://t.co/2odiW9j6fx pic.twitter.com/GFpOGXqOeb

— BBC Sport (@BBCSport) March 20, 2019
"Think about this before your derogatory comments"

How social media comments on a photo of Australian Football League star Taylor Harris sparked outrage: https://t.co/zmvnV8gAmy pic.twitter.com/QOP3hR59If

— CNN Sport (@cnnsport) March 20, 2019
The photo was posted, the photo was taken down and then all hell broke loose https://t.co/HriGacUjnr

— New York Post Sports (@nypostsports) March 20, 2019
In the dance community, the angle of the shot of Harris would be considered a vulgar "crotch shot." I've found that an image of a dancer with her crotch facing the camera has two very diverse reactions in the dance community. Some people are concerned about the sensitivity of the angle of the image and focus solely on it being a crotch shot, while others view the image as a whole and appreciate the image and do not really consider the angle in itself to be insensitive or offensive.
You kick like a girl #AFLW #GenW pic.twitter.com/iK5PKq56nU

— Michael Willson (@MichaelCWillson) March 17, 2019
Take this, trolls 👇🏼 pic.twitter.com/dbCYvVoFET

— Michael Willson (@MichaelCWillson) March 19, 2019
The important detail for me in my dance shots, particularly when I photograph younger girls or teens, is that nothing is seen that shouldn't be seen in these crotch shots, just as nothing is really seen in Harris' image.
When a dancer does a leg lift, oftentimes the best angle for that shot is for her legs to be open toward the camera. As a photographer, when I see that shot, my first impression is the beauty of the lines of the leg lift. I am fully aware of any concerns about too much exposure and I always confirm that nothing is inappropriately exposed.
Consider the examples of my photos of Emily Armstrong and Maddie Atherton included here. In some circles, a parent or dancer would not want these pictures seen by anyone. In other circles, they are not seen simply as a crotch shot, but rather the focus is on the artistic beauty of the shot and the gorgeous lines of the dancer.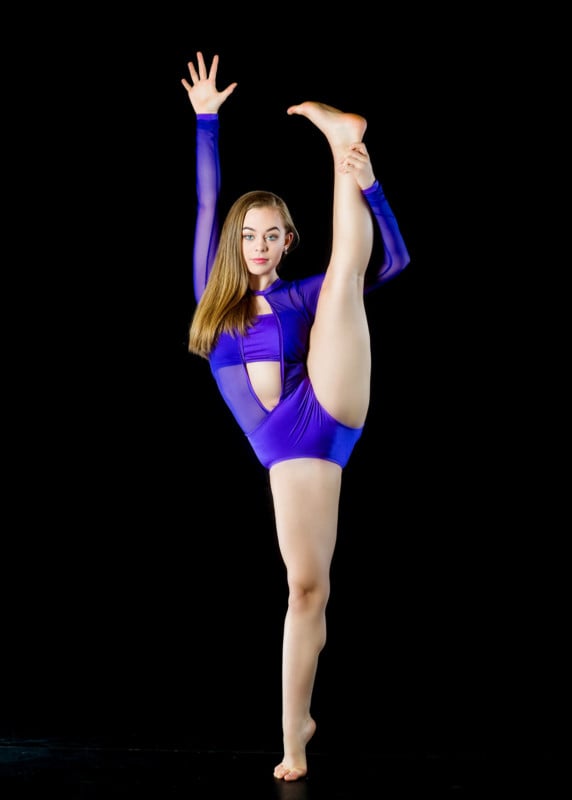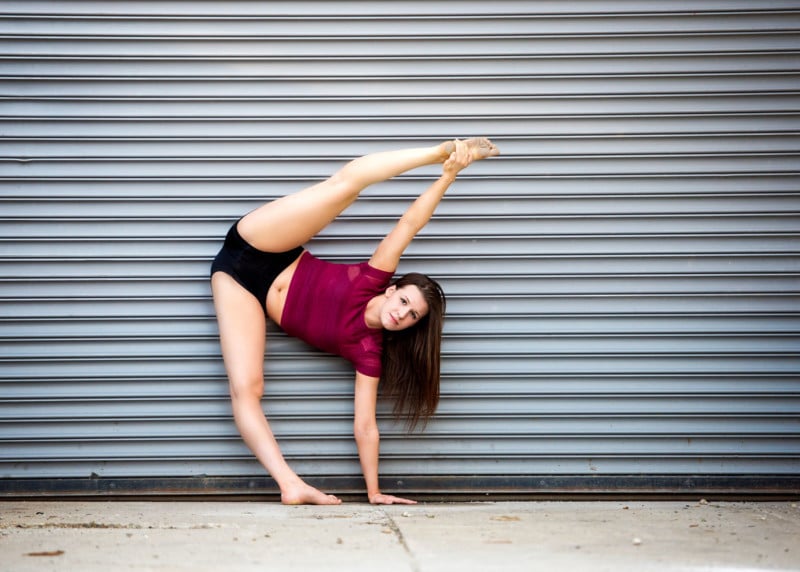 My hope is that the conversation that is sparked by the Tayla Harris photograph controversy will help people see past the sexuality of an image simply because a female's crotch is opened toward a camera. For me, there is so much more to an image beyond the angle of the camera and the crotch.
In posting these pictures as examples and relating the Tayla Harris photo to dance photography, my goal is not to try to convince everyone that crotch shots are okay. Rather, I think we should judge each image on its merit and balance the sensitivity of the dancer, or the dancer's parents, to the overall merit of the image itself.
---
About the author: Ron McKinney is a dance and portrait photographer based in the Chicago area. The opinions expressed in this article are solely those of the author. McKinney's work has been published in magazines such as Dance and Pointe. You can find more of McKinney's work on his website and Instagram.