#trashtag is a Viral Photo Fad Making the World a Cleaner Place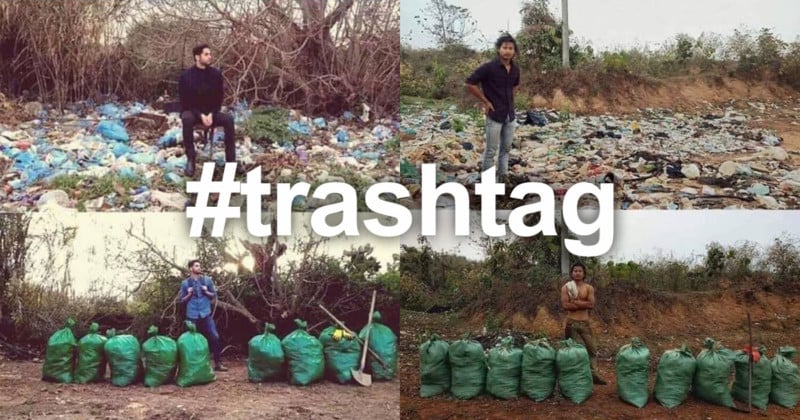 After years of ridiculous photo fads such as "planking," there's finally a viral photo fad that's worth getting behind and giving exposure. It's called #trashtag, and it's a challenge to share the most epic before-and-after photos of trash cleanups.

The tag was
apparently
introduced
by the media brand Teton Gravity Research
back in September 2015.
"Help us all […] by joining the #trashtag project and posting pics of your own clean up efforts on Instagram," the company wrote. "We aim to make a tangible impact on the environment through the galvanizing forces of social media."
But it wasn't until this month that the hashtag started going viral around the world, and here's the social media post that seems to have kicked things off:
That was on March 5th. Over the past week, the hashtag has been picking up steam as everyone races to share the most noteworthy trash cleanup photo.
#trashtag seems to be trending. This one's from Nepal 🇳🇵 pic.twitter.com/stAxbQXhup

— Kelllvvviiinnn (@kelllvvviiinnn) March 9, 2019
Along the Potomac River south of Washington, DC #trashtag pic.twitter.com/n2uPL52LZG

— Robbie McNeil (@RMcNeil2105) March 10, 2019
#trashtag is awesome, never thought I'd support one in a non sarcastic fashion. I sure hope this challenge sticks around. pic.twitter.com/3t2dIqZvsE

— momento (@EddieOhGonzales) March 10, 2019
Hey @camerondallas the community in my home town in Mexico got together and cleaned up garbage #TrashChallenge #TrashChallenge #trashtag pic.twitter.com/hk9kNTVmSZ

— GermanG (@ger__mann) March 11, 2019
As #trashtag takes off, you may soon be greeted by a much cleaner sight when you visit outdoor locations near you, whether it's a beach, park, or even a sidewalk. And if you have some free time, feel free to join in on this worthwhile trend to help make our world a cleaner place!