This Astronaut Shot Racetracks from Space with a Nikon DSLR
NASA astronaut Drew Feustel grew up in Detroit and is an avid car and racing enthusiast. So much so that while commanding the International Space Station in 2018, Feustel photographed racetracks from space with a Nikon DSLR before watching the race itself in his free time.

"I was always a racing fan, [I] followed IndyCar, Formula One, and MotoGP, and I still follow it to this day," Feustel says in a new interview with Hot Rod Network. "I keep up on the series, the teams, and the drivers, and because I was a fan I spent time in space taking photos of the entire 2018 season—all of the race tracks […] On the race weekends, I would post the picture of the track, and then watch the race. That was kind of what I did as a hobby while I was up there."
Feustel tells Hot Rod Network that a lot of logistics went into getting the shots. He provided coordinates of racetracks to ground support teams at mission control, and people here on Earth crunched numbers to tell Feustel exactly when and where the photo opportunities would present themselves to his vantage point in the ISS.
"The photos were taken in my spare time—nights or weekends, or middle of the night or whenever, basically when I knew I was going to be flying over a track I would plan ahead for the day so that I had some free time to use the 5 minutes that I had to catch a track as I passed overhead, and then get back on with my work," Feustel says. "I managed to capture all of them."
Everything was shot with a Nikon D5 with an 800mm lens and 2x teleconverter, giving Feustel a 1600mm focal length to work with. He used manual camera settings and manual focus. And framing the shots were tricky because he couldn't actually see the tracks with the naked eye.
"When I looked out in the lens you could probably fit 30 tracks into the area," Feustel tells Hot Rod Network. "I couldn't see them with the naked eye, usually, but if I pointed the camera in the right place, I could see them through the viewfinder. There were a lot of times where I couldn't see them, and entirely missed a track because I pointed the camera in the wrong spot."
The International Space Station orbits at 250 miles above the ground and zips around the Earth at 17,500 miles per hour, making it very, very difficult to capture specific small areas on the ground. But with patience, practice, and perseverance, Feustel managed to get all the racetracks on his list.
Here's a selection of the racetrack photos Feustel captured from space: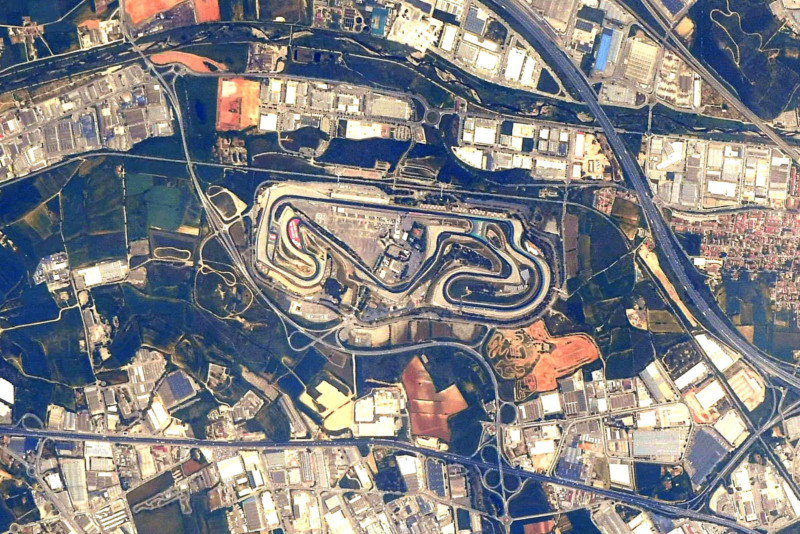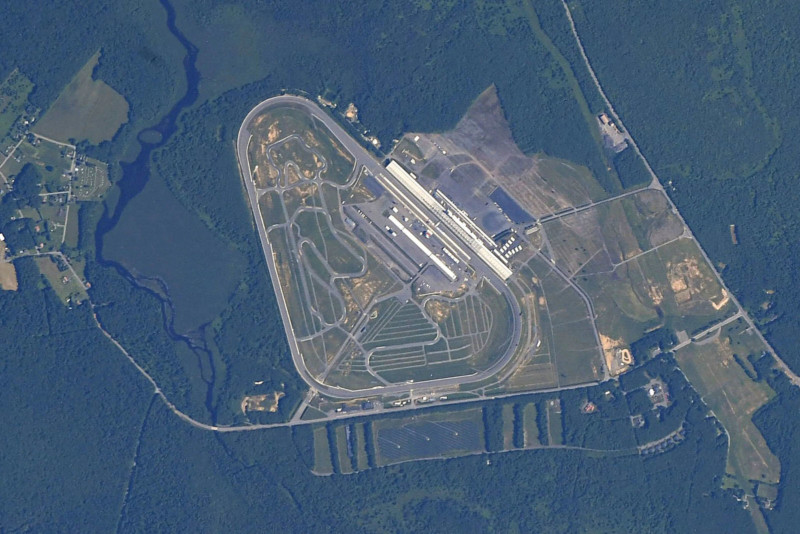 You can find a much larger gallery of Feustel's racetrack photos over at Hot Rod Network. Feustel also published his photos on his Instagram and Twitter accounts.