The EOS RP is a New Low for Canon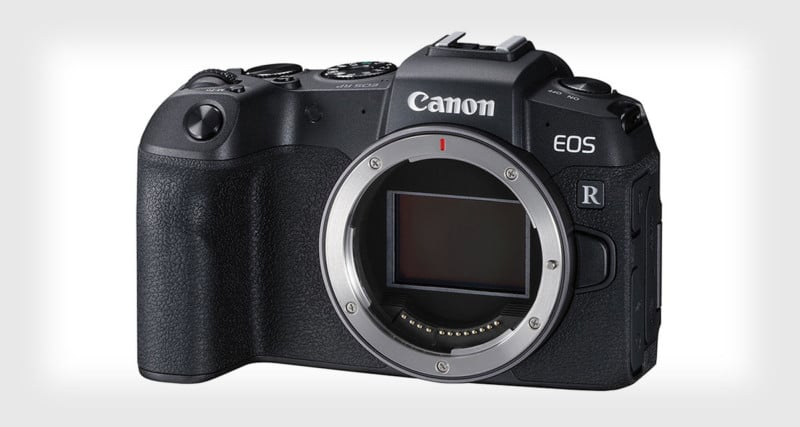 Prior to Canon releasing its first full-frame mirrorless camera, I wrote an article discussing how Canon will dominate the mirrorless industry. Many of you made fun of the title, which was fair enough; the comments did make me chuckle.

The point of the article, however, was that Canon will be the number one supplier, and in several prominent markets, we're already seeing that happen.
Many people criticized Canon for its EOS R, and in all fairness, I did too. In some respects, it's a worse mirrorless version of the Canon 5D Mark IV.
But the thing is, Canon placed it at a very reasonable price point. I mean, this is a camera with the same sensor but priced at over $1,000 less than what the 5D Mark IV was when it was first released ($2,299 vs $3,499). This makes it a very appealing camera for many photographers, even with the whole single card slot debacle.
And Canon seems to have done it again with the EOS RP, and I think this is nothing short of genius.
Why This is Genius
The EOS RP is essentially just a mirrorless version of the $1,799 Canon 6D Mark II, but it comes in at a much lower initial price point. At just $1,299 this is incredible and truly a new low for Canon — price-wise, anyway.
Sure, there are many people who are probably going to scoff at this camera, but consider the market this camera is attracting. This is now the cheapest current full-frame camera on the market, and I believe it will sell extremely well.
The reason this is such a great move is that Canon is repurposing an existing sensor for which the cost to manufacture has probably gone down quite significantly. It's now passing on those savings to their customers and offering it with a whole new camera with a few extra features. Canon has made it extremely easy for customers to enter the full-frame market for its mirrorless system.
Canon is essentially aiming to take the budget market, which is a significant portion, and it's a strategy that has helped it immensely in the past. In many cases, once a customer is part of a particular ecosystem, they rarely change over to another. For a large portion of the market, the EOS RP is a far more practical option compared to what Sony and Nikon have available.
The $1,998 Sony a7 III is without a doubt a better camera in almost every regard, but for the price you can almost buy a Canon EOS RP with the RF 24-105mm f/4.0.
The 24-105mm is a brilliant lens with fantastic optics and in all fairness, most photographers don't particularly care about video features, but they definitely care about lenses. The price point makes the EOS RP incredibly appealing. Sony seems to be competing by offering lots of features, Canon is competing with price and, Nikon, well, I guess it's participating.
Canon Keeping Its Promises
Not so long ago in an interview, Canon discussed how it would be willing to cannibalize its DSLR sales in favor of mirrorless and we're now actually seeing this happen.
Admittedly, the EOS RP is not the most feature-filled camera, but it doesn't really matter. For the price of some APS-C cameras, you can now buy a very capable full-frame camera instead. Cameras like the Canon 80D and the 6D Mark II are no longer as appealing. This camera individually nullifies any need for those two cameras.
Even when you factor in the cost of the $199 EF-RF adapter, the EOS RP is still cheaper than the 6D Mark II, and I honestly believe this is a brilliant move from Canon.
We're now seeing rumors that Canon won't be releasing an update to the 80D and instead only the 7D Mark II will be updated. This makes a lot of sense because why would anyone want to buy a "90D" when they can purchase an EOS RP instead? Canon is very effectively killing off its DSLRs in favor of its mirrorless system, and I think this shows a huge degree of commitment.
Where is the Flagship?
Many people have been looking to Canon to release a flagship high-end mirrorless camera that competes with cameras like the Nikon Z 7 and the Sony a7R III. Instead, Canon has decided to develop its lower end line of cameras and produce some of the best lenses currently on the market.
Its lens line-up for its mirrorless system is incredible. There's nothing like the $2,999 RF 28-70mm f/2 on the market.
Some of you may talk about the price of the lens or discuss how huge it is, but in all honesty, a lens like this isn't exactly overpriced or unnecessarily heavy. I mean it's a constant f/2.0 zoom lens with some of the best optical performance even when shooting wide open. Of course it's going to be huge and pricey.
Another relatively unique lens is the $2,299 RF 50mm f/1.2. No other manufacturer offers a 50mm lens with an f/1.2 aperture that also has autofocus.
Even when shooting wide open it looks as though this Canon lens may actually perform better than the Sigma 50mm f/1.4 Art. That is no small feat because Sigma art lenses are known for incredible performance. Canon continues to do what it does best and that is offer lenses that are best in class.
So, where is this flagship that so many photographers are waiting for? Well, rumors suggest we may see it later this year. I don't personally want to get my hopes up too much because Canon isn't known for pushing the boundaries, but it seems as though this potential flagship may just be what everyone has been waiting for.
Canon has discussed how it is now looking to offer IBIS in its cameras. This is a feature many people have been asking Canon to include. Previously its position was that it believed in-lens IS to be a better option. Thankfully it has now changed its position on this.
I also believe that Canon will finally offer 4K video recording that's properly usable. Video features have been an area where Canon has received a lot of flack, and rightfully so. I doubt Canon will be offering any kind of RAW recording features, but if it can produce a camera with full-frame 4k video with full use of Dual Pixel Autofocus, that should be more than enough for most people.
Essentially, there isn't much that Canon needs to do to in order to ensure a home run for its flagship model.
Final Thoughts
Canon has positioned itself in a manner that's going to be very difficult to compete against. It has some of the best lenses on the market both from its EF and RF lineups. Lenses make a huge difference because many photographers tend to be wary about leaping into a new system if the lenses aren't there.
Canon is also offering some very compelling options for the lower end of the market and this is where the battle is generally won or lost. Once it releases a competitive flagship model, Canon will be in a position that's going to make it pretty easy for it to remain the number one manufacturer in the industry.
---
About the author: Usman Dawood is the lead photographer of Sonder Creative, an architectural and interior photography company. The opinions expressed in this article are solely those of the author. You can find more of his work on his website, Instagram, and YouTube.