I Built a Replica Chinese Takeout Restaurant in My Photo Studio
My name is Nicky Hamilton, I'm a photographer from London. In-between commercial work I produce fine art photography, specializing in cinematic set builds, which unlike my commercial work is done solo, the set design, build, photography, styling, and retouching. It started this way as a means to an end but then blossomed to become a meditative process that's creatively very fulfilling for me.

After completing a very long 4-year project called 'The Lonely Man', I found myself lost in the world of social media in search of marketing, inspiration and (if I'm honest) affirmation. From this I found that I had developed a mild form of ADHD, filling any spare moment with my phone in my hand, itching if it was out of reach. I had lost the ability to just be lost in my thoughts, I needed a distraction, I was anxious doing nothing. A polar opposite to my younger self.
Soon after this realization, I was driving home from work late one night and I passed a Chinese take-away. The owner was sitting behind the counter watching the television and just waiting for business. This visually and emotionally struck me, the act of waiting and how we choose to use that time.
It also struck me that this scene was on the edge of extinction, this fleeting British tradition, waiting in a Chinese take away which was soon to be another casualty of technology via the likes of companies such as Deliveroo. I was set on creating a series to portray the act of waiting in this culinary melting pot of Britain.
First I toyed with the idea to shoot on location but I really wanted the ability to shoot on a longer lens and to have a more cinematic lighting approach. The shop was perfect but it was very small so I decided to build a replica of the shop as a set in my studio which would allow me to take out walls and shoot from afar, covering every angle of the shop. It took me around 4 weeks to build the set.
Once the set was ready, I decided to approach the owner, keen on having him star as the protagonist. I figured I needed to show him my idea as an explanation of the concept "I would like to build your shop in my studio" would send him laughing. After a shocked sharing of photos of the set he surprisingly offered to lend all the shops original paintings and props which have been up since the 1960s and better still he agreed to star in the series.
With everything in place I shot the entire series over the course of 4 weeks, spending around 2 hours on each picture and an additional 2 hours on set arrangement and pre-lighting.
During the production, I visited the real shop regularly to cast and to take notes of natural moments that occurred.
This research was invaluable for the reportage feel that I was after. Often when shooting the best work came from when the model was having a break on set. A good example of this can be seen with the boy in the rugby kit leaning over his phone who was patiently waiting for the smoke to clear, using this spare moment to check his social media.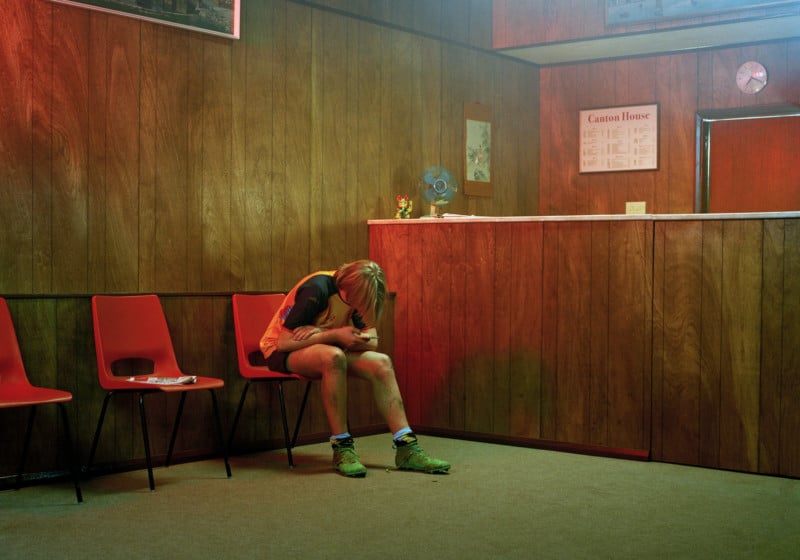 I decided to shoot medium format film with my Hasselblad 500c/m, the film texture and color rendition really suited the 1960's decor, there's a vintage feel to the work but with modern moments which I find really interesting.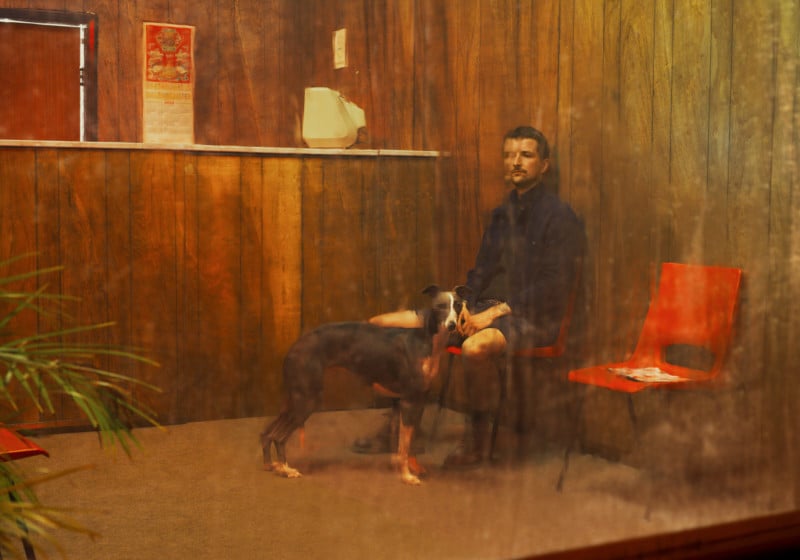 ---
You can view more photos from this Take Me Away photo series here.
---
About the author: Nicky Hamilton is an award-winning photographer and former Head of Art at leading advertising agency M&C Saatchi. The opinions expressed in this article are solely those of the author. Hamilton's method is highly filmic, designing and building elaborate sets to create pictures of extraordinary detail and narrative. His work explores characters' emotional states by playing with performance and symbolism in order to produce deeply evocative moods. You can find more of his work on his website and Instagram.