Canon to Ignore EF Lenses and Focus Entirely on RF in 2019: Report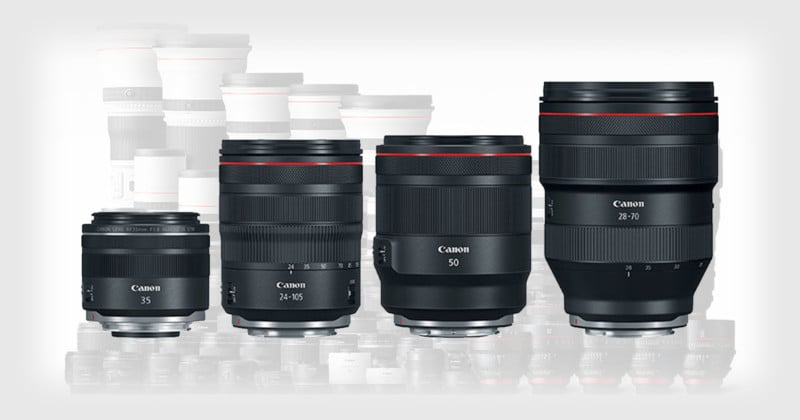 If you've been itching to see what the next Canon EF lens announcement will be, you may have to wait over a year to find out. Canon is reportedly pausing EF DSLR lens announcements entirely in 2019 to focus on catching up in the full-frame mirrorless camera war with new RF mirrorless lenses.

Canon Rumors reports that while Canon hasn't released an official RF lens roadmap like Nikon has for its Z Series lenses, info from sources is allowing an unofficial lens roadmap to come into focus.
Up to 7 new RF lenses may be announced over the coming year. The first set is said to be a "holy trinity" of f/2.8 zoom lenses featuring a 16-35mm f/2.8L, a 24-70mm f/2.8L, and a 70-200mm f/2.8L IS (or lenses with similar specs). There's also said to be a 105mm f/1.4L, 85mm f/1.8 IS STM, a macro, and a non-L kit lens on the way.
These 7 lenses would join the 4 RF lenses that have already been announced by Canon (the 24-105mm f/4L, 28-70mm f/2L, 50mm f/1.2L, and 35mm f/1.8 Macro).
But Canon DSLR photographers may be disappointed to hear that Canon isn't planning to release any new EF lenses in 2019. In an interview with Lensvid at Photokina 2018 back in September 2018, Canon Europe European Technical Support Manager Mike Burnhill stated that Canon will spend 2019 catching up in mirrorless (it's at 16:30 in the interview below).
"Next year we will focus on EF lenses," Burnhill says. "We will take a break — there will be no EF lenses next year. We'll focus on RF. We know we have to catch up, so we have to move the production from that to RF so we can try to produce more lenses to catch up with our competitors.
"The lens manufacturing can only produce X amount of lenses. We can either produce 5 here 3 there, or we can produce 10 of these. And we realized we're behind here."
Burnhill does note that Canon isn't abandoning its EF lenses, but is instead just ignoring it for a year to focus entirely on mirrorless. There's still an internal lens roadmap for upcoming EF lenses that will be announced after 2019.
Canon Rumors is also hearing that an entry-level EOS R camera body may be arriving in the first half of this year and that Canon may be planning to release at least 15 new RF lenses over the next three years or so.
In summary: yes, Canon is finally taking full-frame mirrorless cameras seriously.