Photos of Golden Autumn in the Netherlands
This autumn has been exceptionally beautiful in the Netherlands. Because of the interesting climate earlier this year with the extreme droughts we experienced, the trees are extremely colorful during the autumn period of this year. Trees that normally wouldn't even turn yellow or reddish are now beautifully gold.


The end of this year's autumn is near and I feel that it has been one of the most beautiful autumns ever!
Even in the neighborhood around my house, you could see golden trees everywhere.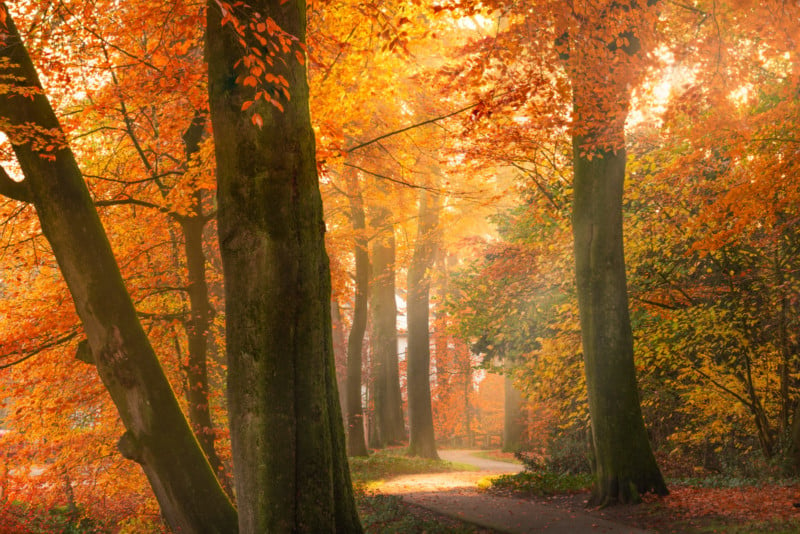 Photographing in the forest is one of the most difficult forms of landscape photography if you want to do it well. It is also extremely rewarding. The light changes every minute, so every minute new compositions pop up. You're basically chasing the light nonstop.
This, combined with looking in the distance for compositions with your telephoto and also having to look close for potential wide angle shots (very difficult in the forest), makes it very challenging.
Photographing in the forest is also a great exercise! The other day I spent close to 6 hours just walking around, exploring and taking photos.
This collection is a mixture of just some walking and biking around near my house and visiting some local forests. Yes, the Netherlands has some amazing forests that you can get lost in.
I tried to get some variety in these series with my signature shots of curvy roads, the classic sun rays shots, but also some intimate and low keys shots from small elements in the forest. This along with some extreme wide-angle shots taken at 12mm creates some diversity and shows how much different stuff can be shot in the forest. And I didn't even take macro shots!
The photos in this post were all taken last week.
---
About the author: Albert Dros is an award-winning Dutch photographer. The opinions expressed in this article are solely those of the author. His work has been published by some of the world's biggest media channels, including TIME, The Huffington Post, The Daily Mail, and National Geographic. You can find more of his work on his website, or by following him on Facebook and Instagram.