How I Lent My $4,500 Camera Kit for $95 and Had It Stolen
I first heard of KitSplit about a year ago and thought it was a great idea. Especially living in New York, everything is so accessible. Browsing through the site and seeing what type of equipment was available, I saw that there were a lot of high-end RED Epic cameras and digital cameras, but there wasn't a lot of film equipment. I have such a big collection of film photography equipment that I figured why not — I could possibly corner the film camera rental market on KitSplit.

So I listed my Mamiya 7II, Pentax 67II, X-Pan, Leica's, Linhof's, and more. I also posted some of my digital equipment as well.
All I needed to sign up for an account was an email address and a copy of my driver license or ID for verification.
Update: This article has been updated with details of how things were resolved at the bottom.
My first rental came in quick, someone without any feedback requested to rent my Hasselblad X-Pan for the weekend. At first I was a bit hesitant, so I contacted KitSplit with the online chat and voiced my concerns. They reassured me that all of their active users are 100% vetted for and that my equipment was covered by insurance that the renter paid for, which covers damage and theft.
I remember asking specifically: what if the renter steals the camera or doesn't return it? They said it would be covered by insurance. (I wish I had a transcript of this chat.)
So I took the plunge to see how things go. The renter picked up the camera and returned it to me on time. He loved the camera so much he even offered to buy it. It was a quick seamless rental. I made $100 with a camera that had just been sitting on the shelf.
Over the next few months, I got a lot of rentals and the side business was going great — I made over $1,200.
Then came one particular day.
A renter I'll call Dev (who had no feedback) requested to rent my Canon 5DS R camera with my 24-70mm f/2.8L lens and accessories. He needed the camera for the weekend for a shoot. My last 10 rentals went so smoothly that I wasn't worried at all.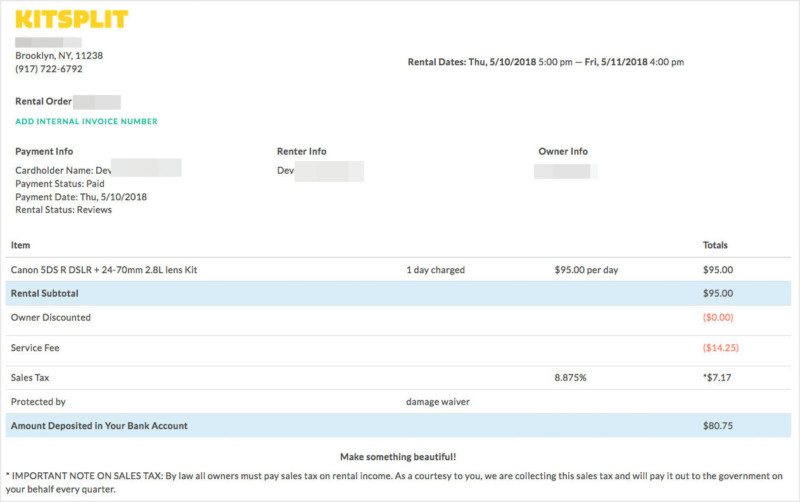 He came by to pick up the camera, and I had a nice long chat with him. He was a photo student at a local academy and said he needed a camera with higher pixel count for a project. After the weekend, I tried contacting him to arrange a time to meet for the return, but his phone was off and my texts were not going through. This is when I started to get a bit worried.
I contacted KitSplit about the situation and they could not get a hold of him either. They even had a private investigator from the NYPD on the case, and he couldn't find Dev either.
During this process, I learned some interesting information about Dev through KitSplit and the NYPD. They said he was kicked out of school weeks ago for stealing equipment and that there's also an arrest warrant for him in the State of New York for other thefts.
Based on Dev's Instagram and Twitter activity, he's running around New York, Los Angeles, and Mississippi with my camera!
I was told that the vetting process consisted of Blockscore, Sift Science Scoring, and several other "top secret technologies." But how in the world did this guy pass the vetting process?
Even though my property could not be returned, I was still thinking, "Good thing I'm covered under the company's insurance." But I was wrong.
KitSplit then told me that their insurance only covers damage and "stolen" equipment. Meaning, the camera got stolen from the renter. Since Dev rented the camera from me and I handed it to him, it's considered "Voluntary Parting" and is not covered by insurance.
I had this guy's info and pictures, so I tried filing a police report for the stolen equipment, but they told me the same thing: it's not a criminal matter, it's a civil matter, and my property was technically not stolen.
There was nothing more I could do. I was just really mad at the whole situation. I feel like everyone is to blame, including (and especially) myself. I should have read the fine print better and protected myself. At the same time, I feel like I got taken advantage of and lost roughly $4,500 worth of equipment.
I was told that stolen equipment only happens less than .02% of the time. KitSplit apparently felt awful about the situation and offered me $2,000. It was not the amount that I was hoping for. I spoke to my friends who are lawyers about it, and they said that the contract I signed up for states that KitSplit is not liable at all, so I should take what I can get.
I was 2 months into this whole process, was tired of waiting, and did not want to push my luck any further. I accepted the check and didn't have to sign any papers or NDAs.
I still use KitSplit today, but not as much as I used to. I am very selective with who rents my equipment and cancel about 50% of my requests now. I have learned some hard lessons through this whole process and I would follow these rules when renting out things in the sharing economy:
Before you rent your equipment through any service:
1. Have personal insurance that covers renting and voluntary parting.
2. Do not rent to new users without feedback or online history.
3. Do a quick Google search of renters — make sure they're working professionals with legitimate websites or IMDB pages.
Was it really smart to rent out my $4,500 Canon 5DS R camera kit for $95? Probably not, but you live and you learn.
---
Editor's update: KitSplit co-founder has sent us this statement regarding Peter's experience:
We take instances of damage, theft, and voluntary parting very seriously at KitSplit. Our vetting system has successfully blocked millions of dollars worth of theft, and our incidence rate is .02% in 2018.
We were dismayed to hear about Peter's experience. We have zero tolerance for this behavior and promptly blocked the renter from further rentals. As Peter notes, we are working with law enforcement on this matter. We also provided Peter reimbursement for the camera, and are seeking additional reimbursement via collections. We are continually working to improve our vetting system and insurance offerings. In the extremely rare cases when theft or voluntary parting occurs on our platform, it is often covered by insurance, or the gear is recovered by law enforcement officials. You can read more about what we do to make our platform safe here.
It's important to know that rental insurance and vetting is not a replacement for owner's insurance. We strongly recommend all owners to have a comprehensive policy covering their gear when rented. We state this multiple times on our website including in our Terms of Use and on every conversation page. There are no gear rental insurance providers that cover voluntary parting when the renter purchases the policy. This treatment of voluntary parting is standard in the insurance industry and is not unique to KitSplit. We strongly recommend all camera gear owners have their own policy, in addition to the coverage provided via KitSplit, to ensure comprehensive coverage.
We are constantly improving our vetting system to block fraudulent and criminal activity. We are a small team of filmmakers and photographers who understand your camera can be more most prized possession, and we work hard to make KitSplit as safe as possible. We are always open to feedback. Please let us know if you have any suggestions, questions, or would like to discuss further. You can reach us at [email protected] or 917.722.6792.
---
Update on 10/30/18: I want everyone to know that while this has been a really trying situation, KitSplit has gone to great lengths to help. KitSplit has now fully compensated me for the full value of the gear that was lost, even though this is beyond their legal requirements.
They've also assured me they are making improvements to their policies and will have additional updates soon. Even before this happened, I continued to use KitSplit, in part because I have been impressed with their customer service throughout this experience. Now, I am pleased that they went above and beyond to help, and are taking this as an opportunity to reflect and improve their system.
---
Correction: This article originally stated that stolen equipment only happens less than 1% of the time. While true, KitSplit states that it has actually been less than 0.02% of the time in 2018.
The words "legally stolen" in the title has also been changed to "stolen."
---
About the author: Peter H. is a photographer based in New York. The opinions expressed in this article are solely those of the author.