Burglars Hit Film Industry Businesses in Atlanta, Steal $3 Million in Gear
Burglars have been targeting film industry businesses in Atlanta in recent days, leading several companies to band together in order to combat the growing problem.

CBS46 reports
that the latest business to be targeted was PC&E, a longtime full-service rental company in Atlanta that provides the film production industry with everything from cameras and lighting to accessories and soundstages.
Surveillance cameras captured burglars stealing various items from the business after they broke a window to get inside on October 27th. The suspects were in and out in less than 10 minutes, and over $100,000 worth of equipment was stolen that night, including a single camera that itself was worth about $90,000.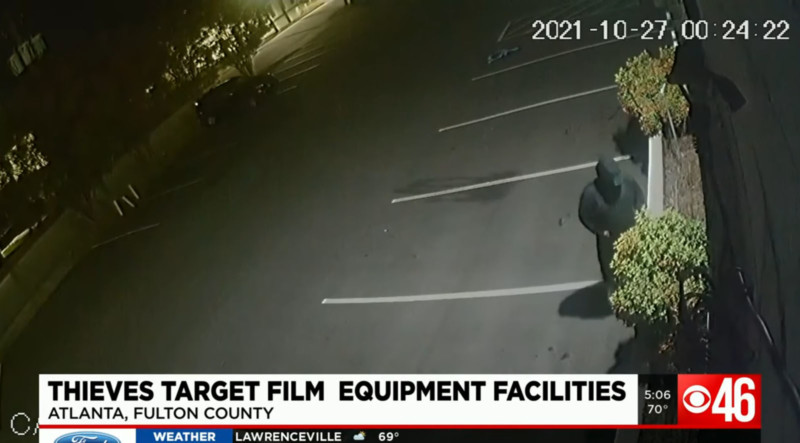 Especially with supply shortages making it difficult to purchase camera equipment these days, these thefts are hitting the film industry in Atlanta particularly hard.
"You can't make the film without the equipment to tell the story with," Wofford tells CBS46. "Equipment is hard to come by through legitimate channels these days with supply chain issues. This doesn't make our losses any easier because it takes time to replace equipment."
Wofford also tells CBS46 that there have been over 30 burglaries at similar businesses across metro Atlanta over the past few months and that over $3 million in cameras and other equipment have been stolen.
Some of those businesses have teamed up to try and put a stop to the crime by working to get those responsible identified and arrested. They are now offering a $25,000 reward through Crime Stoppers Greater Atlanta.
"A string of recent burglaries to locations that service the movie industry have led to millions in stolen equipment," the Crime Stoppers alert states alongside surveillance images of two of the suspects.
"At this time, we are asking anyone with information on these individual(s) to call Crime Stoppers. Information on the case can be submitted anonymously to the Crime Stoppers Atlanta tip line at 404-577-TIPS (8477) or online at www.StopCrimeAtl.org.
"Persons do not have to give their name or any identifying information to be eligible for the reward of up to ***$25,000*** for information leading to the arrest and indictment of the suspects."