Ricoh GR III to Be the 'Ultimate Street Photography Camera'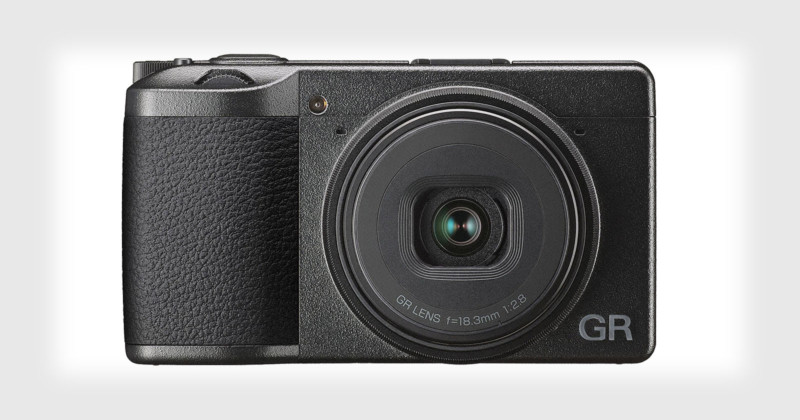 Ricoh has announced the development of the highly-anticipated GR III high-end digital compact camera. It's designed to be "the ultimate street photography camera."

A small and light camera that's heavy in image quality and features, the Ricoh GR III weighs just 0.57lb (257g) with a battery and memory card and measures 4.3×2.4×2.8in (109.4×61.9×33.2mm). Inside is a new 24.24-megapixel APS-C sensor. While the minimum ISO is 100, the maximum has yet to be set in stone by Ricoh.
In addition to capturing 14-bit RAW (DNG) and JPEG still photos, the GR III will also shoot 1080p FullHD video (up to 25 minutes or 4GB) with a built-in stereo microphone.
Photos and videos can be saved on both the 2GB of internal storage and the SD card slot.
On the front of the camera is a newly designed 18.3mm f/2.8 (28mm in 35mm terms) lens with 6 elements arranged in 4 groups.
The camera does hybrid autofocusing using both image plane phase-matching and contrast detection. The minimum focusing distance is 3.3 feet (0.1m) in normal mode and 0.2 feet (0.06m) in macro mode. A Face Detection feature also helps lock focus onto a subject in the frame.
3-axis sensor-shift shake reduction helps capture sharper photos while shooting handheld, particular in lower-light conditions.
Other features and specs include a self-timer, 35mm/50mm crop, highlight/shadow correction, slow shutter speed and high ISO noise reduction, in-camera RAW development features, a 3-inch 1.037-million-dot LCD touchscreen, Wi-Fi, a hotshoe, and a rechargeable battery.
"For more than 20 years, the RICOH GR series has kept to its core concept of optimizing the essential values of a camera — high image quality, snapshot capability and portability — while at the same time making the refinements needed to meet emerging and evolving needs," Ricoh says. "Because of this, GR-series models have been preferred by a great many photographers, particularly professionals and highly experienced amateurs."
The GR II was announced in 2015 and was basically a GR with Wi-Fi and NFC wireless connectivity. There's no mention of NFC connectivity in the GR III, so it's unclear whether that feature will be retained.
The Ricoh GR III will be launching in early 2019. Pricing and exact availability have yet to be announced.