Photojojo Shuttered After 12 Years of Stocking Photo Awesomeness
The photography business Photojojo has closed up shop after 12 years of procuring content and products for photographers.

In an email to newsletter subscribers, the Photojojo team announced the closure and explained that it didn't have the manpower to keep things running.
"I've made the tough (but right – imho) decision to close PJ's virtual doors because our tiny team doesn't have the bandwidth to run Photojojo as the majestic unicorn of a photo gear lovin' community that we know it can be, and no one puts unicorn in a corner," Laurel writes.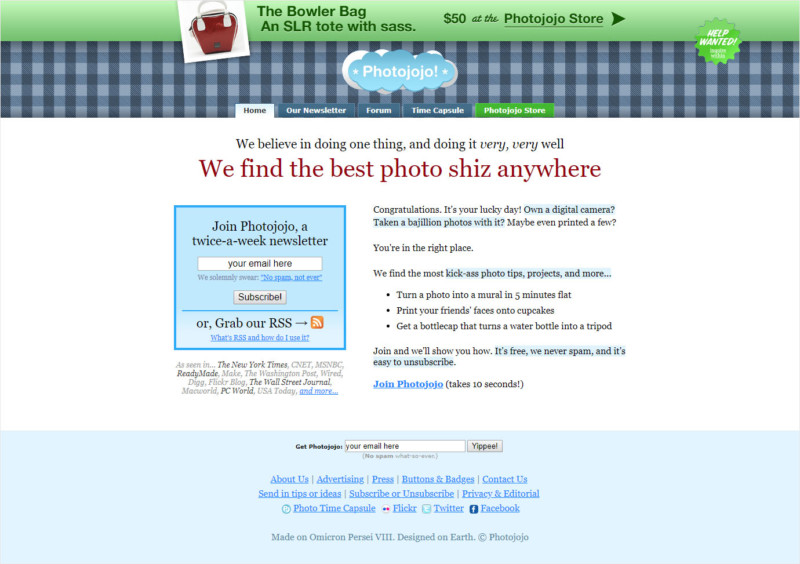 Photojojo was founded by entrepreneur Amit Gupta back in 2006 as an email newsletter providing regular tips, tricks, and inspiration. As the popularity of the newsletter grew, the business utilized its marketing reach and prowess to launch an online store that sold all kinds of photo products found around the Web and world.
After Gupta was diagnosed with leukemia in 2011, the online photo community rallied to help him find a bone marrow donor. Gupta found a match in early 2012, received a transplant, and survived the cancer.
Three years later, in August 2014, Gupta sold Photojojo to the online photo service Zoomin.
The Photojojo team is still sticking around in the industry, though: it will be focusing its entire efforts now on Parabo Press, the photo printing app and service that Photojojo launched back in October 2015.
Call us Photododo, cuz we're going extinct. We are bummed but *lean in close this is secret* we're also super excited to put our all into our photo printing shop @ParaboPress. Give us a follow so we can all stay friends! → https://t.co/6M5DkT1UL4 pic.twitter.com/LjL8Podiqe

— Photojojo ♥s you! (@Photojojo) September 7, 2018
"We started Parabo Press a couple years ago, because we love printing photos just as much as we love snapping them. So, team Photojojo is now fully focused on Parabo's mission to 'fill your space with joy,'" Laurel writes.